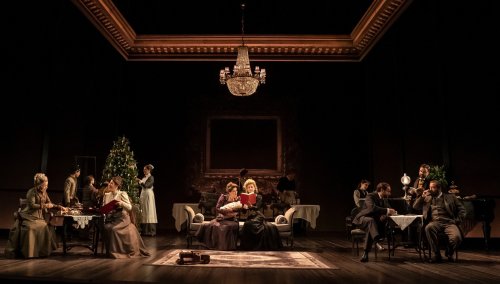 By: Darryl Reilly
"Auschwitz…Auschwitz…Auschwitz…" So, informs a woman to her relatives regarding family members' fates at a 1955 reunion in the last scene of Tom Stoppard's shattering drama, Leopoldstadt. The play opens in 1899, in Vienna, with Ingmar Bergman Fanny and Alexander-style festivities where a boy puts a Jewish star on top of a Christmas tree.
We're in the grand apartment of the Merz family, an upper-class Jewish clan in the textile business whose forbearers began as pushcart peddlers. Through their wealth and intermarriage with Christians, they strive for assimilation but come up against recurrent anti-Semitism, such as being prohibited from membership in an equestrian club. They're devotees of art and culture, Sigmund Freud and Theodore Herzl are cited, there's a glorious portrait of the patriarch's wife by a prominent artist on view à la Klimt's Woman in Gold.
Successive scenes take place in 1900, 1924, 1938 and 1955. As in such historical time-shifting sagas as Noël Coward's Cavalcade, the characters' lives intersect with world events. Leopoldstadt is the name of Vienna's Jewish quarter, and we experience European Jews reacting to W.W.I, the rise of the Third Reich and ultimately the Holocaust. In the play's 56-year span, we meet a fast-paced changing gallery of people. Mr. Stoppard offers focused portraits of his multitude of characters with just enough biographical data imparted to pointedly depict them. Strategically, we are given relatively brief impressions of them before they're replaced by new individuals.
"There's no one left to remember who they were…" says a character looking at a photo in album of people he doesn't recognize. That photo album, a family tree, a cat's cradle and a piece of Matzo, are all motifs which appear during the play.
The 1938 scene is the most powerful as it dramatizes the situation of the European Jews of that time. Sounds of gunfire, yelling and struggling are heard as Kristallnacht is implied. Austria has been unified with Germany, and the Merz family is now subject to the Nuremberg Laws. The portrait in the apartment has been previously confiscated, the dwelling is crammed with family members living there. Some talk of exit visas, some are optimistic, "it can't get worse…" Most chilling is when a Nazi official accompanied by guards arrive to take a roll call, things of course do get worse. The final scene attempts to be dramatically informative but doesn't quite gel. This does not mar the play's impact.
Leopoldstadt is quasi-autobiographical and is Stoppard's most personal work; a stylized younger version of him appears. In middle age, after having lived the life of a cosmopolitan Englishman, he discovered that he was in fact Jewish, a fact his refugee mother all along had obscured in order for him to assimilate. For this play, he transposed many of his native Czechoslovakian relatives' existences to Vienna, crafting an affective epic fictional narrative. His trademark Stoppardian eloquent dialogue is evidenced over a straight through two hours and 10 minutes. Two mathematical problems are solved as well.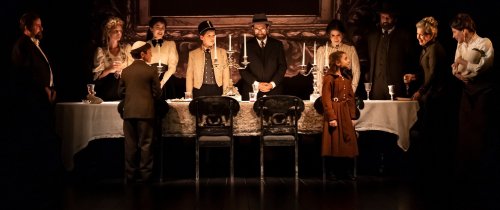 The large ensemble of superior New York actors and the 2020 London's production original cast members who vividly portray the many characters are Jesse Aaronson, Betsy Aidem, Jenna Augen, Japhet Balaban, Corey Brill, Daniel Cantor, Faye Castelow, Erica Dasher, Eden Epstein, Gina Ferrall, Arty Froushan, Charlotte Graham, Matt Harrington, Jacqueline Jarrold, Sarah Killough, David Krumholtz, Caissie Levy, Colleen Litchfield, Tedra Millan, Aaron Neil, Seth Numrich, Anthony Rosenthal, Christopher James Stevens, Sara Topham, Brandon Uranowitz, Dylan S. Wallach, Reese Bogin, Max Ryan Burach, Michael Deaner, Romy Fay, Pearl Scarlett Gold, Jaxon Cain Grundleger, Wesley Holloway, Ava Michele Hyl, Joshua Satine, Aaron Shuf, and Drew Squire.
Director Patrick Marber masterminds this dazzling production which is now making it's Broadway debut. Besides the rich performances, there is picturesque physical staging and beautiful dance sequences. Mr. Marber fully and majestically realizes Stoppard's vision for the stage. Scenic designer Richard Hudson's spacious airy set with precise furnishings is perfection. Neil Austin's subtly vigorous lighting design superbly evokes the temporal moods and tones with steady flair. Composer Adam Cork's original score marvelously complements the actions, his sound design deftly renders it and the effects. Costume designer Brigitte Reiffenstuel's plentiful lustrous garments individualizes the characters with period authenticity. Most integral to the presentation is Isaac Madge's accomplished video design. Before and during the show illustrative imagery comprised of still photos, film clips and news broadcasts are show, connoting history.
Leopoldstadt is an entrancing experience. Tom Stoppard's lasting achievement here is putting and personalizing the story of the European Jews and the Holocaust on the stage thru his humane characters.
Leopoldstadt (through March 12, 2022)
Longacre Theatre, 220 West 28th Street, in Manhattan
For tickets, visit www.leopoldstadtplay.com
Running time: two hour and 10 minutes with no intermission