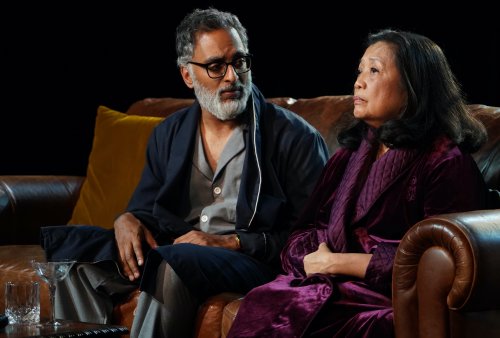 By: Darryl Reilly
When we keep something in shape, we maintain its shape-whether we are proud of that shape, or not, is another matter-we keep it from falling apart. We do not attempt the impossible. We maintain. We hold. I shall…keep this family in shape. I shall maintain it; hold it.
So, declares the matriarch of Edward Albee's A Delicate Balance. First performed in 1966, this fascinating three-act family drama won the 1967 Pulitzer Prize for Drama. Written in his 30's, after The Zoo Story and Who's Afraid of Virginia Woolf?, it is Edward Albee (1928-2016) in his prime as a dramatist. The complex loquacious characters articulate reveries, reminiscences and ruminations, while tossing off stinging witticisms as they continuously imbibe. Topical yet timeless references such as to the IRS and brutal Republicans abound, and a gun is brandished. Albee upends a seemingly typical dry drawing room scenario with a mind-blowing cryptic existential detour.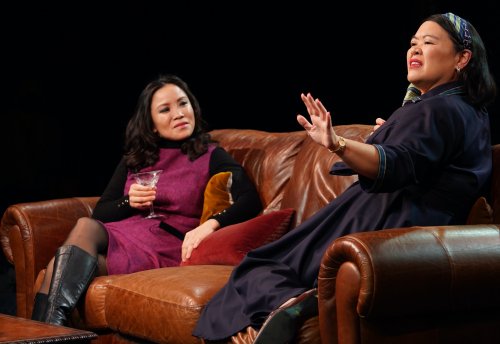 This absorbing production of Edward Albee's A Delicate Balance is co-presented by the Transport Group, a theater company dedicated to "radically-reimagined revivals by American writers," and The National Asian American Theatre Company (NAATCO), who strives "to assert the presence and significance of Asian American theatre in the United States." It is always a joy to hear Albee's intricate dialogue spoken by his mandarin WASPs. The freshness here is of the play now being performed by an all-Asian company of exceptional actors in the intimate space of an Off-Off-Broadway theater.
In the well-appointed living room of a grand suburban home staffed by unseen servants, we meet the 60ish country club-set couple, Agnes and Tobias. He is retired from "business" and putters around. She resolutely keeps their way of life going. A pall over their long strained and sexless marriage is the unexplained childhood death of their son Teddy. Living with them is Agnes' impoverished combative alcoholic younger sister, Claire. Much of the gingerly expositional first act is a quintessential wickedly funny Albee battlefield of recriminations fueled by a variety of alcoholic beverages. A car pulls up in the driveway, there's a knock at the door. Enter Harry and Edna, a couple just like Agnes and Tobias.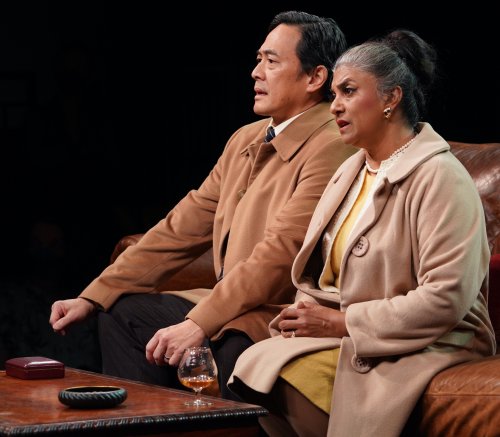 WE WERE FRIGHTENED…AND THERE WAS NOTHING. We couldn't stay there, so we came here. You're our very best friends. In the whole world. We couldn't go anywhere else, so we came here.
So, Harry and Edna explain as to why they fled their home and have turned up unannounced with expectations of moving in. This devilishly ambiguous "What's it all about?" absurdist turn is left to the audience to ponder the meaning of and to reach their own conclusions about. There is further discord as Agnes and Tobias' unhinged 36-year-old daughter, Julia arrives. She is a pampered matron who's had trouble finding herself, with four failed marriages to show for it. Albee wraps everything up with his idiosyncratic sense of optimism: …and we'll all forget…quite soon. Come now; we can begin the day.
With her entrancing presence and fluty deliberate speech pattern, Mia Katigbak is perfection as Agnes. Ms. Katigbak thoughtfully entertains as she imparts wry humor while conveying wistfulness. The intrepid Manu Narayan's laid-back quality serves him well as the presiding Tobias; he also forcefully delivers several Albee arias, including a haunting ode to a cat. In the powerhouse role of Claire, Carmen M. Herlihy is delightfully gutsy. Tina Chilip's Julia is of appealing feistiness and marvelous comic timing. Paul Juhn as Harry wonderfully exhibits bonhomie and emotional depth. Most noteworthy is the mesmerizing Rita Wolf as Edna. With her salt and pepper hair in a bun, severe facial expressions and steely delivery, Ms. Wolf commands focus whenever she appears, whether speaking or silent.
Director Jack Cummings III heroically and successfully puts this difficult material onto the stage. Mr. Cummings melds his disparate cast together into a formidable ensemble who do justice to Albee's intentions. Cummings' runway physical staging on two sides of the raised rectangular playing area is visually arresting with the actors aesthetically positioned, sometimes in striking tableaus.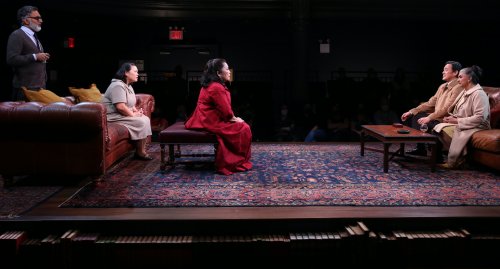 Wrapped around below the stage are symbolic configurations of vintage books and cocktail glasses. Scenic designer Peiyi Wong's gorgeous immersive set also includes Persian carpets, leather couches and most crucially a well-stocked bar with crystal glasses and decanters that are all brightly illuminated. Upstage in the distance is a long dark staircase from which characters picturesquely exit to and return from their bedrooms, it has the dimension of an eerie void.
Mariko Ohigashi's costume design is purposefully sedate for the men and vividly retro for the women, with those garments evoking tweaked 1960's fashions. Lighting designer R. Lee Kennedy achieves a sustained atmosphericlly stark quality.
It was an original, and Edward's most mature play, almost Chekhovian in its nuances and tones. I loved it, reveled in it, and had no sooner come to the end than I proceeded to read it again, savoring the language even more the second time around.
Thus, wrote A Delicate Balance's original director Alan Schneider, in his 1986 memoir, Entrances. Hume Cronyn, Jessica Tandy and Marian Seldes appeared in Mr. Schneider's 1966 Broadway premiere which ran for 132 performances. There were also celebrated Paris and London productions in that era. The 1973 film adaptation starred Katharine Hepburn, Paul Scofield and Lee Remick. The play's 1996 Broadway revival was rapturously received with great acclaim for George Grizzard, Rosemary Harris and Elaine Stritch as Claire.
This novel incarnation of Edward Albee's A Delicate Balance is a welcome opportunity to experience the author's artistry as rendered by its stalwart cast.

Edward Albee's A Delicate Balance (through November 19, 2022)
Transport Group and The National Asian American Theatre Company
(NAATCO)
Connelly Theater, 220 East 4 Street, in Manhattan
For tickets, visit www.naatco.org
Running time: two hours and 50 minutes with two intermissions