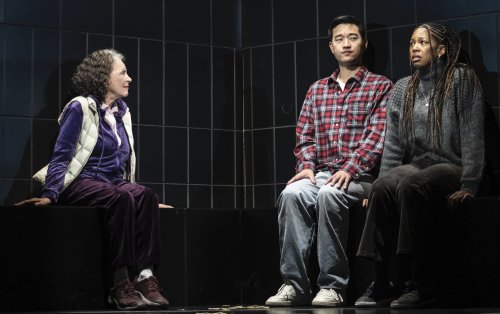 By: Darryl Reilly
That at the age of 85, Linda Lavin is on the New York stage again in a leading role is cause for joy among theatergoers. Ms. Lavin is appearing in the world premiere of playwright Noah Diaz's, You Will Get Sick. Lavin brings all her distinctive comedic and dramatic talents to the part of an elderly woman striving to be an actress and singer. "I'm taking night classes at a community college. I'm in one right now called Body as Source. We're learning how to live inside our bodies. I'm getting better at it."
"Great actors can do anything. They can play any age" Lavin's character says of her auditioning for the part of Dorothy in The Wizard of Oz. This allows her a few times to sing "Over the Rainbow" and even dress in the iconic Judy Garland costume. Lavin also hilariously mines a running gag of her driving a hard bargain. You Will Get Sick's chief and considerable virtue is that it showcases Lavin.
The play's picaresque absurdist premise is something that the young Terrence McNally might have written in 1965 and been performed at the Cherry Lane Theatre. There are flashes of Murray Schisgal and Israel Horovitz as well. However, Mr. Diaz, who has a substantial career as a screenwriter, been given prestigious writing awards and received an MFA from Yale, is concerned with meta trendiness rather than basic dramatic writing. Most grating is the intrusive voice over commentary. In NPR-style cadences, throughout the play a male intones things like:
you have asthma
her breathing makes you wonder if she has asthma too the telephone crackles again, just a little bit and then it's quiet
Further "with it" features are that the characters are designated as numbers and the script is in a Haiku manner. Still, Diaz' dialogue is well-crafted, his figures are humanely rendered, and his plot is heartfelt.
In "A time before cell phones" in "The Big City The Midwest," a young gay man who is recently single has been given the grave diagnosis of an unnamed progressive muscular disorder. Numb and disaffected, he puts up flyers all over his neighborhood offering money to strangers to talk on the phone to him about his feelings. The old woman calls him, they form a bond that veers from wacky to poignant as they go from vignette to vignette and onward to a metaphysical conclusion.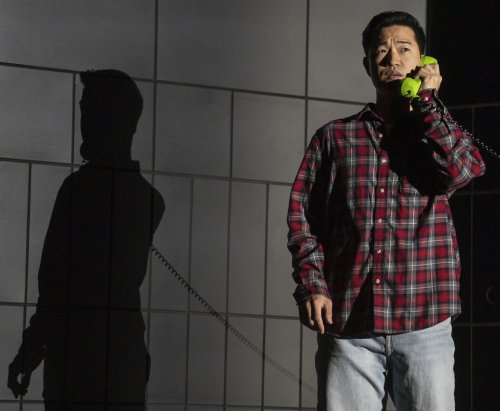 As the play's hero, Daniel K. Isaac who was majestic earlier this year in The Chinese Lady at the Public Theater, is equally as impressive here. With his melodious voice, beaming presence and physical grace, Mr. Isaac creates a rich and personable characterization. The charming duo of Marinda Anderson and Nate Miller each vigorously portray numerous subsidiary characters with individualized flair. Dario Ladani Sanchez brings soulfulness to his adjunct role.
Director Sam Pinkleton's brisk staging realizes Diaz' vision through fluidity, pictorial focus, an emphasis on physicality and busy production effects. Scenic design team dots achieves a netherworld environment with dark panels and frames, and a stunningly beautiful surprise location. Cha See's lighting design and Lee Kinney's sound design both frenetically connote the piece's fantastical bent. Apart from the neat Dorothy ensemble, costume designers Michael Krass and Alicia Austin's garments are fine and appropriate streetwear.
Though it goes overboard with obliqueness and presentational elements, You Will Get Sick is ultimately an engaging effort, sustaining its 90-minute length due to its strong emotional core and the supreme Linda Lavin.
You Will Get Sick (through December 11, 2022)
Roundabout Theatre Company
Laura Pels Theatre in the Harold and Miriam Steinberg Center for Theatre, 111 West 46th Street, in Manhattan
For tickets, visit www.roundabouttheatre.org
Running time: 90 minutes with no intermission