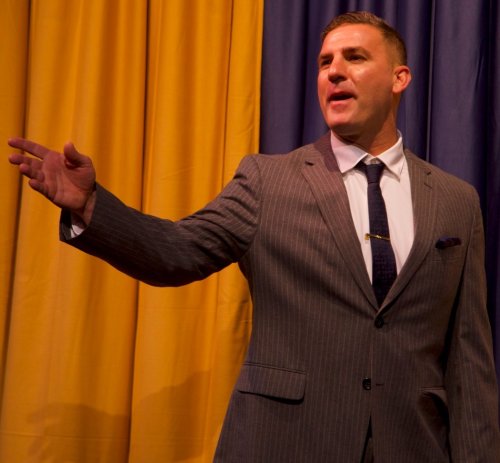 By: Darryl Reilly
I took my meager savings and purchased a small radio station. It wasn't much–one sweaty room above a laundry over in Queens, two chairs, a table with a mess of knobs and doodads, and a rusty antenna that worked only about half the time. And I didn't know a damn thing about the business. Show business.
So, recalls patrician Mr. Borden, the president, CEO, and founder of the International Broadcasting Company during a beautifully written brief sequence in the first act conclusion of playwright G.D. Kimble's 1960's television talk show fantasia What Passes For Comedy; this Chain Theatre Off-Off-Broadway presentation is its world premiere.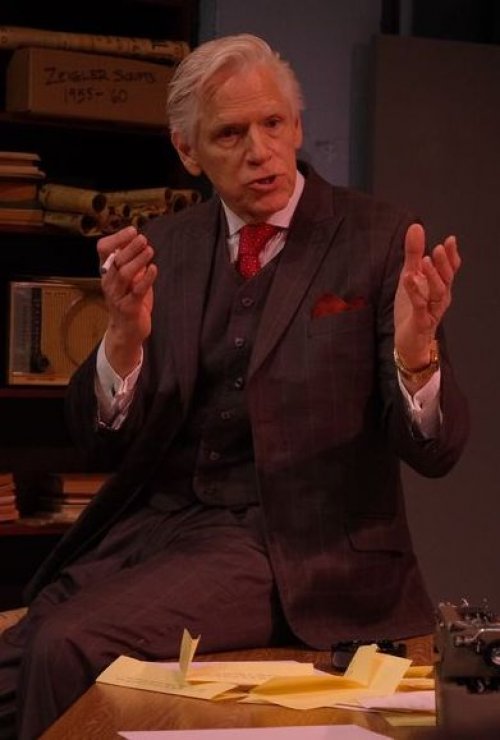 Wearing a dark three-piece suit, the tall, sleek and white-haired veteran performer Stan Buturla as Mr. Borden authoritatively strolls onstage as if he were a steely figure from the corporate boardroom of screenwriter Paddy Chayefsky and director's Sidney Lumet's classic film Network. Mr. Buturla temporarily energizes what had previously been a muddled exercise in synthetic nostalgia. The magnetic Buturla's soothing voice and A.R. Gurney-style gravitas elevate this deficient material. He welcomely reappears near the play's end, eventually spewing that ultimate anti-Black racial slur with chilling force. His performance is majestic and in an alternative universe would be showered with Best Supporting Actor accolades.
"It's 11 O'clock, do you know where your bartender is?" is a catchphrase old-time comedian Jack Harrod rattles off during the opening monologue of his Johnny Carson-style talk show where that night's guests include Sean Connery promoting Dr. No, Yogi Berra and a French chanteuse. While reading off of cue cards live on-air, Harrod nimbly cracks jokes about President Kennedy, and Israeli Prime Minister Ben-Gurion's visit to the United Nations. Matzo and Manischewitz wine are comedic fodder, then Harrod inexplicably utters an incendiary anti-Semitic epithet, causing an uproar which is the crux of the play. Complaining phone calls come in and there are piles of protesting letters. It turns out that this was a writer's room joke that inadvertently made it into the final script and onto the cue card.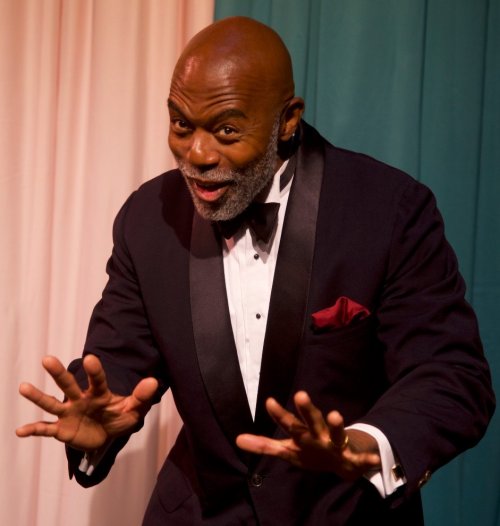 "I want to take the audience on a trip into the "golden age of live TV", to revel in the laughs while tending to bruises" states What Passes For Comedy's author, Mr. Kimble about his play. That desire conflicts with facts. By September 1963 when the play takes place, the golden age of live TV was over. The Tonight Show began being recorded in 1959; besides nightly news, not much on network television was broadcast live anymore. Therefore, the piece's focal point in not realistic. Jack Harrod's Ed McMahon-style sidekick is Bunny Brown, a revered Black jazz musician whose Black Harvard-graduate nephew is one of the show's writers. In 1963, the American television industry was not at all this inclusive. These fantastical flourishes could be taken in stride if Kimble otherwise demonstrated a command of dramatic writing in crafting his reimagining, which he hasn't. The dull second act is a slog of pedantic personal conflicts among the writers laced with clunky bromides as to whether Black or Jews have had it worse in the U.S; Dr. Martin Luther King, the March on Washington and The Holocaust are heavy-handedly cited. There are a couple of false endings before the play unsatisfyingly sputters out after two hours and 20 minutes including an intermission.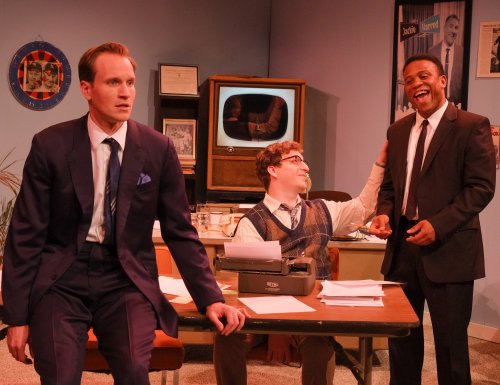 As the Black, Jewish and WASP staff writers, Alain Pierre, Jordan Elman and Andrew O'Shanick, are all personable and necessarily in overdrive. Rory Lance scores as the nebbishy weary producer. Michael Filisky and Ryan Brooke Taylor each offer charming and strong characterizations as the talk show host and sidekick.
Director Rick Hamilton's performance achievements are matched by his zesty physical staging. From the multi-colored Tonight Show-type curtain to the exquisitely detailed writer's room, scenic designer E.A. Frank's creativity is superlatively authentic. Debbi Hobson's rich costume design perfectly evokes the era. As does composers Robert Pound and Allie Goldhammer's jaunty original music; it, a laugh track and effects are well-rendered by Greg Russ' sound design. Lighting designer Michael Abrams' artfully vintage sheens do wonders for the production.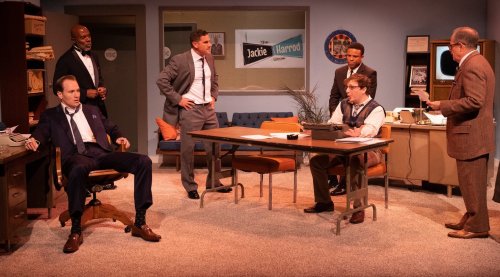 The King of Comedy, The Larry Sanders Show and Joker, all memorably went behind the scenes of television talk shows. My Favorite Year and Neil Simon's play Laughter on the 23rd Floor both successfully dramatized the turmoils of putting on live 1950's television variety shows. What Passes For Comedy is a wan edition to the inside show business genre.
What Passes For Comedy (through November 19, 2022)
Chain Theatre, 312 West 36th Street, in Manhattan
For tickets, visit www.chaintheatre.org
Running time: two hours and 20 minutes with one intermission