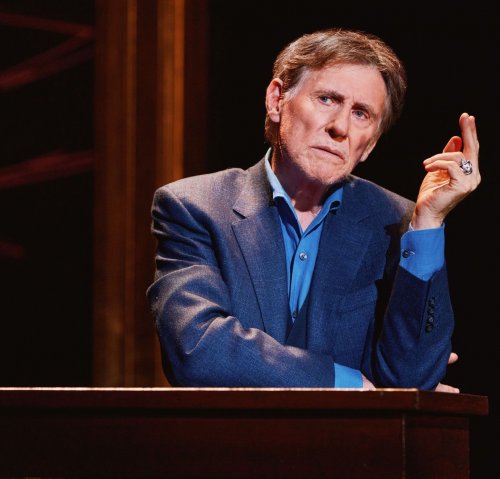 By: Darryl Reilly
Gabriel Byrne's humorous and tender reminiscences of the life-changing event of his joining an amateur Irish theater troupe in his youth begins the second act of his transporting solo show Walking With Ghosts, which he adapted from his same-titled memoir. Mr. Byrne's soul-baring and literary writing are combined with his dramatic gifts as he commands the stage for two hours in this theatrical account of his life journey.
Through superior mimicry and fluid physicality, Byrne offers hearty impressions of his parents, friends, siblings, authority figures and others he encountered while growing up poor in 1950's Dublin, Ireland, and beyond that era. After a failed attempt as a plumber and getting fired as a dishwasher, he miraculously.finds his way to the theater. There are marvelous portraits of the unsung talented performers of the touring company he worked with and learned from. Following a role on a popular Irish soap opera, he's off to Venice, to film with Richard Burton. Byrne gives us a poignant take of the star in all his troubled glory. Of course, they get drunk together which segues into a harrowing exploration of the drinking life with Byrne getting sober at the age of 48.
"Too bleak…Depressing…" were overheard remarks by two audience members leaving the show at the intermission. Like many people's existences, Walking With Ghosts contains sorrows and joys. The first act concludes with a chilling depiction of Byrne being molested by a Catholic priest as a teenager. Previously, physical abuse at a boy's school by a tyrannical teacher is highlighted by Byrne's vocal woosh of a bamboo cane. There are vivid descriptions of extreme poverty from a child's perspective such as the shame of bespoiling the confirmation suit his mother paid for with change she had saved up. Trips with his grandmother to a local movie theater were magical. Byrne's later success is alluded to but not specified by the titles of the well-known movies or plays he's appeared in. This is not a gossipy show business insider exhibition, but rather a more significant chronicle.
Theatergoers who've seen Byrne in A Moon for the Misbegotten, A Touch of the Poet and particularly Long Day's Journey into Night, where he was one of the greatest James Tyrones, are accustomed to his tremendous stage presence. That quality is accentuated by director Lonny Price's masterful staging. Mr. Price strategically places Byrne all over the stage of a Broadway theater, variably in motion and still, all to visually compelling effect.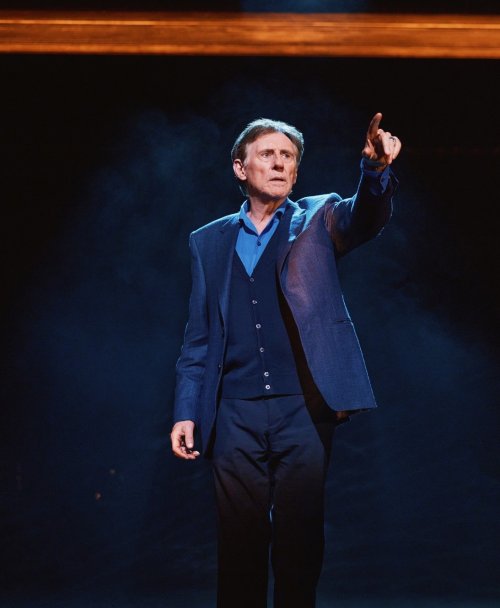 Floating large antique picture frames and precisely selected spare vintage furnishings such as a chair and a desk, are the hallmarks of Sinéad McKenna's arresting scenic design, allowing Byrne to move freely. The dimension of roaming through time is further enhanced by Ms. McKenna's dreamy lighting design and composer Sinéad Diskin's eerie and nostalgic score. This music and effects such as chirping seagulls are rendered by Ms. Diskin's layered clear sound design. Costume designer Joan O'Clery dresses Byrne in a shimmering dark blue suit and a light blue shirt for a timelessly striking look.
Walking With Ghosts is theatrical storytelling at its highest level.
Walking With Ghosts (through December 30, 2022)
Music Box Theatre, 239 West 45th Street, in Manhattan
For tickets, visit www.gabrielbyrneonbroadway.com
Running time: two hours and 15 minutes with one intermission