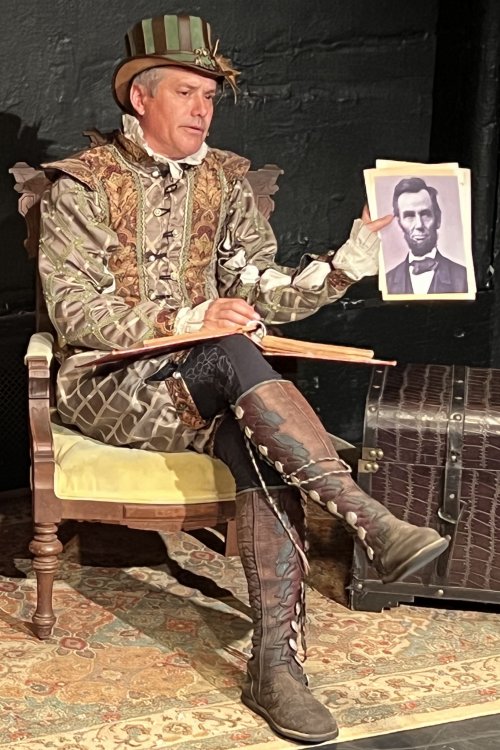 By: Darryl Reilly
Hilarity reigns supreme during performer and writer Gordon Boudreau's unabashedly bawdy solo show, The Wildly Inappropriate Poetry of Arthur Greenleaf Holmes. The wicked conceit is that we are at the "Vulgaria," a seedy London venue for an offbeat recital. There, the imaginary literary figure Arthur Greenleaf Holmes, "England's preeminent 16th Century poet of the perverse," whose father worked as an actual asswipe, regales us with 75 minutes of smutty verse, some ribald limericks and plentiful audience engagement. This uproarious enterprise harkens back to the long-ago glory days of Manhattan nightlife where one could experience the counterculture esoteric spirit of the likes of Lord Buckley and Brother Theodore, in smoky clubs and small theaters.
Wearing a wild period getup with a feathered hat, Mr. Boudreau mirthfully holds forth on the contained space set with vintage furniture and laden with wacky nick knacks, including a suggestive large codpiece, a wooden knothole and an object wrapped in a condom. Boudreau's twinkling everyman persona, vocal heft and physical grace, enable him to captivate while tossing off outrageous vulgarisms, scatological references and old-time punchlines. Director David Rosenberg's crafty staging has Boudreau variably still, in motion and purposefully all over the tight playing area, illuminated by steady lighting, for a lively presentation.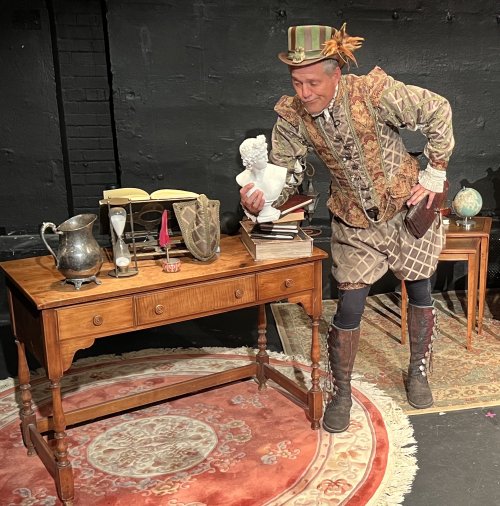 The Wildly Inappropriate Poetry of Arthur Greenleaf Holmes is more than a compendium of side-splitting dirty jokes, it's also an actual exploration of poetry. There are quotations from and citations of William Shakespeare, John Keats, Ezra Pound, William Carlos Williams, W.H. Auden and Flannery O'Connor. "Ode to an Extremely Provocative Knothole," "I Built My Love a Menstrual Hut," and "Mother, Will My Stones Drop?," a boy's paen to his undescended testicles, are among the saucy titles of Arthur Greenleaf Holmes' provocatively roaring works. Abraham Lincoln was one of several celebrities whom we are told have attended this exhibition, he didn't like it.
At the performance under review, two women carrying shopping bags and tipsy from wine at dinner arrived late and attempted to unobtrusively take their seats. With Las Vegas entertainer-style flair, Boudreau gently called them out and had them change seats to the front row, where his playful bantering with them became a running gag. A soon-to-be wed couple were also particpants in enthusiastic conversation. It's all part of the show's thrilling immediacy and its pleasurable sense of small-scale live theater.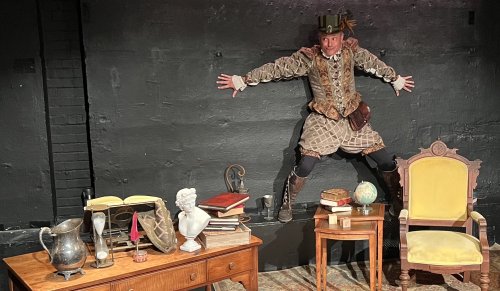 Gordon Boudreau's droll presence, consummate erudition and tremendous comic timing make The Wildly Inappropriate Poetry of Arthur Greenleaf Holmes, a grand entertainment. The Content warning: "This production is intended for audiences 18 years and older," is highly accurate.
The Wildly Inappropriate Poetry of Arthur Greenleaf Holmes (Wednesdays and Thursdays at 9:30 PM, through February 9, 2023)
The Tank, 312 West 36th Street, in Manhattan
For tickets, visit www.arthurgreenleafholmes.com
Running time: 75 minutes with no intermission