By: Darryl Reilly
My aunt left me a small inheritance and I'm wandering around the gay friendly resorts of the world. Looking for a lovely love affair. But I guess these things are like rare and elusive birds who never show up if you set out to look for them.
So, observes the 70-year-old Beauford, a hoot of a Tennessee Williams-type gadfly in author David Cale's gripping and suspenseful solo play, Sandra. This reverie is indicative of Mr. Cale's ravishing observational writing. Here, Cale offers a plot out of Patricia Highsmith that has been wondrously realized for the stage.
Oh Lord, I thought as I checked my emails. There it was: Email Confirmation – Supersaver Special – one Non-refundable return flight to Puerto Vallarta and hotel accommodation plus complimentary breakfast, leaving for Mexico on Monday morning.
Thus, recalls Sandra of her having booked this expedition while consuming a bottle of wine alone the night before. She is a Crown Heights, Brooklyn, café owner in her mid 40's, who is on the verge of divorce after a 20-year-relationship.
She has previously detailed her deep friendship with the nine-years-sober, single gay 35-year-old Ethan. He is a composer and pianist with a stalled musical career who has gone off on a solo Puerto Vallarta vacation. At key moments in Sandra, composer Matthew Dean Marsh's lovely Satie-style original piano music is heard as a motif recalling Ethan and his talent, as Sandra has CDs of his work.
After over two weeks of silence from Ethan and then consulting with an FBI agent, Sandra undertakes her South of the Border fact finding mission in search of her friend. In addition to the loquacious Beauford, she encounters New York City acquaintances, an Australian surfer, an Italian lothario and assorted locals while keeping in touch with the FBI agent.
Cale exquisitely spins this all out through realism, Hitchcockian twists and turns, Roman Polanski-style paranoia flourishes and red herrings, for a wildly entertaining theatrical ride. As he did in 2017's Harry Clarke, Cale serves up a cracking yarn while crafting a roaring part for a performer.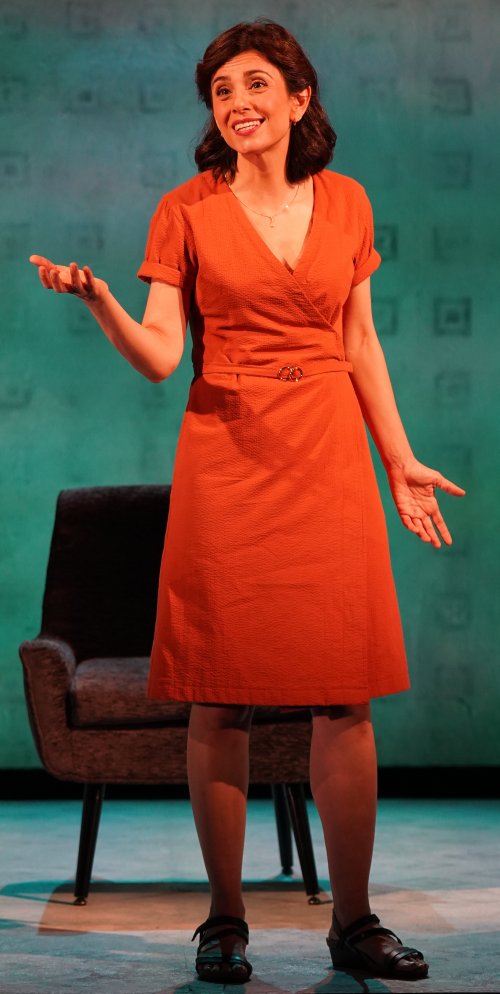 Clad in costume designer Linda Cho's stylish orange dress, the willowy and facially and vocally expressive Marjan Neshat is riveting as Sandra. For 80 minutes, Ms. Neshat commands the stage with her alluring and personable presence. Not only does Neshat create such a relatable and specific characterization of a troubled New York career woman, she also enacts vivid mini portraits of the rest of the diverse dramatis personae via her artistry. It's a grand performance combining comedy and drama.
Besides guiding Neshat, director Leigh Silverman employs the technical elements to their fullest effect, achieving a presentation racing with momentum. Scenic designer Rachel Hauck's chair-in-a-room set is entrancingly rendered; without a ceiling, void floats above the configuration of wall panels, a window and halls. This spacey environment artfully serves as various locations from Brooklyn to Mexico. Veering from clinical brightness to eerie darkness, Thom Weaver's lighting design perfectly complements the play's mundane and sinister incidents. The cacophony of New York City, nautical tones, atmospheric ambience and other effects, and the music are sharply realized by sound designer Kathy Ruvuna.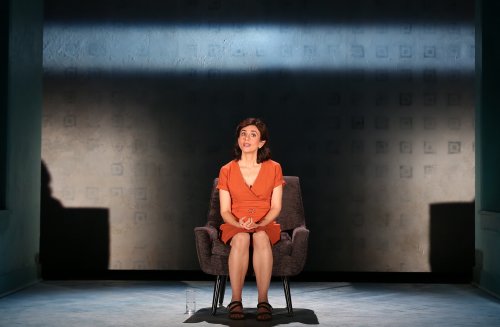 English-born David Cale came to prominence in the 1980's by performing his self-written autobiographical monologues such as The Redthroats and Smooch Music. He then focused on depicting imagined characters in Deep in a Dream of You and Lillian, where he played a sensuous Englishwoman. For his acclaimed 2017 conman tale, Harry Clarke, he turned the role over to Billy Crudup. This Vineyard Theatre-presented world premiere production reveals Sandra to be an estimable addition to David Cale's distinctive oeuvre.
Sandra (through December 18, 2022)
Vineyard Theatre, 108 East 15th Street
For tickets, visit www.vineyardtheatre.org
Running time: 80 minutes with no intermission