By: Darryl Reilly
The 1906 San Francisco earthquake is a pivotal, referred to event in playwright Lloyd Suh's ravishing and wrenching, The Far Country. Here, as he did in this year's The Chinese Lady, Mr. Suh conjoins a command of dramatic writing with a sharp sense of history for another tale of the Chinese immigrant experience in the United States.
The snappy opening takes place in 1909, at a U.S. government office. The gregarious middle-aged laundry owner Gee is being interrogated by officials regarding his claim of having been born in the U.S. Gee seeks to go to China to visit his wife and children and needs proof of citizenship to be allowed back into the country. As his personal, and government records proving his birth details were destroyed in the recent catastrophe, he must verbally plead his case to the satisfaction of merciless bureaucrats. Suh employs the clever and funny linguistic device of Gee speaking in broken English when answering the interviewers' questions, but speaking in clear English when talking to the Chinese interpreter.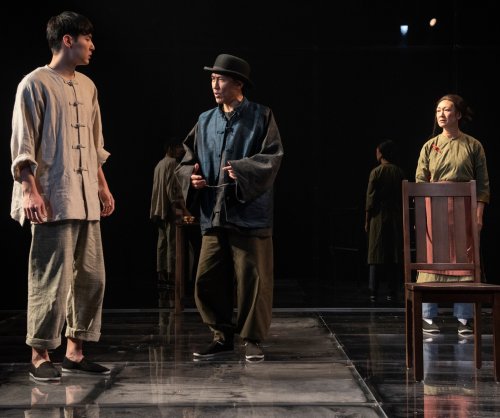 Gee's inquiry was successful, and he is now in China. However, it is not to visit his family as he hasn't got any. He is a wily liar and wheeler dealer. He has returned to find a young man to pose as his son for a high fee to be his indentured servant in the laundry. A feisty widowed farmwoman and her ambitious 16-year-old son accept that plan. The youth grows up, returns to China, has a reunion with his mother, and contrives to bring back to the U.S., a young woman to pose as his wife.
Suh majestically dramatizes the clash of the harsh racist U.S. immigration policies of that era with the aspirations of those seeking to leave China for a better life, and their pragmatism to attain that. Suh's dialogue is perfectly crafted, his characters are exquisitely delineated, and his plotting is masterful.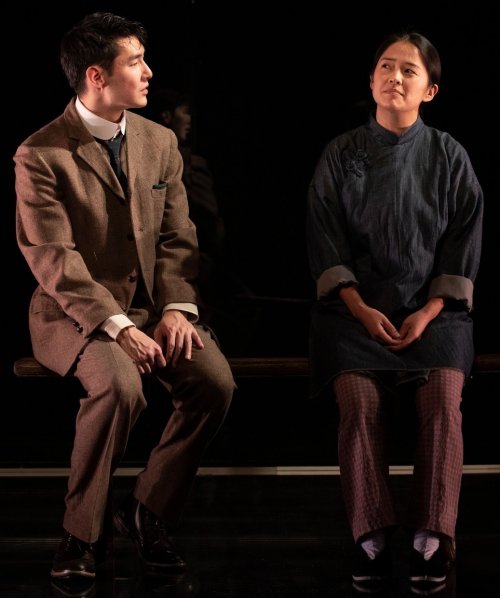 Eric Yang is captivating as Moon Gyet, the indentured servant. Mr. Yang's sunniness and soulfulness enrich his characterization, especially when recounting the horrors of 17 months of detention at California's Angel Island immigration station. The Chinese Lady's fabulous star Shannon Tyo, here dazzles as Yuen, Moon's soon-to-be arranged bride, with stirring pathos and humor. Mr. Yang and Ms. Tyo's edgy courtship is one the play's most affective highlights.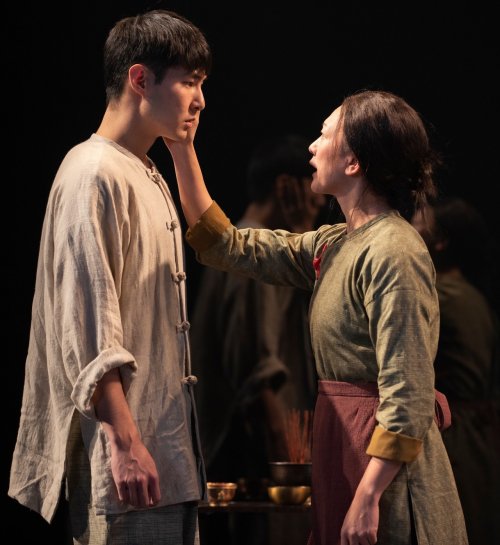 The stalwart Amy Kim Waschke plays Low, Moon's steely mother. Ms. Waschke offers a haunting portrait of resoluteness and contained emotionalism. As Gee the amoral laundry owner, Jinn S. Kim supremely veers from delightfully comic to coldhearted, and to touchingly infirm. Mr. Kim fully realizes the character's complexities. Christopher Liam Moore and Ben Chase wonderfully convey gruff departmental authority by their straightforwardness as the interrogators. Whit K. Lee's interpreter marvelously combines deadpan with droll.
Director Eric Ting's achievements with his cast, in tandem with his graceful physical staging and superior use of stagecraft, fulfills Suh's vision while creating a beautiful production. Clint Ramos' artful scenic design has the playing area raised and centerstage with a surrounding dark void, key period furnishings and props, including a chicken statue are strategically added and subtracted. The stage being set with water at one point is a typically grand flourish of Mr. Ramos.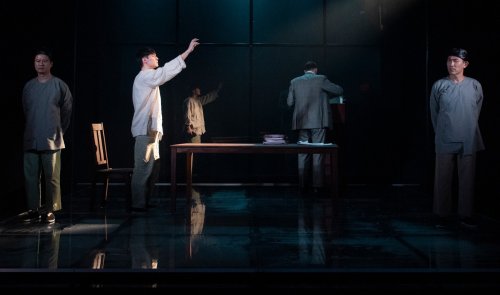 Through stark brightness, moody dimness and muted tones, lighting designer Jiyoun Chang conjures an atmosphere evoking the past and of China itself. Composer Fan Zhang's score magnifies those dimensions with tuneful exoticism, that music and the effects are impeccably rendered by her sound design. The characters are vividly and authentically visualized by Junghyun Georgia Lee's costume design and Tommy Kurzman's hair, wig and makeup design.
The Far Country is a moving and thoughtful theatrical experience.
The Far Country (through January 1, 2023)
Atlantic Theater Company
Linda Gross Theater, 336 West 20th Street, in Manhattan
For tickets, visit www.atlantictheater.org
Running time: two hours including one intermission