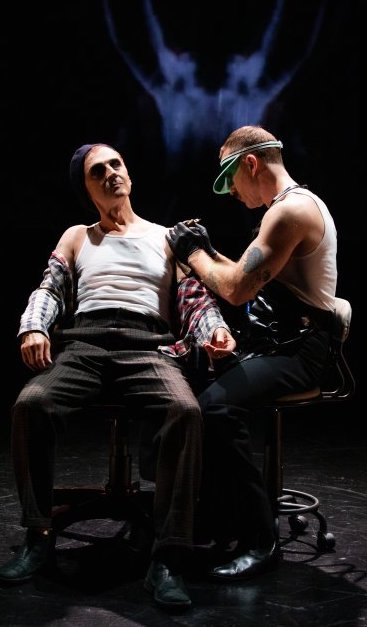 By: Darryl Reilly
"I've stopped pretending I'm normal." So, says the venerated performance artist John Kelly soon into his mesmerizing theatrical fantasia, Underneath the Skin. It is inspired by the fascinating life of underground gay icon Samuel Steward (1909-1993), whom Mr. Kelly portrays. A theme of the show is one great artist paying tribute to another, and an aim is educating the current gay generation about its forbearers and their struggles to be who they were.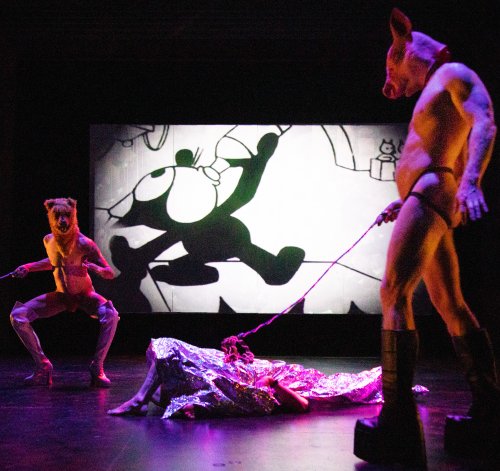 The Ohioan Steward was aware of his sexuality early on, claiming to have had sex with Rudolph Valentino in the silent movie star's hotel room when Steward was 17; he kept a portion of the actor's pubic hair, enshrining it in a small glass case. This event set the pattern for Steward as an eyewitness to, and a conduit of gay history. Thornton Wilder and Lord Alfred Douglas were among his notable sexual partners, he socially interacted with Thomas Mann, André Gide and Jean Cocteau, and he assisted Alfred Kinsey with research for Kinsey's groundbreaking study of male sexuality. Steward had long close friendships and correspondences with Gertrude Stein and Alice B. Toklas. Stein is delightfully played in the show via video by Downtown theater legend Lola Pashalinski.
The alcoholic and drug user Steward's academic career took him to Chicago, where he became sober and reinvented himself as a foremost tattoo artist under the name Paul Sparrow. This new occupation enabled his pursuit of his life-long passion for performing oral sex on as many straight men as possible. These assignations were documented in his "Stud File," thousands of index cards with particulars of each such encounter.
When Illinois outlawed tattooing, he moved to and set up shop in Oakland, California. After retiring, he became a gay porn novelist under the pseudonym of Phil Andros. Along the way, he published several literary works before his death at the age of 84, on New Year's Eve 1993, which Kelly beautifully dramatizes. Steward's papers are at Yale's Literary Archive. Justin Spring's acclaimed biography, Secret Historian: The Life and Times of Samuel Steward, Professor, Tattoo Artist, and Sexual Renegade was published in 2010.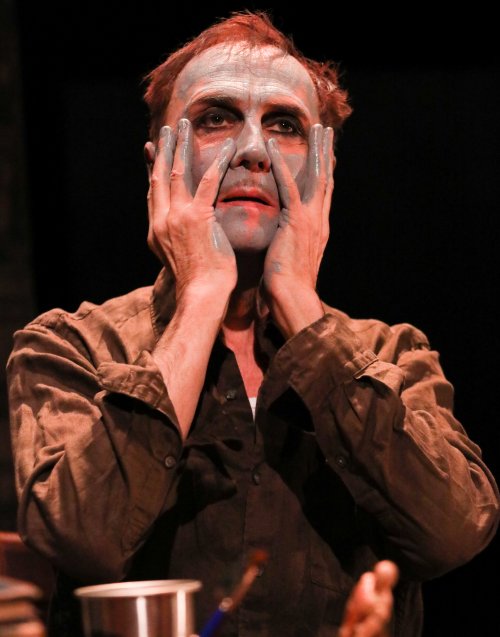 With his expressive tenor voice and animated physicality, Kelly offers an engaging and stirring characterization of Steward from youth to old age. While clothed and nude, the dynamic trio of Hucklefaery, Estado Flotante and John William Watkins, vividly portray subsidiary characters including idealized versions of Walt Whitman and Oscar Wilde. This quartet also perform several enchanting dance numbers.
Underneath the Skin premiered in 2019 at the NYU Skirball Center. Its text is artfully derived by Kelly from Steward's own words, and usually narrated by Kelly live, or in recorded voice over. There are surrealist fantasy sequences; a standout is an actor reading from one of Steward's porno books about a sexual escapade with a police officer. Two actors suggest the actions, giving us the sense of Steward's pornographic talent with his lyrically graphic description of this mystical act of fellatio.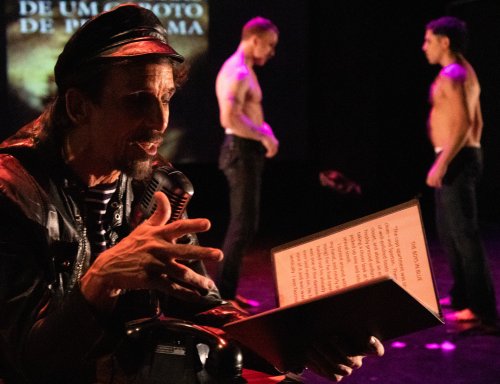 The visionary Kelly's arresting direction and forceful choreography achieve visual and emotional range. Upstage in the center is an almost wall-sized screen on which his bracing video design is seen. Illustrative realistic and fantastical images, black and white title cards, cool animations and explicit footage of gay male sex are shown. Bessie Smith, Ma Rainey, Beethoven, and Russ Columbo, are among the soundtrack's ecelctic complementary selections. Kelly's smart scenic design has La MaMa's large Ellen Stewart Theatre's playing area divided into well-appointed furnished sections, allowing for swift and fluid scene transitions to varying locales. Nicholas Houfek's forward lighting design wondrously creates appropriate optic textures for the events. Costume designer Ramona Ponce's array of choice catchy garments include sailor suits, Tom of Finland-style regalia and vintage everyday wear.
John Kelly's Underneath the Skin is bold and entrancing.
Underneath the Skin (through December 22, 2022)
La MaMa
Ellen Stewart Theatre, 66 East 4th Street, in Manhattan
For tickets, visit www.lamama.org
Running time: 85 minutes with no intermission