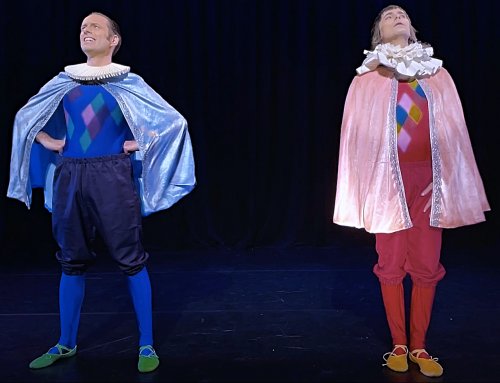 By: Darryl Reilly
Whether sprawled out on the ground furiously tapping his fingers and grimacing, or standing upright and expressively in motion or singing, the lithe and charismatic Richard Saudek is a grand clown. Dead + Alive is his self-conceived, compelling one hour-long circus-themed exhibition inspired by Jewish texts regarding death and burial rituals; it entertains with ambiguity while laced with depth. With her upbeat presence and commanding physicality, performer Dana Dailey is his formidable partner, and his equal as a clown.
With their animated faces, Mr. Saudek plays Dead, and Ms. Dailey plays Alive, while dressed in costume designer Elena Brocade's marvelous Harlequin-themed blue and red outfits. Saudek and Dailey's rapport is palpable as they cavort and playfully and dramatically interact; silently and gutturally, separately they each shine. They both demonstrate supreme physical agility as they undertake in big-top antics and are poignant in muted moments. Their frivolity and contemplativeness are upended by death, as is everyone's. Is that the show's profound message? Perhaps. One may enjoy the virtuosic displays of juggling pins, tossing knives and catching glow-in-the dark circles, maybe pondering the possibility that it all means something more.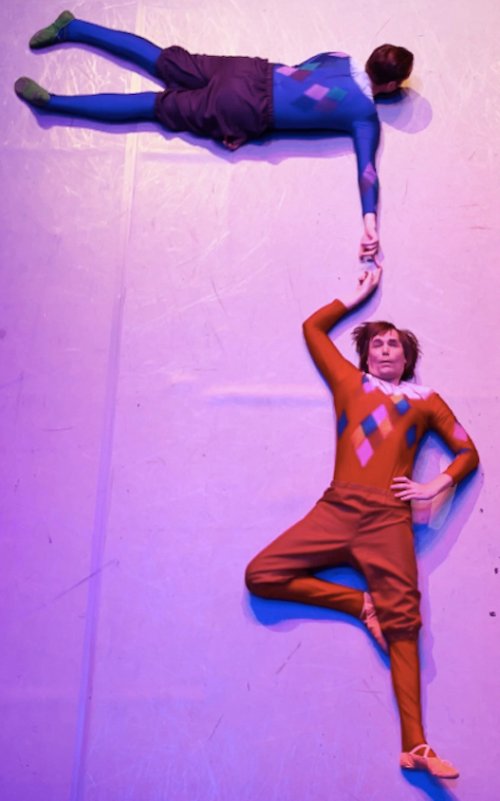 Dead + Alive begins with the beaming Benjamin Domask-Ruh wandering around with a conductor's baton, he is billed as Music. Eventually Mr. Domask-Ruh takes his place at a downstage piano where his jaunty playing perfectly accompanies the onstage activities. "Tea for Two," "Mr. Sandman" and silent movie-style melodies are among the plentiful tunes of the appropriate score that get a lot of mileage.
Domask-Ruh also joins Saudek and Dailey onstage and engages with them during a recorded soundtrack. Also participating is the black-clad, headset wearing Stagehand, played by the lanky and personable Pher. Ms. Pher co-directed the show with Saudek. Their staging is picturesquely presentational and vigorous, yet underscores the sensitive portions. The stage is framed by a vintage gold border that could suggest timelessness, the playing area is bare, stools and props are brought on. Driscoll Otto's pleasing lighting design veers from stark brightness to subdued and it, together with Brendan Aanes' well-balanced sound design, achieve a dreamy atmosphere.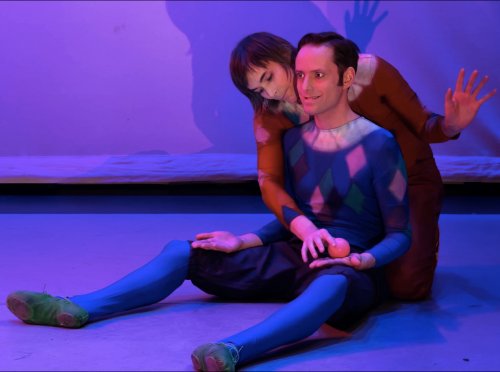 Dead + Alive is presented by the New York City-based One Year Lease Theater Company (OYL) which was founded in 2001. It is dedicated to creating "magical experiences for audiences that transcend the ordinary, transport the spirit and embrace the magical." That mission is fulfilled by Dead + Alive, it is magical and its cryptic sunniness and abounding thoughtfulness weigh on the mind.
Dead + Alive (through December 10, 2022)
One Year Lease Theater Company (OYL)
Connelly Theater, 220 East 4th Street, in Manhattan
For tickets, visit www.richardsaudek.net/dead
Running time: 60 minutes with no intermission