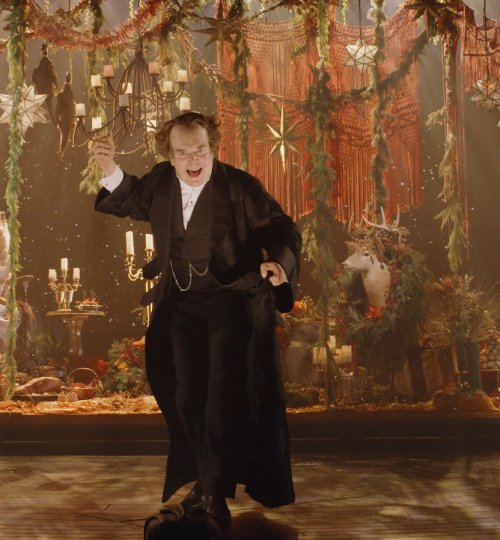 By: Darryl Reilly
Jefferson Mays' voice and body undergo a multitude of amazing permutations during his dazzling performance in this spooky new high tech stage version of Charles Dickens' A Christmas Carol. Mr. Mays incredibly manages to look like Marley as the door knocker.
Through swift and astonishing vocal and physical alterations and expressive gestures, Mays creates one distinctive Dickensian characterization after another while accompanied by superior stagecraft. Mays' towering Ebenezer Scrooge is the centerpiece around which he brings the other 50 characters to life with histrionic gusto.
Wearing costume designer Dane Laffrey's lustrous black Victorian garb and wonderfully styled by hair and makeup designer Cookie Jordan, Mays is visually arresting. There is also his magnificent rumbling, soaring and melodious voice which channels the essences of such grand British stage fixtures as Donald Wolfit, Michael Redgrave and Donald Sinden.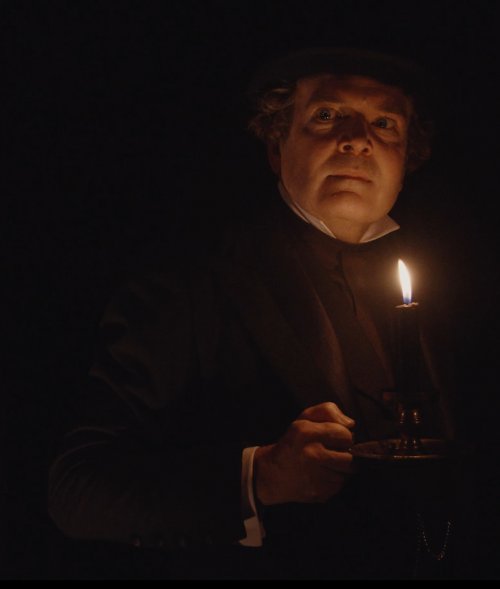 Mays' Scrooge is of chilling perfection as he issues those many familiar declarations. "A poor excuse for picking a man's pocket every twenty-fifth of December!" "If they would rather die, they had better do it, and decrease the surplus population." "If I could work my will, every idiot who goes about with 'Merry Christmas' on his lips should be boiled with his own pudding and buried with a stake of holly through his heart. He should!" Are all delivered with robust relish.
Scrooge's transformation from miser to sage is beautifully rendered by Mays with psychological depth; most shattering is his anguish over Tiny Tim's fate. The Fezziwig sequence is breathtaking as Mays portrays that cheery magnanimous employer, his amiable wife and the excited workers as they all gorgeously dance. The Cratchits' roast goose and Christmas pudding feast is another Mays tour de force as sizzling food is suggested. To represent the two youngest children while sitting at a table Mays bends his head down, picks up a knife and fork, rattles them about, and gleefully speaks in child-talk. For the little boy who accosts Scrooge in the street with a Christmas carol, Mays lowers himself and sings in falsetto.
This faithful 90-minute adaptation by Mays, Susan Lyons, and Michael Arden, ingeniously pares down the book to its essentials achieving momentum. It is always a delight to experience Dickens' vivid characters, moving themes and immortal prose once again.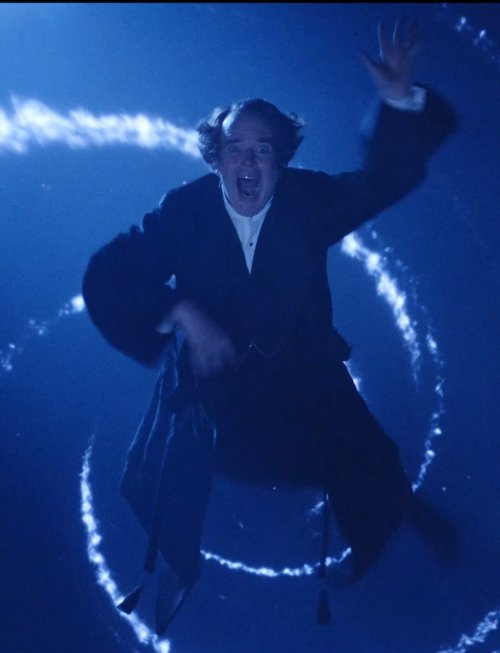 Mr. Arden's direction fantastically realizes the tale for the theatre via his awesome physical staging that seemingly has Scrooge flying, him rapidly appearing in different areas and framing the actions at varying angles. Catchy stage pictures with kinetic movement abound, occasionally with wafting smoke. Mr. Laffrey's scenic design cleverly utilizes period furnishings that float and move on a turntable for fast and bold effects as scenes and locations merge into the next ones. The production was conceived by Laffrey and Arden.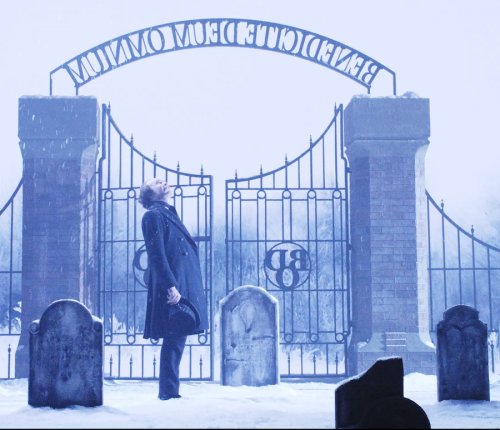 Ben Stanton's stunning lighting design is integral to the presentation. There's intense darkness and dimness throughout and redemptive brightness for the finale. Sound designer Joshua D. Reid achieves aural fabulousness with clanging chains, rich tones of 19th London life and general eerieness. Lucy Mackinnon's artfully weathered projection design has charging horses, frightening shadow representations of the woebegone children "Want" and "Ignorance," and otherworldly panoramas.
Puppet designer John Kristiansen creates a colossal and scary visage for the Spirit of Christmas Yet to Come. The character here is billed as The Spectre, and is commandingly played by singer, actor and dancer extraordinaire, Danny Gardner.
This A Christmas Carol had its world premiere in 2018 at Los Angeles' Geffen Playhouse where it won numerous awards. Now, it is a welcome event of this holiday and Broadway season.
A Christmas Carol (through January 1, 2023)
Nederlander Theatre, 208 W. 41st Street, in Manhattan
For tickets, visit www.achristmascarollive.com
Running time: 90 minutes without an intermission