By: Darryl Reilly
Witty hats depicting a teapot, a candlestick and a clock, vigorously and continuously replaced by charismatic actor Tucker Dally Johnston on his head while emoting in broad English and French accents, elicited gales of laughter from children and adults during this 70-minute iteration of Beauty and the Beast. Mr. Johnston also merrily appears as a frantic Rip Taylor-style version of Belle's father. This funny and joyously theatrical pantomime-style production was presented by the Bronx-based Irish-themed Poor Mouth Theatre Company.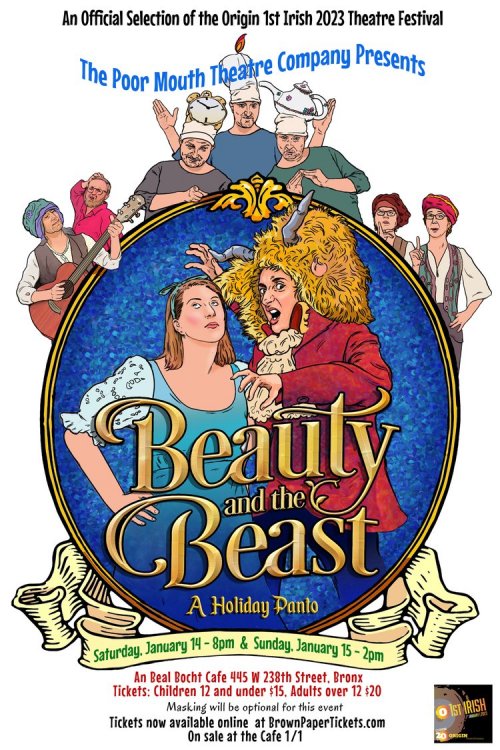 The pantomime theatrical form is popular in the United Kingdom during the holiday season and is characterized by songs, slapstick, gags, gender-crossed casting, all used to spoof a famous story. Here, there's audience participation including being instructed to cheer and boo at appropriate times, and to hold up small green paper tree cutouts during forest scenes. Billie Eilish's "Bad Guy," The Tubes' "She's a Beauty" and The Beastie Boys' "(You Gotta) Fight For Your Right (To Party)," are among the classic songs that have been tweaked into the saucy score.
These elements and The Benny Hill Show theme are all used throughout playwright Scott Kennedy's cheeky though good-natured adaptation of the classic tale well known from the classic 1991 animated Disney film. The core plot remains the same, a haughty young man is turned into a creature by a witch and can only find deliverance thru attaining mutual love.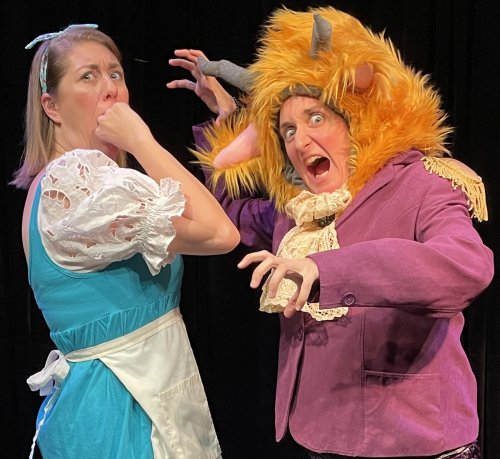 Wearing that familiar blue and white outfit, the winning Corinne Delaney is a caustic Belle. Michelle Hendee's Beast is a playful delight. Resembling an animation with a prominent codpiece, the physically imposing and twinkling George Roach makes for a comically solid Gaston. Their faces adorned with obviously fake beards, Suzanne Hockstein and Kathryn Donnelly are riotous as singing townsmen; Ms. Donnelly is also a cranky wolf. Looking quite Pirates of the Caribbean, is musical virtuoso Richard Hockstein on guitar.
Co-directors Don Creedon and Mr. Kennedy's artful small-scale staging achieves momentum and visual splendor on the minimal playing area and in the auditorium. Sight gags and jokey stage pictures abound; these are aided by Ms. Hockstein's smartly resourceful props and costume design. The characters are further realized by Ms. Donnelly's vivid makeup design. Mr. Creedon's sound design adeptly renders the effects and Ms. Donnelly and Mr. and Mrs. Hockstein's punchy musical arrangements.
This zesty Beauty and the Beast was originally performed in December 2022. Its January 2023 special return engagement is part of the Origin Theatre Company's 1st Irish Festival 2023. The program includes more than 20 theatrical productions, play readings and film screenings across New York City over three weeks. For information, visit www.origintheatre.org
Beauty and the Beast (January 14-15, 2023)
Poor Mouth Theatre Company
An Beal Bocht Café, 445 West 238th Street, in The Bronx
For tickets, visit www.anbealbochtcafe.com
Running time: 70 minutes without an intermission
Founded in 2010, the Poor Mouth Theatre Company presents most of its shows at a small homespun theater attached to An Beal Bocht Café. This Irish-centric Bronx neighborhood institution opened in 1991, it has a warm atmosphere, a friendly staff and serves exceptional fare.