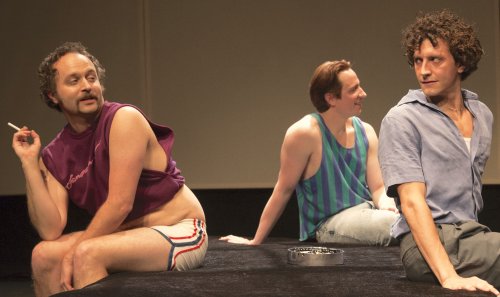 By: Darryl Reilly
"Here's to the theater, and everything it has done for my life!" So, toasts the elderly actress Marjorie, who is dying of cancer. Rehearsing Tennessee Williams' one-act play, "Talk to Me Like the Rain and Let Me Listen," with a young man for their own enrichment, periodically at her Los Angeles home is Marjorie's chronic salvation. The two also have earthy conversations. These insightful duologues where we also experience Williams' glorious writing are beautifully woven into author Eduardo Machado's swirling autobiographical memory play, the slyly titled Not About Me. It is set, "Somewhere between here and there, sometime between now and then." A lot of Donna Summer is heard.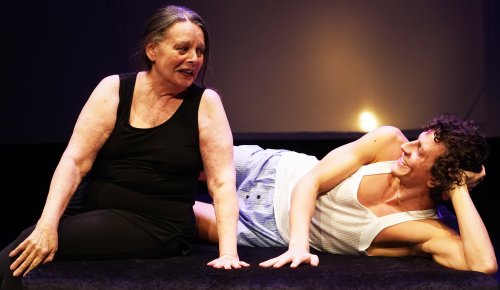 The Cuban-born Mr. Machado arrived in the United States at the age of eight in 1961, and lived in Florida and California before moving to New York City in 1981. He has extensive acting and playwrighting credits at notable Off-Off-Broadway and regional theaters, and held teaching positions at several major universities. The 2020 pandemic with its death and disruption spurred Machado to mentally revisit his life during the 1980's AIDS crisis in New York; Not About Me recreates his experiences. Many who lived during that time and in that place could find that his play has the ring of truth.
Not About Me's Cuban-born actor and playwright narrator is named Eduardo. We learn of his tumultuous personal life; he is married to a woman 24 years his senior, has affairs with men and women, and goes from identifying as bisexual to gay. Not About Me's major achievement is Machado's exquisite dramatization of the emergence of the initially mysterious AIDS virus via his vivid characters, lush dialogue and grand depiction of the era's Manhattan gay male milieu. Presented are eloquent discussions, personal and career conflicts and free-spirited sex, which are all shadowed by the disease taking its toll as the passage of time is connoted.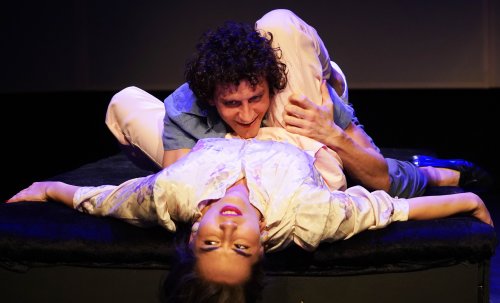 With his striking chiseled facial features, piercing eyes, melodious voice and animated lithe physicality, the magnetic actor Mateo d'Amato carries the play in the demanding role of Eduardo. Mr. d'Amato is onstage throughout for two hours, effortlessly addressing the audience and intensely interacting with the other actors. d'Amato's supreme performance combines sensuality with emotional complexity and is integral to Not About Me's success.
Substituting for the Theater for the New City's co-founder and Executive Artistic Director Crystal Field in the recurring pivotal role of Marjorie, was the formidable performing veteran, Sharon Ullrick. Ms. Ullrick's sparkling weathered presence and rumbling vocal delivery enriched her engaging characterization which conveyed humor and pathos.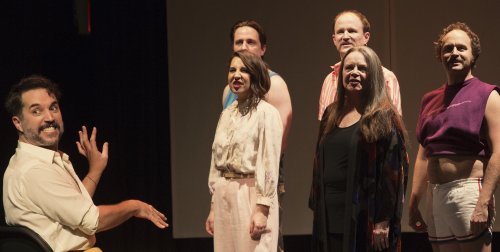 Michael Domitrovich, Ellis Charles Hoffmeister, Charles Manning and Drew Valins all offer distinctive, engaging and impactful portrayals of Eduardo's friends and lovers. The vivacious Heather Velazquez alluringly plays a complicated girlfriend of Eduardo's, who in a chilling scene attempts to get him to renounce his homosexuality with ominous masked figures in attendance.
Machado directed Not About Me, and besides the bright performances there are lovely dance sequences and pleasing tableaus and stage pictures on the spacious minimally set playing area. After an eerie shadow puppet bit, a character appears with three of puppet designer Emily Irvine's stunning large marionettes; he has AIDS and is selling them for $500 a piece before returning to Thailand.
The play is sometimes matched with Machado's bracing self-directed filmed scenes of Manhattan bar and street life, which are rendered by Bird Rogers' deft projection design shown on the large centerstage screen. Scenic designer Mark Marcante provides a selection of intriguing furnishings. Through perfect variations, Alex Bartenieff's lighting design complements the piece's periods, locales and tones. Composer Michael Domitrovich's subtle original score enhances the actions. The plentiful music and effects are adeptly realized by sound designer David Margolin Lawson. Costume designer Kelsey Charter's clothes the cast in appropriate bygone fashions.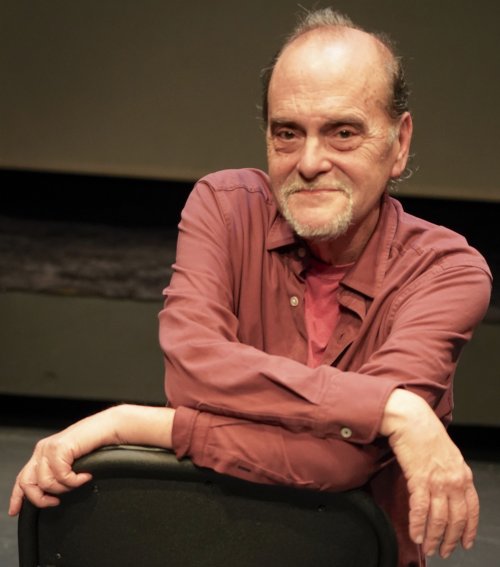 Filled with his superior stagecraft and fine writing, Not About Me is Eduardo Machado's lyrically theatrical take on the past recaptured.
Not About Me (through February 5, 2023)
Theater for the New City, 155 First Avenue, in Manhattan
For tickets, visit www.theaterforthenewcity.net
Running time: two hours and 15 minutes including one intermission