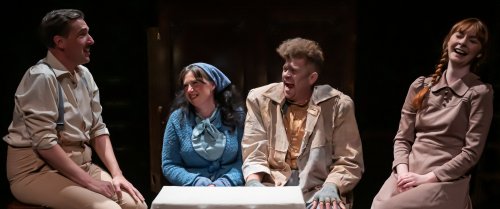 By: Darryl Reilly
"Puttin' On the Ritz" done in the spirit of Mel Brooks' Young Frankenstein via Sarah Johnson's continuously witty choreography is a highlight of Frankenstein's Monster is Drunk and The Sheep Have All Jumped the Fences; it's a dizzying and affective 70-minute entertainment. "Copacabana (At the Copa)," "The Way You Look Tonight" and "Lucy in the Sky with Diamonds," are among the other classics used to optimum effect.
The premise of author Owen Booth's same-titled short story is that after the famous Monster's 1930's Hollywood movie career flamed out, he returned to his native European mountain village and was soon accidentally frozen in a glacier. In 1946, a local woman walking her dog comes across him in this state. It takes medical authorities two weeks to thaw him out, then he must dazedly begin his life anew.
This tale has been wildly, yet sensitively adapted for the stage by devisor and director Zoë Seaton. Ms. Seaton's ingenious small-scale epic-style, and fast-paced staging in a contained theater has actors in the audience, patrons given bingo cards and numerous entrancing tableaus and marvelous musical and dance sequences.
Over the course of decades, the Monster marries a well-to-do melancholy townswoman, runs a hotel, operates a skylift and resumes his screen acting in Spanish horror movies, all while interacting with a gallery of stock characters. These episodes are sharply rendered by Seaton, and are outrageously enacted by a vivacious quartet.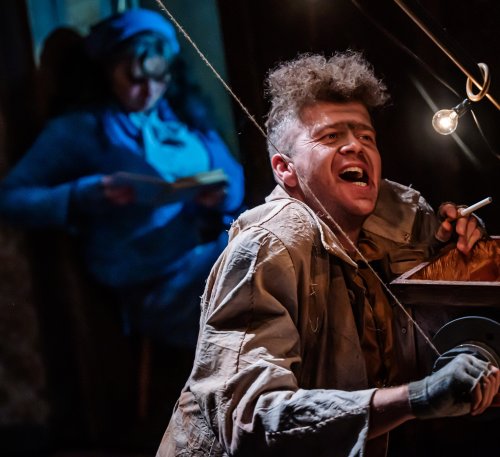 With minimal makeup, his hair cropped into a flowing flattop and wearing costume designer Ryan Dawson Laight's wonderfully tattered ensemble, the imposing Rhodri Lewis is visually ideal as the Monster. That quality, along with Mr. Lewis' vocal grandeur which contains a trace of Boris Karloff, and his often-forlorn countenance, enable his magnetic portrayal of the familiar creature.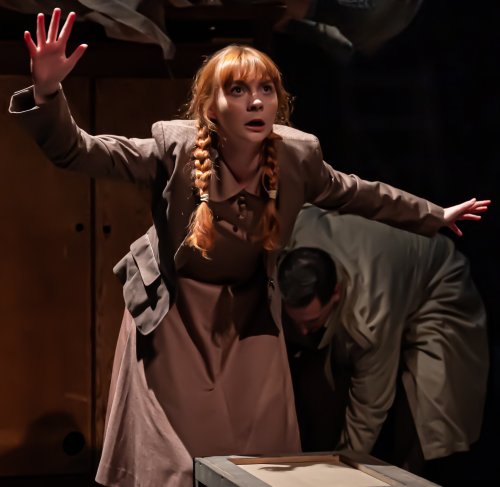 Harkening back to the Golden Age of Television's live variety shows (lookup Imogene Coca on YouTube), is the red-haired, rubber-faced and hyper, Vicky Allen who hilariously creates one zany characterization after another. The dog-walking villager, a formidable midwife and Elsa Lanchester as The Bride of Frankenstein, are just a few Ms. Lewis' spot-on fabulously detailed mini portraits. Nicky Harley's sterling performance as the Monster's wife assuredly combines comic flair with dramatic depth. The perpetually beaming, vocally versatile and physically animated Chris Robinson is a delightful histrionic whirlwind in his multiple roles.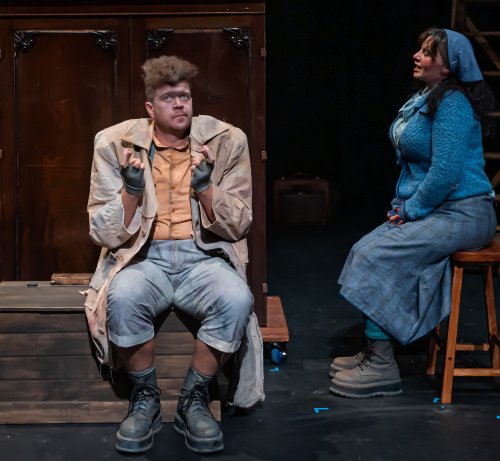 Mr. Laight's crafty scenic design makes ample use of an armoire, and a few key furnishings to vividly suggest the many locales and time periods. The production's touring lighting designer, Sinead Owens recreates original lighting designer Blue Hanley's striking assortment of hues and eerie dimness. The many musical bits and horror movie effects are crisply rendered by Garth McConaghie's balanced sound design.
Frankenstein's Monster is Drunk and The Sheep Have All Jumped the Fences is an immersing and mirthful diversion.
This American premiere production is by the Northern Ireland-based Big Telly Theatre Company and is part of the Origin Theatre Company's 1st Irish Festival 2023. The program includes more than 20 theatrical productions, play readings and film screenings across New York City over three weeks. For information, visit www.origintheatre.org
Frankenstein's Monster Is Drunk (through January 28, 2023)
Big Telly Theatre Company
59E59 Theaters, 59 East 59th Street, in Manhattan
For tickets, visit www.59e59.org
Running time: 70 minutes without an intermission