By: Darryl Reilly
Up the duff, On the todd and Johnny, are slang terms explained in the glossary attached to the program of the contemporary Irish play, Heaven. Respectively, they mean pregnant, single and condom. In 85 minutes, playwright Eugene O'Brien masterfully dramatizes two slices of life in his engaging bittersweet marital confessional. It is structured as a series of finely etched alternating biographical monologues addressed to the audience; startling revelations abound.
The hard-drinking 51-year-old free-spirited social worker Mairead comes from a dysfunctional background. She has been married to the 54-year-old mild-mannered schoolteacher Mal (short for Malachy) for 20 years, after meeting on a blind date. They have clung to each other ever since, sublimating their mutual pain. Mal has been sober and reflective since heart surgery 10 years ago; their sex life gradually faded. Their 19-year-old daughter is a nurse and has recently moved out of the Limerick family residence to live with her boyfriend. She and Mairead have long had a combative relationship, and are mutually estranged.
Mal and Mairead have journeyed to her decaying former small town to attend her sister's wedding. Mr. O'Brien employs this occasion as a narrative device to searingly and theatrically depict the couple's troubled existences. We learn that Mal is gay from his account of a past encounter with a male prostitute, and an interaction at a drug-fueled post-wedding gathering. Mairead pines for her sexually magnetic old flame who is a wedding guest. He got her pregnant, and after her abortion they went their separate ways. O'Brien's immaculate grasp of dramatic writing exhibits flavorful dialogue for his affective characters, which are grandly performed.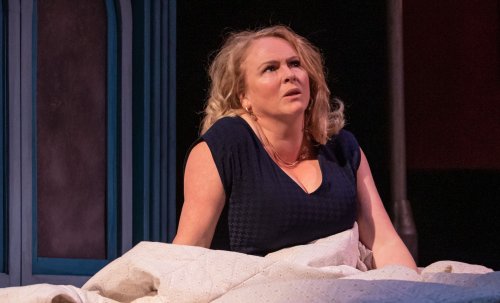 The blonde and radiant Janet Moran is a breathless force as Mairead. With her distinctive Irish accent, animated physicality and gutsy soulfulness, Ms. Moran is hilarious and heartbreaking. Whether singing ABBA's "Dancing Queen," or rhapsodizing about a male object of desire who resembles Jesus Christ, or reenacting a self-censored confession to a priest, Andrew Bennett is commanding as Mal. The gray-haired Mr. Bennett supremely veers from low-key to emotive with histrionic ease for his striking characterization. Moran and Bennett each totally bring these lost souls to life on the stage. Though they don't interact, they separately connote their characters' unity.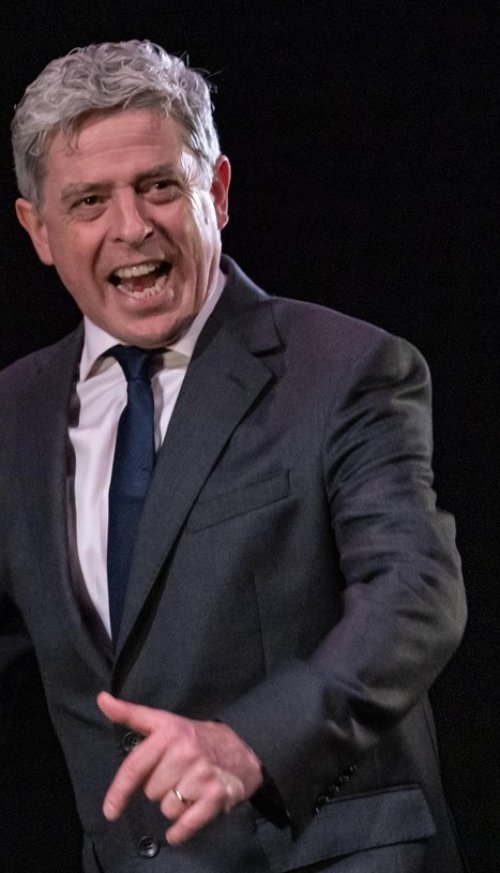 These calibrated performances in concert with director Jim Culleton's smooth and skillfully emphatic staging, totally realize Mr. O'Brien's quiet lives of desperation scenario. Zia Bergin-Holly's smart atmospheric scenic design has a centerstage configuration of a shabby building wall and a stained-glass window, which along with a streetlamp and some chairs and stools, clearly represent the town, a pub and other locales. Lighting designer Sinéad McKenna's moody hues, bracing brightness and varying dimness, perfectly complement the play's tones and incidents. As does composer Carl Kennedy's original incidental music, it and the effects are subtly rendered by his adept sound design. Saileóg O'Halloran's everyday costume design brightly suits the ordinary people depicted.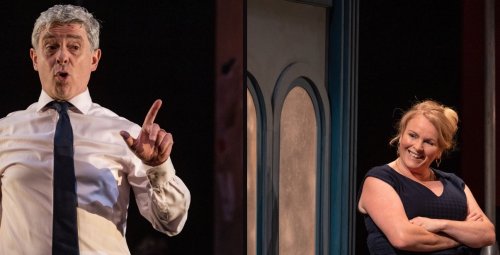 Marked by humor, poignancy and suspense, Heaven is a ravishing theatrical experience.
Recently produced by Ireland's Fishamble: The New Play Company, Heaven is making its American premiere as part of the Origin Theatre Company's 1st Irish Festival 2023. This program includes more than 20 theatrical productions, play readings and film screenings across New York City, over three weeks. For information, visit www.origintheatre.org
Heaven (through January 29, 2023)
Fishamble: The New Play Company
59E59 Theaters, 59 East 59th Street, in Manhattan
For tickets, visit www.59e59.org
Running time: 85 minutes without an intermission