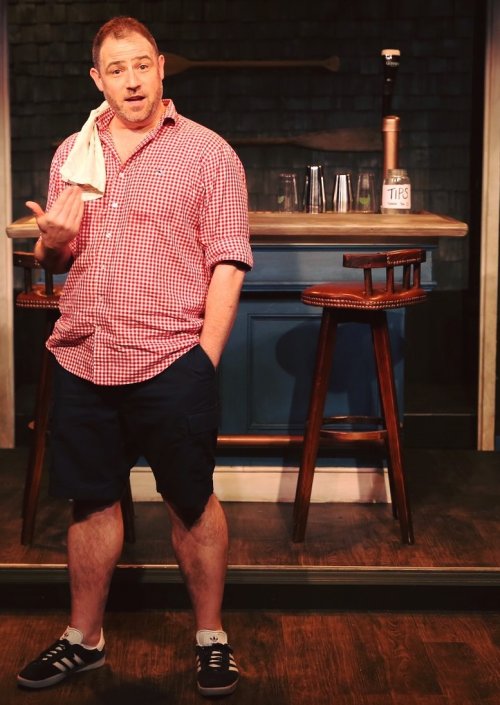 By: Darryl Reilly
"I'm the Ronald McDonald of sad fucking stories!" So, observes the loquacious legal Irish immigrant bartender Timothy Finnegan of his Massachusetts island clientele's tales of woe in author Ronán Noone absorbing contemporary solo play, The Smuggler. It lives up to its billing as a "thriller in rhyme," with its punchy rhyming sentences and gritty film noir-style plot twists and turns among corrupt police officers, vicious human traffickers and scheming strivers.
After Tim's bar is closed down, this now unemployed aspiring writer scrambles. His wife's low salary can only go so far for expenses and to pay the rent on the dilapidated bungalow that houses them and their infant son. Tim gets a job as a housepainter among undocumented workers who stash their wages in safes in their residences. The ever-crafty Tim soon hatches a plan to rob them and give his family the American dream of a home of their own.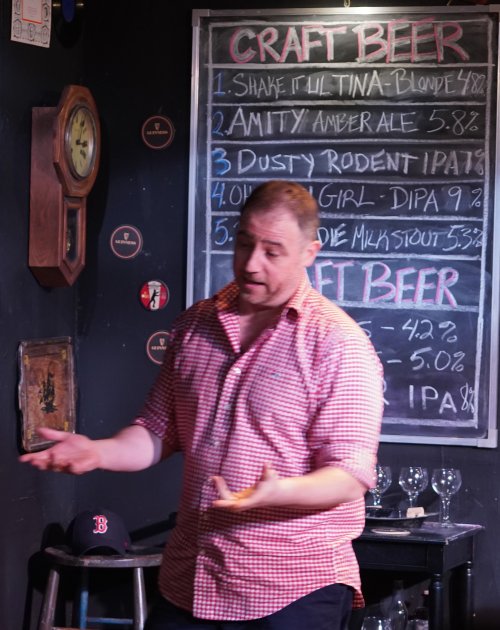 Mr. Noone spins out his often darkly comic, based-on-true events crime scenario with dramatic flair. Details are plentiful, multiple characters are defined, and unease abounds. The Smuggler's creative team go all out on theatrically rendering it.
The audience arrives at the Irish Repertory's Theatre's W. Scott McLucas Studio Theatre to find that scenic designer Ann Beyersdorfer has wondrously configured it into a nautical-themed tavern. The stage is set with a bar, stools and restaurant tables and chairs, and the auditorium's walls are hung with properties designer Jason Brubaker's well-chosen paintings and bric-à-brac. The seating area consists of wooden chairs and small tables with flickering electric candles. The immersive quality is further magnified by the arrival of the bartender, "I think the bar is open, folks!"
Wearing dark shorts and a red gingham shirt, the dynamic actor Michael Mellamphy as Tim, cheerily greets audience members as if they were establishment patrons, some as regulars. Accompanied by upbeat recorded songs including Frank Sinatra's "Come Fly With Me," Mr. Mellamphy is a whirlwind at the bar, tossing and catching bottles, slicing limes and mixing and serving various drinks to nearby audience members. The house lights dim, and the play begins.
With his throaty Irish accent and magnetic presence, Mellamphy dazzles for 85 minutes. He expressively narrates as Tim, and takes on the distinctive guises of other figures as he enacts this philosophical and suspenseful yarn, reveling in the rhyming speech. A vivid highlight of Mellamphy's grand performance is Tim's simultaneously frightening and hilarious encounter with a colossal super-intelligent rat; this clash assumes mythological proportions. It is physical acting at its highest level as Mellamphy visually and vocally soars while depicting this epic battle of wills and bodies between man and beast.
Director Conor Bagley's inventive staging has Mellamphy purposefully in motion, still, all over the playing area and into the audience for picturesqueness and narrative focus. Michael O'Connor's lighting design is a kinetic blend of hues perfectly complementing the play's tones and incidents. Composer Liam Bellman-Sharpe's moody original music and edgy sound design contributes to the periodically ominous atmosphere.

The Smuggler is an exhilarating take on American society's underside.
The Smuggler won the Best Playwright Award for Ronán Noone at the Origin Theatre Company's 1st Irish Festival 2019. Its intended 2020 production was postponed due to the pandemic, it is now part of the 1st Irish Festival 2023. This program includes more than 20 theatrical productions, play readings and film screenings across New York City over three weeks. For information, visit www.origintheatre.org
The Smuggler (through February 26, 2023)
Irish Repertory Theatre
W. Scott McLucas Studio Theatre, 132 West 22nd Street, in Manhattan
For tickets, visit www.irishrep.org
Running time: 85 minutes without an intermission