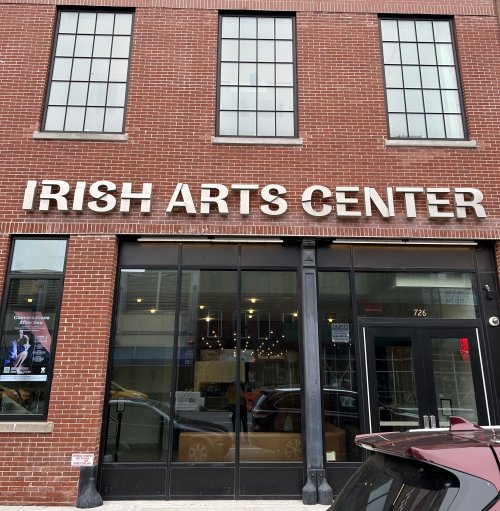 By: Darryl Reilly
The Irish Arts Center presented a series of one-performance play readings as a finale to the Origin Theatre Company's 1st Irish Festival 2023. This three-week program included more than 20 theatrical productions, and film screenings across New York City over three weeks. For information, visit www.origintheatre.org
Magical realism flourishes such as a talking crucifix are contained in Ukrainian playwright and poet Bohdan Boychuk's (1927-2017) ambitious dramatic work, Hunger. It depicts Soviet leader Josef Stalin's brutal genocidal actions in Ukraine from 1932 to 1933; over four million Ukrainians perished in what is known as "Holodomor."
The play was adapted by Dr. Maria Rewakowicz and director Emma Denson, this event had been intended for over a year. After the 75-minute reading, scenic and costume designer Stephanie Bahniuk detailed the stagecraft planned for the fully-staged production of Hunger. These remarks were illuminating, this is an epic work that was performed in a small auditorium by a strong cast of actors in everyday clothes, mostly sitting in chairs while holding scripts. Some characters spoke in Ukrainian, with translations projected onto a large screen on a side wall.

Julian Abelskamp and Anne Guadagnino each brought existential intensity out of Sartre's No Exit, to their roles as a man and a widowed woman with a baby, who meet amidst carnage, starving and bonding. "The purpose of life is meaningless" says the man.
Maryna Vogtsberger was ethereal as the Voice of the Crucifix, speaking poetically in Ukrainian. As did Úna Clancy who excelled as a fierce grandmother carrying the body of her dead grandson. Alvin Christmas was towering as a weary poet.
Most accomplished was Isaiah Dodo-Williams who read the stage directions. This was not a simple case of, "She picks up the suitcase and exits…" It was more like reading aloud a Quentin Tarantino film script. Mr. Boychuk has rapes, beatings, killings, carts of naked bodies, and onslaughts galore. There are also descriptions of tableaus and portions where, "for four to five minutes, nothing happens." The prologue is laced with mysticism. Mr. Dodo-Williams' clear, smooth and emotive when needed vocal exhibition, was integral to the presentation's success.
Ukraine's story is Ireland's story, and Ireland's story is our story. The war rages on in Ukraine as they must once again fight for their lives against the Russians. Tensions brew in Ireland, particularly in the North, and particularly since Brexit.
So, states Ms. Denson in her eloquent director's note regarding the rationale for Hunger being included in the 1st Irish Festival 2023.
For more information, www.emmadenson.com/hunger
"Sometimes I make films in my head, a film where I'm the star!" So, observes the downtrodden 26-year-old farmwoman, Dolly in playwright Honor Molloy's Dublin Noir, directed by Nick Cotz. Not only does Ms. Molloy's engaging Tom Stoppard-style scenario switch between a farm's kitchen in 1939, to a Dublin jail cell in 1941, it also includes a fantasy black and white espionage film with melodramatic characterizations by two of the play's characters. "That doesn't make sense." "It doesn't have to, it's a film."
In 1939, we meet Murphy, an embittered dairy farmer and former music hall performer who rails against Ireland's possible involvement in another European war and Charlie Chaplin's ineptness. He comes across Tadhg, who claims to be poet, but whom Murphy believes is a Nazi spy, and imprisons him in the barn.
Dolly grew up and was sexually abused in one of Ireland's notorious orphanages and was bought as a teenager by Murphy to be a farm worker. She counters her bleak existence with chronic film-going, fantasies, and is now besotted by Tadhg. Molloy playfully and dramatically spins out her inventive plot for 80 entertaining minutes.

The animated John Keating was outstanding as Murphy, mining all the possible comedy and brutality of this villain. Gina Costigan was commanding as Dolly, evoking anguish, fancifulness and girlishness. Aidan Redmond as Tadhg was philosophically stalwart and wonderful zany in the fantasy film scenes. As was Barrie Kreinik as a Viennese femme fatale, à la Elaine May.

The stage directions were smoothly and authoritatively read by John Goodrich. Dublin Noir was presented in association with Irish American Writers and Artists (IAW&A).
"We're immigrants, getting taken advantage of is our middle fecking name!" So, declares an Irishwoman working in Connecticut, in playwright Ronán Noone's imaginative Thirst. It is a funny, touching and specific companion piece to Eugene O'Neill's landmark family drama, Long Day's Journey into Night. Mr. Noone presents the lives of the three Tyrone family servants in the summer house's kitchen, in parallel time to that play's August 1912 events, during his two-act work which ran 100 minutes.
Jack the townie chauffer, is a melancholy widowed recovering alcoholic with dreams of his own car business. Bridget the bitter hard-drinking celibate cook, is in her 30's, and left Ireland 16 years ago after giving birth to a son out of wedlock. She sends money back home, but never hears back. Romantic tensions develop between her and Jack. There is the fiery young maid, Cathleen. She is a distant relative of Bridget's, and Bridget maneuvered for to immigrate and got her the job. After her Irish boyfriend breaks up with her by letter, Cathleen plans to go to New York City and become an actress.
Noone richly depicts these three O'Neill-type characters with O'Neill-style depth and poignancy. His dramatic skill is further evidenced by cheekily referencing Long Day's Journey into Night directly to Thirst. At times from offstage, we hear the voices of James, Mary, Jamie and Edmund. The second act's pièce de resistance is a wicked sequence where Jack and Cathleen hilariously and accurately impersonate all the Tyrones via quoted dialogue and acted out incidents from that play.
This reading's director, Theresa Rebeck also directed a production of Thirst last summer at Vermont's Dorset Theatre Festival with the same cast. Ms. Rebeck cited in her opening remarks that this would explain their ease and force in their roles, which was delightfully true.

The luminous Kathy McCafferty was towering as Bridget, obtaining laughs while emitting heartbreak. As Cathleen, the radiant Meg Hennessy was supremely feisty and girlish. David Mason as Jack offered a wrenching portrait of a burnt-out case redeemed. The youthful Patrick Hart read the stage directions with pleasing seriousness.
Due to scheduling issues, Theater Scene was unable to attend the reading of Those You Pass on The Street by Laurence McKeown.
Hunger, Dublin Noir, Thirst (January 28-29, 2023)
Irish Arts Center, 726 11th Avenue, in Manhattan
For information, visit www.irishartscenter.org