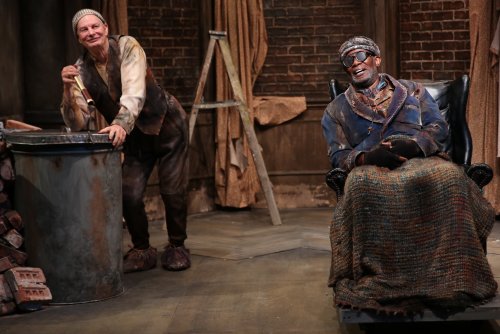 By: Darryl Reilly
Clown par excellence Bill Irwin wheels out esteemed classical actor John Douglas Thompson in a wing chair attached to a dolly, and we're off for 85 minutes of theatrical pleasure during Samuel Beckett's Endgame. This exquisite duo are abetted by grand farceurs Joe Grifasi and Patrice Johnson Chevannes, as ancient garbage can denizens.
All life long the same questions, the same answers. But we breathe, we change! We lose our hair, our teeth! Our bloom! Our ideals! Why this farce, day after day? Nothing is funnier than unhappiness, I grant you that.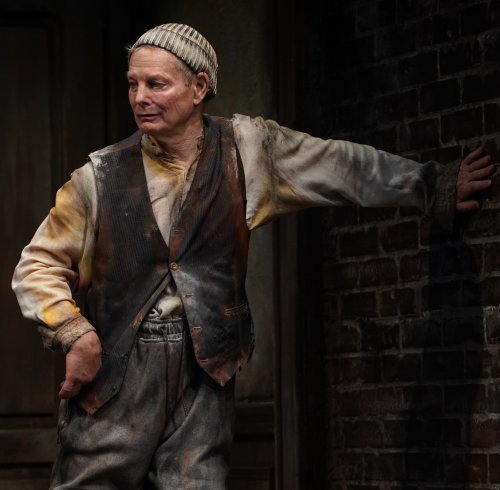 These are among the many resonant lines of dialogue contained in Beckett's existential masterpiece, Endgame, where a stuffed animal figures prominently. First performed in 1957, the play has been revived around the world numerous times. Director Ciarán O'Reilly masterminds this mesmerizing fresh incarnation presented by New York City's Off-Broadway Irish Repertory Theatre. Mr. O'Reilly's accentuates his cast's tremendous performances with gloriously precise physical staging and grand presentational flourishes, all taking place in a grim cell-like chamber.
Mr. Thompson plays Hamm, a tyrannical blind dying old man. Whether begging for a painkiller, bullying, or rhapsodizing over his fake dog, he is supreme. The charismatic shaven-headed Thompson with his soaring expressive voice and stately presence revels in all that is Beckettian. That includes joyously indicating that he has urinated under his blanket.
While shuffling, limping and gesticulating, Mr. Irwin exhibits his customary titanic physicality as Clov, a servant who since boyhood has tended to Hamm. Irwin's melodious voice lands every joke and each poignant passage. Irwin's and Thompson's rapport is that of a loopy comedy team, as they enact Beckett's cryptic tale of humanity through their towering characterizations.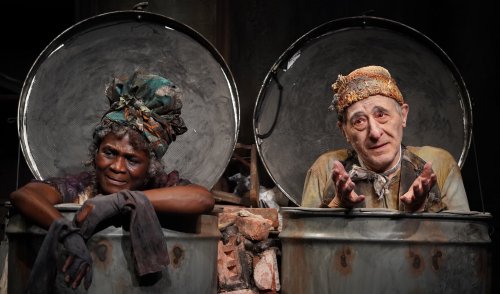 Mr. Grifasi and Ms. Chevannes hilariously and tenderly portray Hamm's aged legless parents, Nagg and Nell. They periodically pop up from their separate trash cans to contribute mirth, spacy observations and obtuse exposition. Grifasi is a twinkling elfin delight, and Chevannes incredibly achieves a wickedly sensuous dimension.
Scenic designer Charlie Corcoran provides the perfect crumbling, drab and spare, "a room in a house by the sea," where drawn window curtains reveal bricks. Michael Gottlieb's murky lighting design totally suggests time frozen yet marching on. Sound designer M. Florian Staab renders the crashing music and effects with foreboding. Orla Long's musty costume design visualizes each character with distinctive flair. Properties supervisor Deirdre Brennan has obtained the ideal stuffed dog, among other choice items.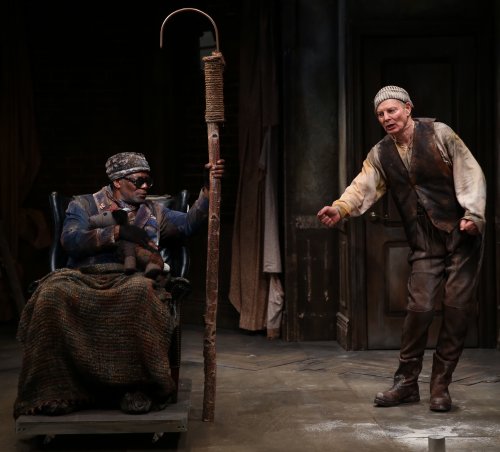 Beckett's enduring enigmatic profundity is faithfully realized by this bedazzling production of Endgame.
Endgame (through March 12, 2023)
Irish Repertory Theatre
Francis J. Greenburger Mainstage, 132 West 22nd Street, in Manhattan
For tickets, visit www.irishrep.org
Running time: 85 minutes without an intermission