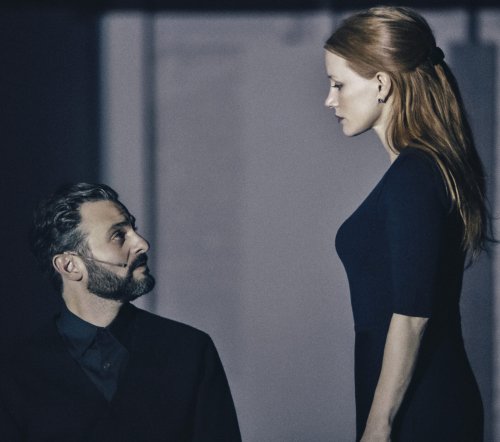 By: Darryl Reilly
Jessica Chastain's awesome performance as Nora, director Jamie Lloyd's vivid modern production, Amy Herzog's pointed adaptation and a coup de théâtre finale, all make this stripped-down revival of Henrik Ibsen's A Doll's House a stimulating and memorable event.
The film noirish presentation forces us to pay attention to the words, concentrate on the performances and focus on the plot, with intensity. Unlike a conventional revival set with 19th century furniture and the cast declaiming while dressed in period costumes, here at every level is meaningful theatricality true to Ibsen's timeless spirit. Ms. Herzog, an esteemed playwright in her own right, through precision, invention and faithfulness, has crafted an inspired concise new take on this three-act masterpiece of dramatic literature.
Slamming the door by Nora at the end of the play, is always staged with its symbolism and profoundity in mind. This time it is presented with disbelief, comical amazement and unforgettability. It epitomizes Ms. Lloyd's tremendous achievement. The unison of a superior company, her exact physical staging and high-caliber stagecraft are employed by Lloyd with stunning results.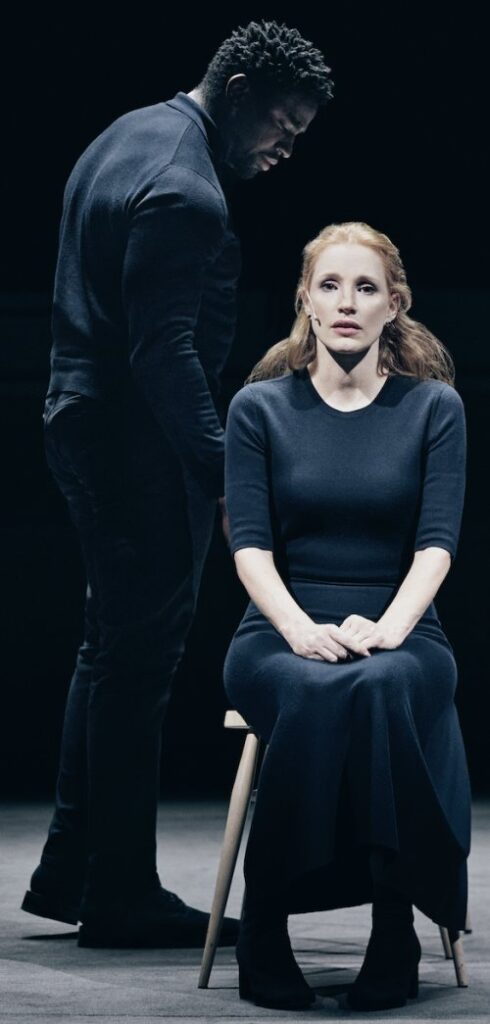 Sitting in a wooden chair for much of the show, Ms. Chastain is mesmerizing throughout. She commands attention in the dim environment with her long red hair, chiseled facial features and animated physicality. Her alluring voice ranges from neutral, emotional and humorous. Chastain has conquered the screen and now conquers the stage with her monumental Nora. The character's childish sensibility which evolves into searing feminism is totally depicted by Chastain. Choreographer Jennifer Rias's shining moment is the captivating Tarantella she has created for the seated Chastain who performs it with verve.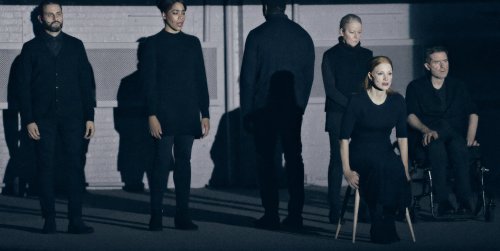 With his soothing voice and amiable manner, the bearded Arian Moayed's dashing characterization of Torvald realizes complexity, hypocrisy and a wayward good nature, with histrionic force. Mr. Moayed's rage and then euphoria in the climax are towering. Simultaneously muted and vivacious, Jesmille Darbouze's Kristine is of heartbreaking stoicism. The charismatic Okieriete Onaodowan as a lowkey Nils Krogstad offers a chilling portrait of pragmatic villainy. In a wheelchair, the spirited Michael Patrick Thornton is poignant and sardonic as the doomed Dr. Rank. Mr. Thornton's romantic interactions with Chastain are quite beautiful. Nora's former nanny and now her children's, Anne-Marie is engagingly played by Tasha Lawrence with personable detachment. Ms. Lawrence is majestic detailing how she gave up her own child to take care of Nora.
Scenic designer Soutra Gilmour's black and gray-accented cavernous virtually bare stage artfully utilizes the theater's brick walls and fixtures, achieving the dimension of a disembodied way station. A series of floor turntables transport characters for narrative and presentational effect. Ms. Gilmour's and Enver Chakartash's resplendent fashion forward all-black costume design is perfectly individualized for each character. Lighting designer Jon Clark employs a striking palette of shimmering and smoky hues, creating entrancing shadows and sparingly illuminates the stark void before us. Ben and Max Ringham's jolting sound design smoothly calibrates the miked actors' voices, represents unseen children, contributes to the uneasy atmosphere and renders Ryuichi Sakamoto and Alva Noto's piercing original score with crystalline clarity.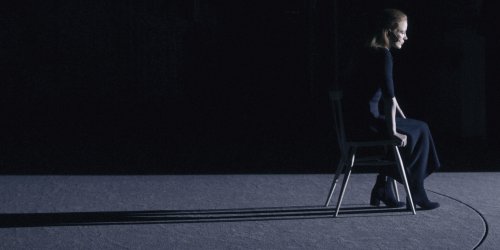 Published in 1879, A Doll's House is about the Helmers, a young Norwegian couple married for eight years. Torvald is a former lawyer and now is a rising government official. Nora is a typical housewife and mother of the era without much intellectual depth. Early in their marriage, Torvald was taken seriously ill and was near death. Nora unscrupulously borrowed money to fund a year-long Italian restorative sojourn for them. The disgraced Nils Krogstad works for Torvald and loaned Nora the money, shady circumstances were involved, and he is now blackmailing her. Also on the scene is Nora's childhood friend Kristine Linde, an impoverished widow, and the infirm family friend and neighbor, Dr. Rank who yearns for Nora. He is dying from having contracted a venereal disease acquired at birth from his father.
This incarnation of A Doll's House is an enthralling and indelible theatrical experience.
A Doll's House (through June 10, 2023)
Hudson Theatre, 141 West 44th Street, in Manhattan
For tickets, visit www.adollshousebroadway.com
Running time: one hour and 45 minutes without an intermission