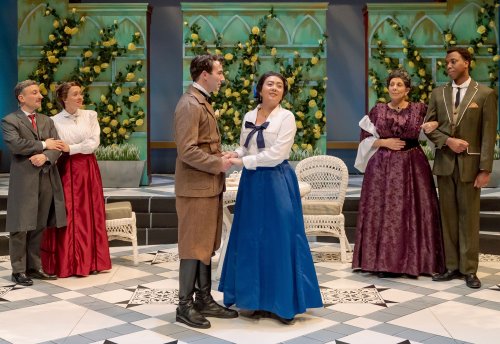 By: Darryl Reilly
"There is nothing quite as tempting as a fresh cucumber sandwich." So, declares Cecily Cardew Moncrieff at the start of playwright Alice Scovell's zesty comedy, The Rewards of Being Frank. It is an affectionate, clever and faithful sequel to Oscar Wilde's 1895 classic play, The Importance of Being Earnest, that is set seven years later. Here are a few examples of Ms. Scovell's numerous witty Wildean homages:
My mother told me, "Marry a man who is fat and bald. Then in the future, you won't face disappointment."
You see, my parents named me "Frank" with the expectation that I would be truthful to my very core.
In these trying modern times, it is essential to swear forcefully and frequently.
Getting to know him is something I look forward to with relish. I, once again, speak of enthusiasm, not condiments.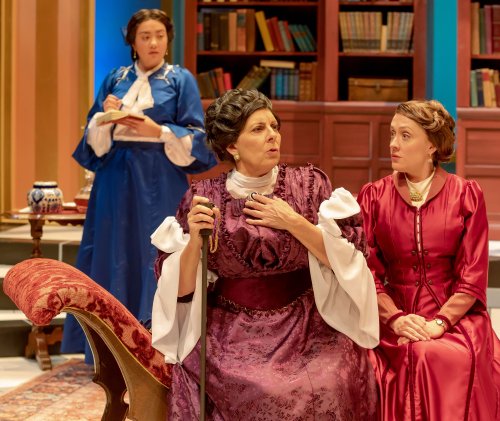 We are in 1902 London, Cecily and Algernon and Gwendolyn and Ernest, had a double wedding and live next to each other in neighboring houses. Lady Bracknell lives with Gwendolyn and Ernest, and so is frequently around, having the Beckettian experience of never once having gotten a cucumber sandwich in the last seven years. Miss Prism and Dr. Chasuble aren't on the scene, and the manservants Lane and Merriman, are referred to and are offstage. The plot concerns the couples' desire to hire a teacher for their offstage young sons who are in the country with their nanny, Miss Prudence Darling. The new figure Frank Teacher arrives to interview for the teaching position.
Scovell replicates Wilde's characters, milieu and sensibility, with skillfulness, brio and novelty. The dizzying second act finale is right out of Wilde's playbook. There is no handbag, but there are discovered false names, recently deceased distant relatives' wills, mistaken identities and a surprise wedding, which all figure prominently in the euphoric conclusion.
Director Stephen Burdman's vigorous staging fulfils Scovel's and Wilde's visions thru full gallop pacing, landing every bon mot and sight gag, during his visually beautiful presentation. Mr. Burdman's exquisite cast is of Wildean perfection.
Veteran comic performer and show business impressionist par excellence, Christine Pedi's dazzling artistry is on display as Lady Bracknell; she employs a grand fluty voice. Rapidly veering from understated to zany, while encased in a period-era gown and wearing a dark Queen Victoria-style wig, she is triumphant. Her most riotous declarations are when detailing her unfaithfulness to Lord Bracknell with men all over Europe.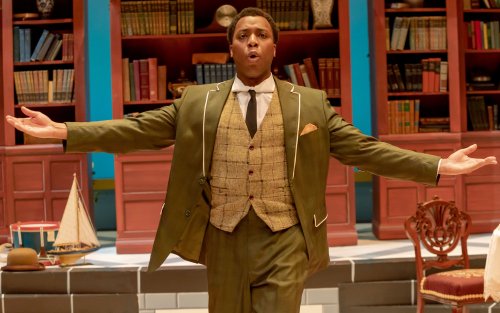 Emitting Ortonesque swagger during his pivotal appearances, Moboluwaji Ademide Akintilo playfully dominates as the eloquent usurper, Frank Teacher. Mr. Akintilo's captivating performance blends farce with seriousness.
The animated quartet of James Evans as Algernon, Kelly Mengelkoch as Gwendolyn, Tora Nogami Alexander as Cecily and Jeremy Dubin as Ernest, all distinctively endow their uniformly commanding characterizations of these iconic figures with their sparkling stage presences.
Samantha Reno's gorgeous Edwardian-style scenic design for the first act's drawing room has the stage's back wall set as bookcases, the patterned marble-floored playing area has a divan, a bar table and a few other appropriate furnishings and baubles. For the second act's outdoor area, the furnishings are replaced with lawn components and the bookcases have been turned, revealing lovely painted trellises adorned with flowers. Lighting designer Justen N. Locke attractively bathes the stage in bright hues. Suitable musical selections and effects are all well-rendered by Alex Brock's sound design. Costume designer Rainy Edwards clothes each character with period-accurate panache.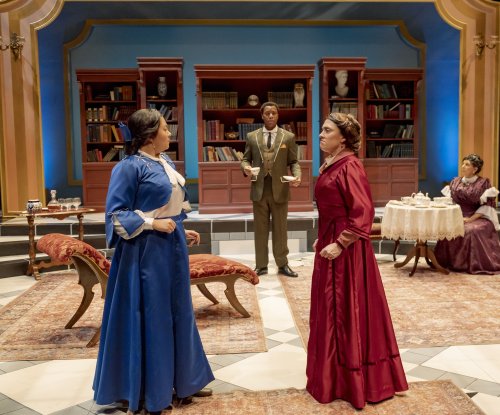 The Rewards of Being Frank is a welcome and frothy diversion.
The Rewards of Being Frank (through March 26, 2023)
New York Classical Theatre
Mezzanine Theatre at ART/New York Theatres, 502 West 53rd Street, in Manhattan
For tickets, visit www.nyclassical.org
Running time: two hours including one intermission