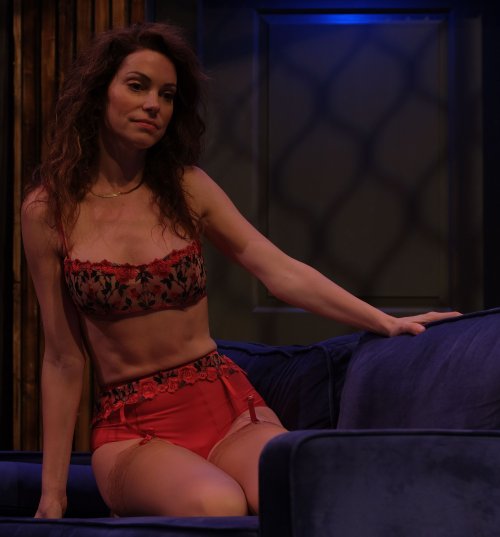 Slinking around in red panties and a red bra while declaiming in a punchy Southern accent, the alluring Courtney Henggeler as Maggie, gets this spirited production of Cat on a Hot Tin Roof off to a rollicking start. Ms. Henggeler is a star of the Netflix series Cobra Kai, and is here quite credibly making her New York stage debut. Tasked with delivering yards of exposition-laden speeches, Henggeler gamely sails on. Her performance soars in the third act as she seductively charms Big Daddy, announces her miraculous pregnancy and makes peace with her disaffected alcoholic husband, Brick.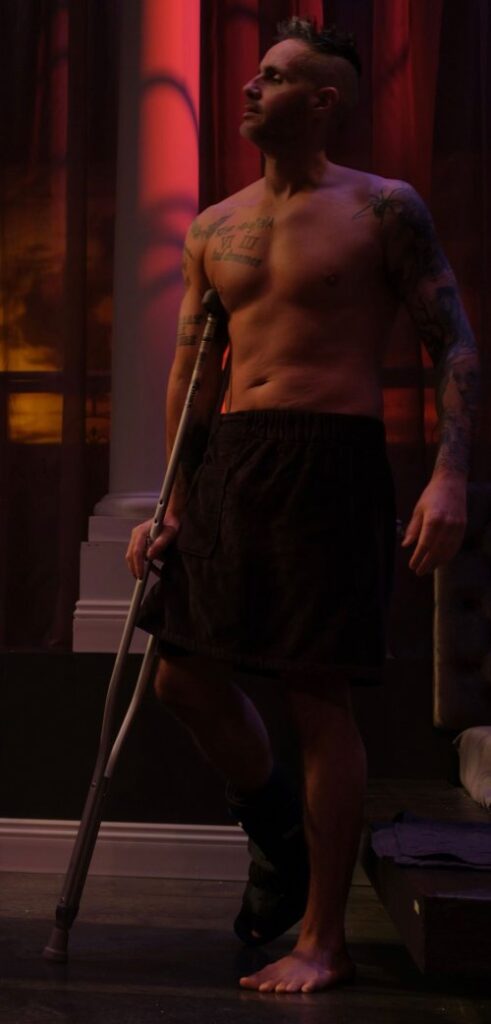 His foot encased in a black boot and hobbling around on a crutch, the often near nude, shredded and perpetually sullen Matt de Rogatis offers a visually and vocally bold characterization of Brick. Mr. de Rogatis's Southern-accented expressive tenor voice mines all the despair and dark humor of Tennessee Williams' grand writing, particularly the need to keep drinking until he hears that "click" in his head. Was Brick lovers with his childhood best friend Skipper, who had sex with Maggie and who committed suicide, is the question on everyone's minds. de Rogatis turns the answer to that into a breathtaking enraged aria, spewing a litany of common homophobic slurs. de Rogatis and Henggeler's sensual and emotional rapport is a major asset to the production.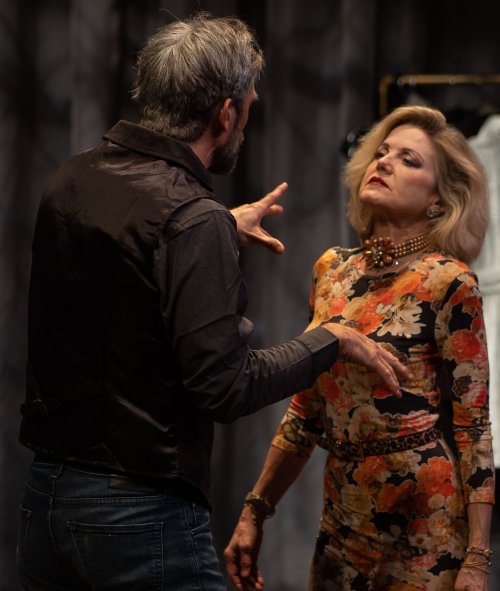 Mostly recast and somewhat reconceived, it is a return engagement of the first ever Off-Broadway revival of Williams' 1955 Pulitzer Prize-winning classic which played in July 2022. Rejoining de Rogatis is the animated Alison Fraser as Big Mama. Her blonde hair in a bouffant and wearing a wild print outfit which emphasizes her sleek physique, Ms. Fraser exudes Southern hospitality and steeliness as she alternates between joyous dithering and erupting with Actors Studio-style intensity.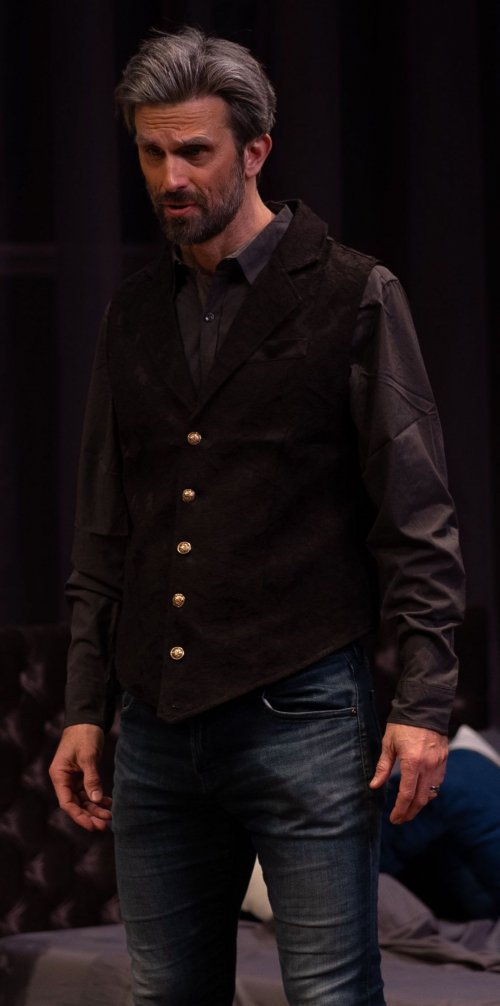 Frederick Weller is a revelation as Big Daddy, being as far away as possible from Burl Ives. Long-time New York theatergoers will have fond memories of his ingratiating insolence demonstrated in several Neil LaBute plays, as one of the nude baseball players in the original production of Take Me Out, and as a sexy lizard in the Broadway revival of Edward Albee's Seascape. Silver-haired and remaining lean and wiry, Mr. Weller dominates the stage while strutting around in jeans and a vest, like a nefarious cattle baron. Weller's distinctive twangy vocal delivery endows his portrayal with freshness and brute force, jolting the presentation.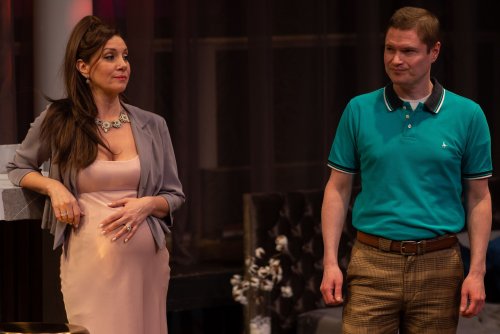 Adam Dodway as Brick's conniving older brother Gooper, and Christine Copley as his scheming wife Mae, each bring charm and weight to these supporting roles. As do Milton Elliott as an unctuous comic relief minister and Jim Kempner as a folksy doctor who must break the bad news of Big Daddy's health to Big Mama.
Williams tinkered with Cat on a Hot Tin Roof before, during and after its Elia Kazan-directed premiere, for subsequent incarnations. The play while powerful is repetitive, it goes off on tangents and its three acts last close to three hours including an intermission and a pause. This version has been billed as "updated" and set in the present. That is apparent by the contemporary décor and clothing and some topical monetary references. These stylistic flourishes do not substantially alter the piece, but mainly add a novel dimension.
Director Joe Rosario has inspired his cast's lively performances and his physical staging is clean and focused, underscoring the characters' conflicts. Mr. Rosario's accomplished use of production elements realizes this complex material with stageworthy flair. Matthew Imhoff's present day scenic design is of lavish élan and spatial ingenuity. Lighting designer Christian Specht's shimmering hues alternate with noirish smokiness for arresting effects. A highlight is the sight of the skyline through a picture window and an open door, fireworks commemorating Big Daddy's 65th birthday are creatively indicated by flickering lighting. Tomás Correa's sound design adeptly evokes those celebratory blasts, along with choice musical selections and the offstage babbling by "The No-Neck Monsters," Gooper and Mae's unseen brood of annoying children.
Engagingly performed and inventively presented, this revival of Cat on a Hot Tin Roof satisfies, entertains and is true to the spirit of Tennessee Williams.
Cat on a Hot Tin Roof (through March 31, 2023)
Ruth Stage
Theatre at St. Clement's, 423 West 46th Street, in Manhattan
For tickets, visit www.ruthstage.org
Running time: two hours and 50 minutes including one intermission and one pause