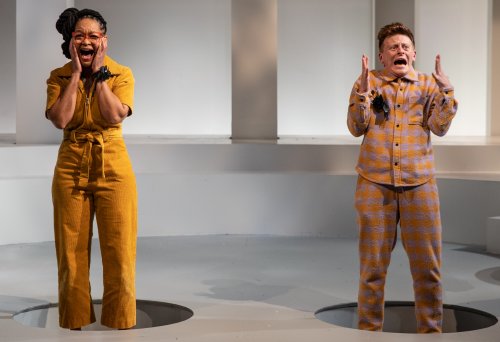 By: Darryl Reilly
Whimsical, yet existential, The Trees is playwright Agnes Borinsky's cumulatively powerful fable which is ravishingly realized for the stage via an engaging presentation and its cast's magnetic performances. Ms. Borinsky's bubbly dialogue meshes absurdism with poignancy for 95 entertaining minutes of beguiling intrigue. Is its fantastical premise a metaphor for loneliness? Or something else? This is left to the audience decide. It's all haunting and theatrically stimulating.
I don't know.
I can't move my feet. Can you?
My toes are roots
So, begins the play's matter-of-fact conceit, that two people are rooted to the ground and then live as trees. The Black 35-year-old Seattle-resident Sheila is visiting her 37-year-old white brother David in their Connecticut hometown. After having had too much to drink at a party, they tumble down a hill in a public park near their childhood home, pass out and awaken to find that their feet have become rooted to the ground. Over the next seven years life goes on. They adjust to their new tree-like existences; friends visit, strangers become friends, the media tires of them, and do-gooders take up their cause as a shopping mall is to be built over them.
Jess Barbagallo as David and Crystal Dickinson as Sheila each offer complex characterizations which run the gamut of emotions. Mr. Barbagallo and Ms. Dickinson both achieve humor and pathos; their sparkling teamwork is in integral to the production's success. The soulful Ray Anthony Thomas shines as a melancholy older gay man who becomes part of David and Sheila's orbit. Danusia Trevino is riotous while thoughtful as their Polish-speaking grandmother. Sam Breslin Wright is positively Brechtian as a wily food vendor. The animated Sean Donovan makes a mark as David's officious city official ex-boyfriend. Max Gordon Moore is commanding as a stalwart Ohio rabbi. The beaming Becky Yamamoto is gloriously phony as Sheila's best friend. Pauli Pontrelli, Xander Fenyes, Nile Harris and Marcia DeBonis, all offer inspired support in their colorful roles. The cast's uniformly marvelous performances are complemented by Enver Chakartash's delightfully trippy costume design.
Director Tina Satter's crisp staging brings momentum and focus to the production. Scenic designer Parker Lutz's gleaming white columns and levels are a simple and perfect landscape for this tale. Thomas Dunn's lighting design and Tei Blow's sound design each enhance the piece's fantastic and realistic dimensions. A pack of frightening wolves is a highlight of Amanda Villalobos' striking puppet design.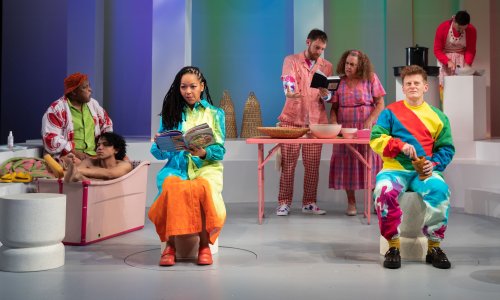 The Trees is an affective, provocative and memorable entertainment.
The Trees (through March 19, 2023)
Page 73 Productions
Playwrights Horizons' Mainstage Theater, 416 West 42nd Street, in Manhattan
For tickets, visit www.playwrightshorizons.org
Running time: 95 minutes without an intermission