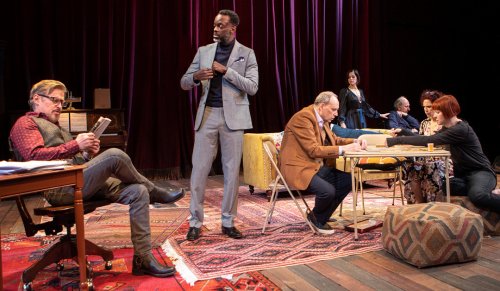 By: Darryl Reilly
It appeared that the young man sitting on the edge of the stage conversing with an audience member was an actor in The Seagull/Woodstock, NY, doing an opening bit. However, it soon became clear that he was an audience member who just felt like sitting on the stage to chat with his friend. That none of the theater's staff did not call him out for this was symbolic of the entitlement that was to follow.
The Seagull/Woodstock, NY's cast of 10 enter and perform warmup exercises. It is only for a few minutes but feels like an eternity. Guttural sounds, mouth chewing, arms flapping and jumping jacks are all gleefully demonstrated. The climax to this self-indulgence was a suitably cloying performance of Crosby, Stills, Nash and Young's "Our House."
Playwright Thomas Bradshaw follows in the theater maker tradition of adapting Chekov to the present, the pandemic is referenced. This is a faithful iteration of The Seagull in terms of characters and plot, but with a grating contemporary social slant. There is name dropping galore; mentions of Nora Ephron, Tracy Letts, Arthur Miller, Philip Roth and Elizabeth Moss, all elicit knowing cackles from the smug audience. The audience member not being reprimanded for sitting on the stage is symptomatic of the unabashed pandering ever present. Mr. Bradshaw's setting his version in the trendy Hudson Valley, among the present-day wealthy, honestly reflects who are seeing it. There is little empathy for Chekov's downtrodden waifs on display amidst the matter-of-fact observations by the well-heeled.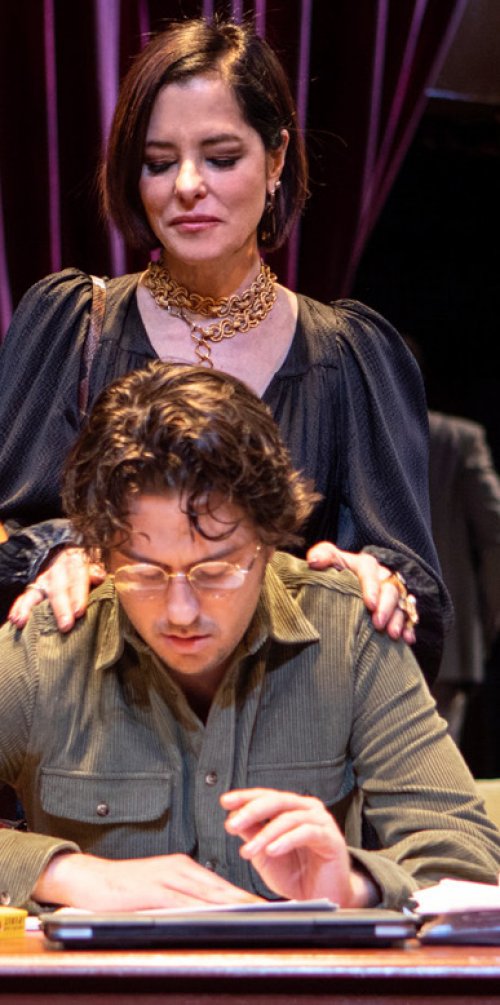 Parker Posey's performance is the chief virtue of The Seagull/Woodstock, NY. Having delighted in many films over the years, it is a pleasure to experience Ms. Posey's offbeat magnetism and idiosyncratic style onstage. She wonderfully plays Chekov's aging insecure actress now called Irene, who here is a one-time Tony Award-winner who we are told has given definitive performances in How I Learned to Drive and Frankie and Johnny in the Clair de Lune, receiving high praise from its author, Terrence McNally, who is added the name-drop list to make the audience feel like insiders.
Irene is "theater famous" not "famous famous," still she is a relationship with an acclaimed literary novelist. He has eyes for an aspiring 23-year-old actress burdened with student debt. She is the object of affection of Irene's fiery experimental playwright son, who incites passion in a female friend. Irene co-owns the house with her Yale Drama School best friend, an older rueful gay man who became a lawyer. It's all quite Chekhovian in spirit but without sincerity. Bradshaw delivers a crowd pleaser to his particular crowd.
David Cale, Ato Essandoh, Patrick Foley, Hari Nef, Daniel Oreskes, Bill Sage, Aleyse Shannon, Amy Stiller and Nat Wolff, comprise the rest of the company. They all perform their familiar roles with varying desgrees of verve.
Director Scott Elliott's staging has the semblance of fluidity, yielding to a passable or to an enthralling experience, depending on one's sensibilities. Derek McLane's minimalist wood-themed scenic design is exceptional. Sound designers Rob Milburn and Michael Bodeen, and lighting designer Cha See, all contribute theatrical polish. Qween Jean's colorful costume design vividly depicts the characters.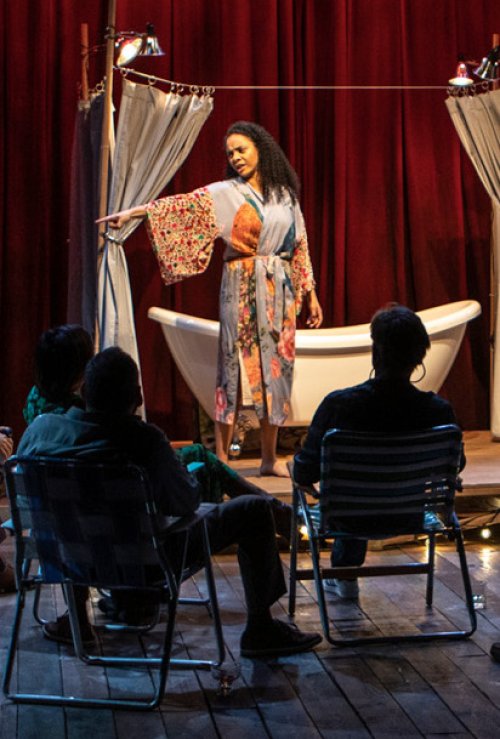 Presented by The New Group, The Seagull/Woodstock, NY is The Seagull for our time. A time of shallowness and accepted wealth inequality.
The Seagull/Woodstock, NY (through April 9, 2023) The New Group
Pershing Square Signature Center, 480 West 42nd Street, in Manhattan
For tickets, visit www.thenewgroup.org
Running time: two hours and 40 minutes including one intermission