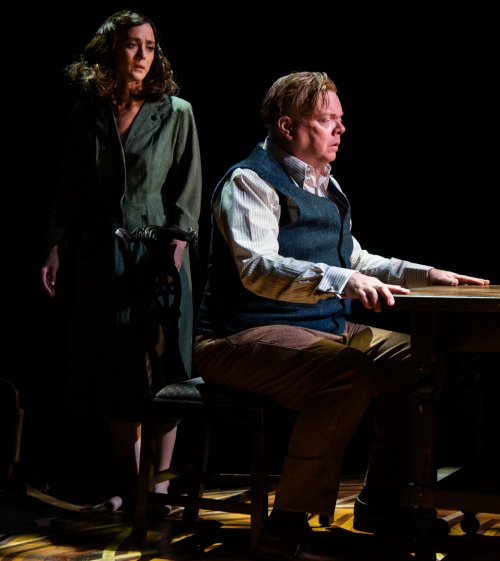 By: Darryl Reilly
Grim and heavy going, Kissing The Floor is playwright Ellen McLaughlin's resetting of Sophocles' mythological Antigone to the 1930's Depression era U.S.A. à la Martin Scorsese's Shutter Island. This is a faithful adaptation with incest, child molestation, references to W.W. I's horrendous trench warfare, murder and a self-blinding, all taking place during an upper-class family secrets drama among two troubled sisters and their disturbed twin half-brothers. The Grand Guignol twists and turns, atmospheric stagecraft and intense acting, all empower it for a spellbinding one hour and 40 minutes.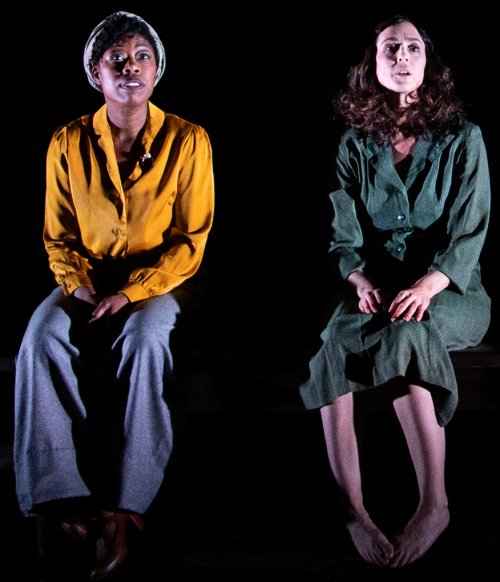 of the old gentleman at her side. No one could ever
describe him well afterward because once you'd had a
glimpse of those hollow, blackened eyes flayed with vivid
scars, you weren't about to look his way again. It was too
terrible. But you did take in something, some awful
certainty about him, his height, a military stance, even
then, in that ragged hank of a coat, and a kind of clarity
of mortal taint that came off him like the steam rising
from him on a wet cold night when they'd come into the
overheated lobby from the sleet outside. He was remarkable
and appalling.
Ms. McLaughlin originated the role of the Angel in Tony Kushner's Angels in America and has had a distinguished playwrighting career focusing on Greek myths. Her Kissing The Floor's formal dialogue is true in spirit to the unsettling tale being told and is faultlessly delivered by the cast. The radiant Akyiaa Wilson's sunniness enables her to be a charming narrator, while also poignantly interacting with her unraveling sister. She is played by the alluring Christina Bennett Lind with Eugene O'Neill-style depth and a compelling jittery manner. With his striking physicality and affective vocal delivery, Leon Ingulsrud is towering as the twin brothers. Mr. Ingulsrud commands in a lengthy family history recitation and when defending his character's unsavory actions with children. Employing an Irish brogue, Rinde Eckert's prison island warden is of pointed authenticity.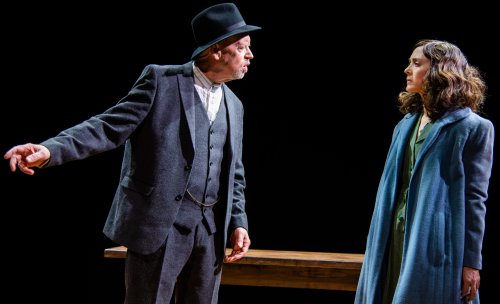 Director Ianthe Demos' steady pacing and moody tone connects with Natalie Lomonte's accomplished movement direction for a suitably eerie presentation. Scenic designer James Hunting provides gloomy furnishings, an ominous vintage radio and a floating crumbling ceiling portion with a hanging light, all for spooky effect. Driscoll Otto's shadowy lighting design relies on textured darkness and dimness with flashes of muted brightness. Popular songs, incidental music and effects are appropriately rendered with dread, by Brendan Aanes' sound design. Costume designer Kenisha Kelly's mostly bright garments smartly contrasts with the all the gloom on display.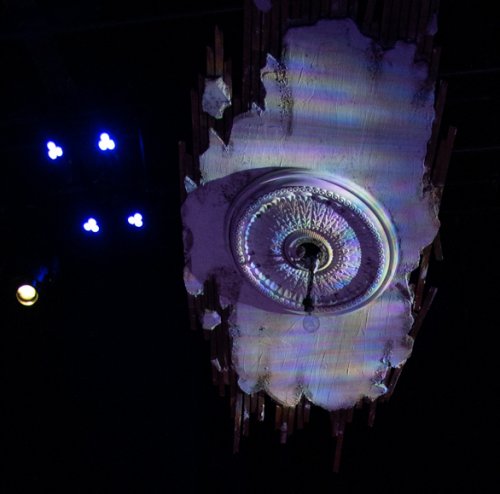 Inherently characterized by unpleasantness and depending on varying sensibilities, Kissing The Floor could be a challenging, chilling, and rewarding experience.
Kissing The Floor (through March 12, 2023)
One Year Lease Theater Company
Theatre Row (Theatre Four), 410 West 42nd Street, in Manhattan
For tickets, visit www.oneyearlease.org
Running time: one hour and 40 minutes without an intermission