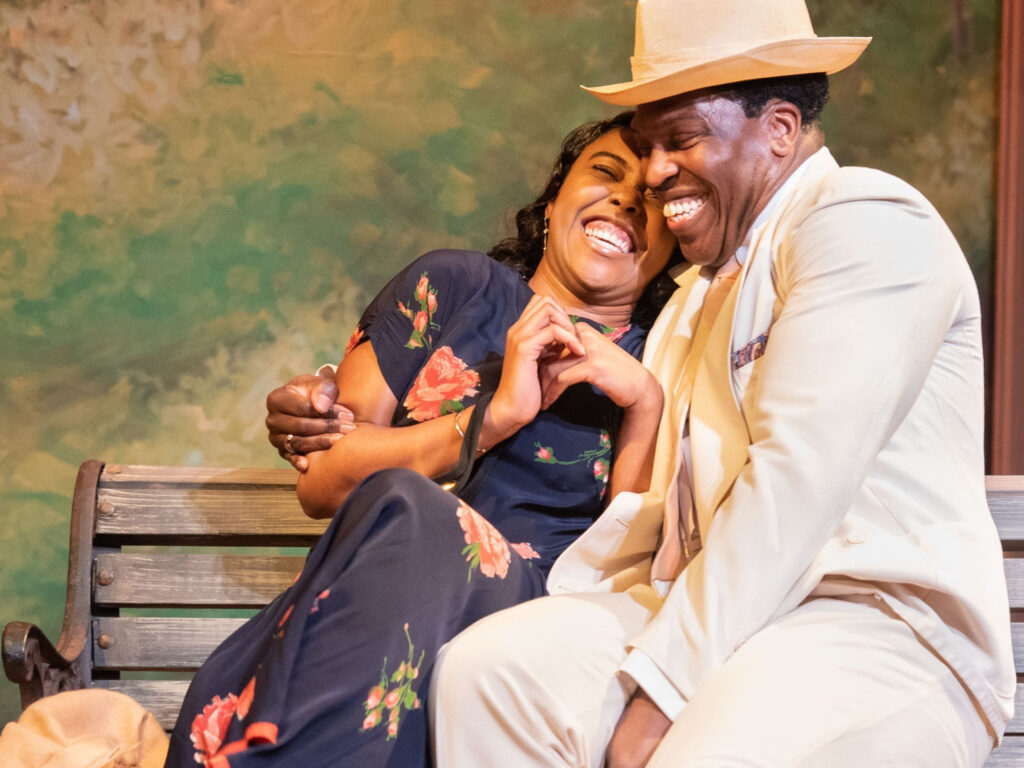 By: Darryl Reilly
"I ain't one for doin' my own people like some folks I know." So, retorts a character in She's Got Harlem on Her Mind, a captivating presentation of a trio of accomplished one-act plays by the Black writer Eulalie Spence (1894–1981). Ms. Spence was a leading figure of the Harlem Renaissance who wrote a series of one-act plays in the 1920's, several of which received awards from Black literary magazines and at contests. These were performed by a small theater company in a Harlem public library. Due to that era's racism and sexism, her playwrighting career did not advance in the commercial theater industry.
Spence was born in the British West Indies and moved to New York City with her family at the age of eight. She earned undergraduate and graduate degrees, and taught Drama, Speech and English, at a Brooklyn public high school for over 30 years. "Eulalie Spence was the most influential force in my life" said the Public Theater's founder Joseph Papp, who was a student of hers.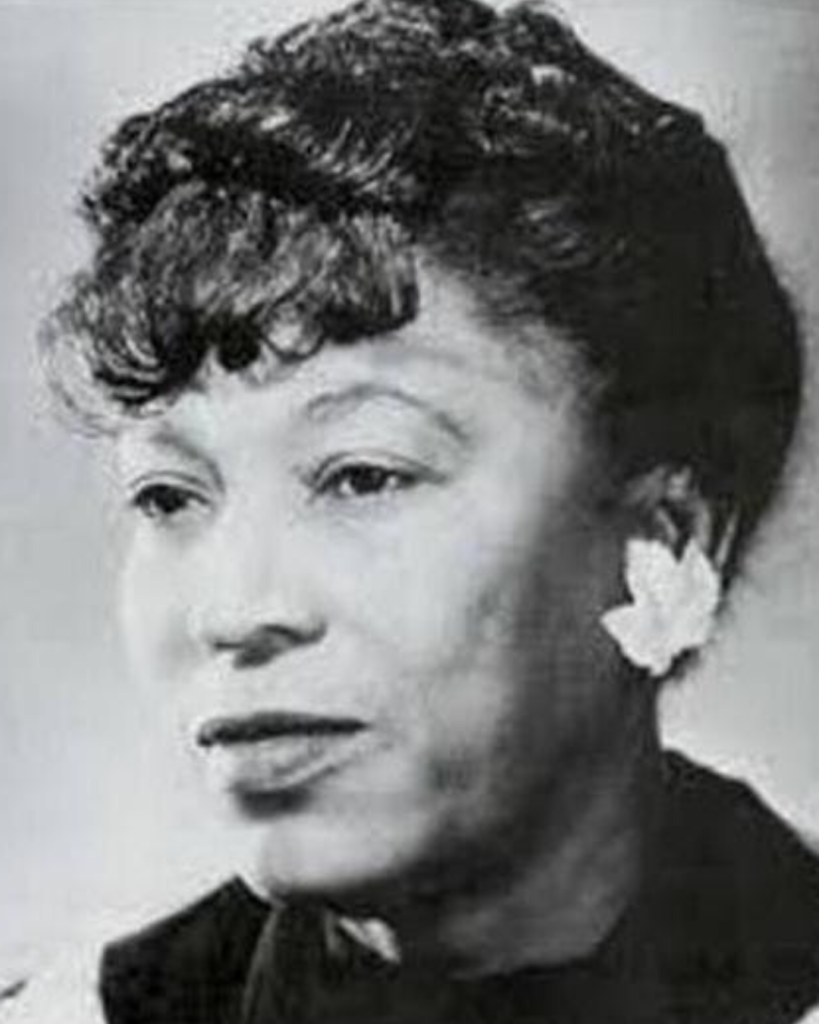 She's Got Harlem on Her Mind is striking for its casual depiction of Black life in the Harlem of the 1920's, Spence refreshingly eschews politics, social concerns and "messages." Her vivid humane Black characters simply exist in the everyday world, communicating via her richly authentic dialogue. Working, having affairs, going out for entertainment and gambling, are among their mundane pursuits. Each of these three works is tautly and minutely constructed.
In "The Starter," a young couple who've been dating, articulate their hopes for their relationship while sitting on a park bench. The free-spirited aspiring professional man has saved little money, opting for fine clothes and diversions. The crafty woman is a dress finisher who has saved a good deal of of money and expects to be supported after she's married. "You're mighty fussy ain't you!" roars the man. Their quarrels are laced with philosophical and real concerns.
SJ Hannah and Déja Denise Green are each magnetic as the tempestuous couple, while Monique Paige and Jazmyn D Boone are archetypically comic as a pair of busybodies the man initially interacts with.
We're in Fanny King's Harlem apartment for "Hot Stuff." The wheeler dealer Fanny is an antiheroine who anticipates the future plays of Lillian Hellman. During the day while her husband is away at work, she sells dresses, collects people's "numbers" money (for the illegal daily lottery), strategically cheats some players, and eagerly barters her sexuality for material gain. Does Fanny get her comeuppance?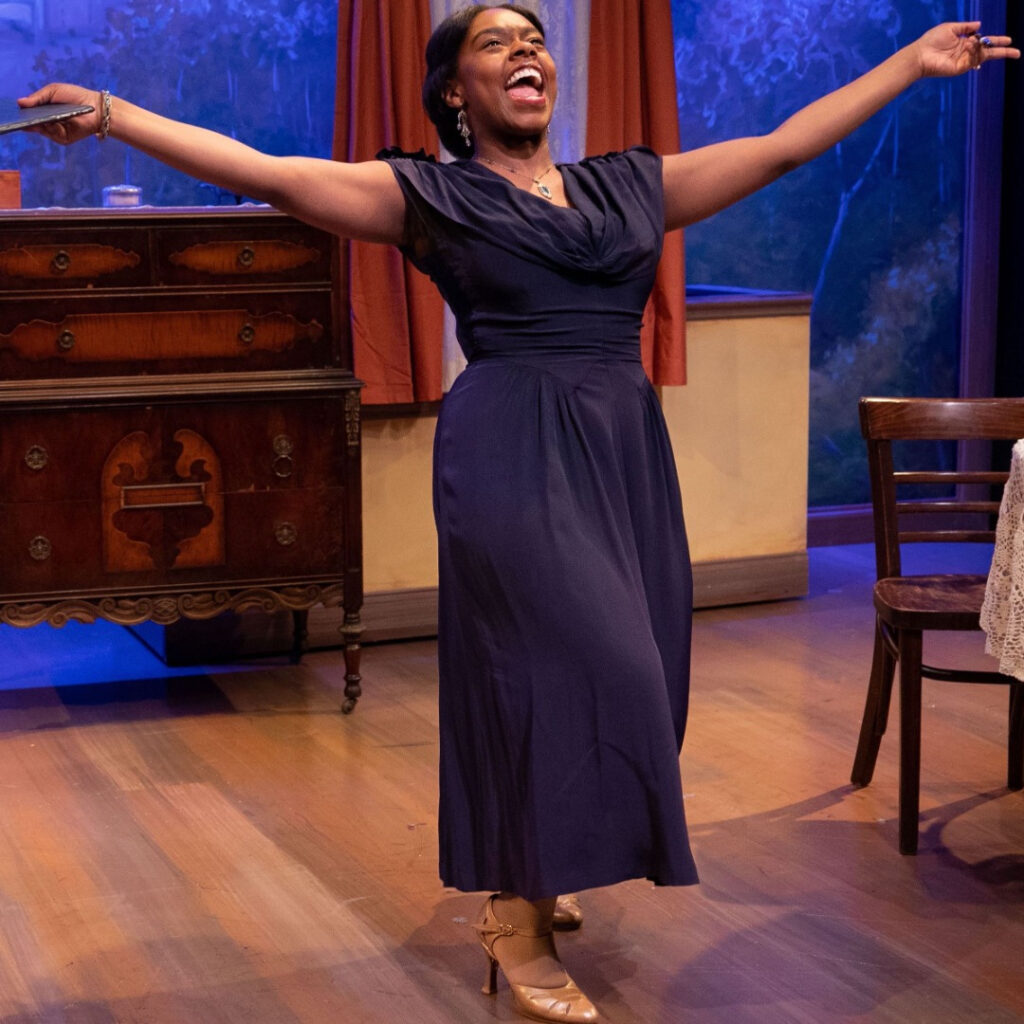 The alluring Raven Jeannette is awesome as Fanny, fiercely conveying the character's rationale of and delight in her shadiness. Terrell Wheeler commands as a combative stuttering dupe of Fanny's. Déja Denise Green is supreme as Fanny's hard-boiled foil. Fanny's husband is ferociously played by Dontonio Demarco. Jazmyn D Boone makes a fine impression as a chatty friend of Fanny's. The beaming Eric Berger wonderfully portrays a Jewish salesman who gleefully bargains with Fanny over a mink stole.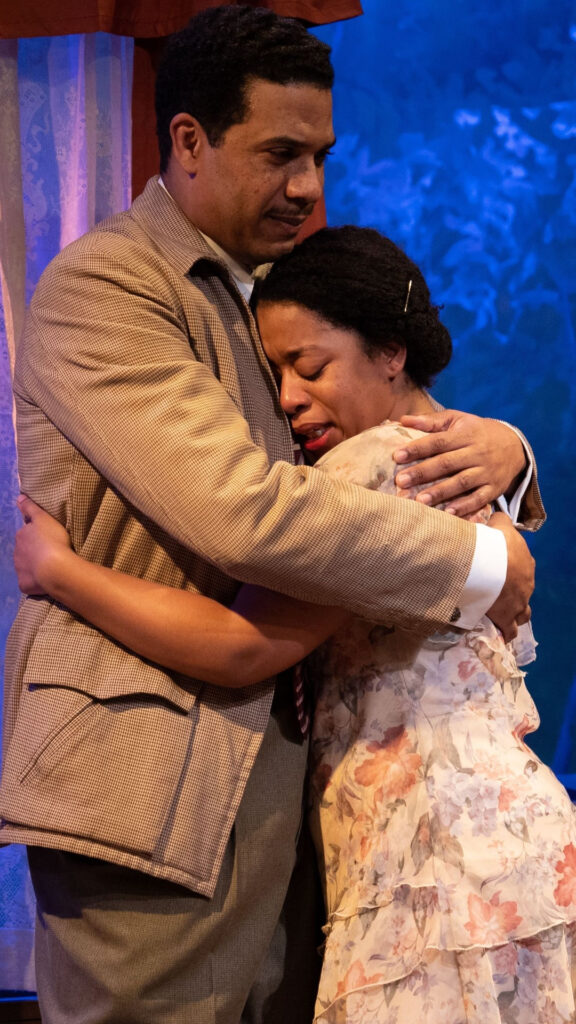 The "numbers" also figure prominently in "The Hunch," another tale of greed and of complicated romance. A man who is away in Philadelphia, has implored his female and male friends who are getting married the next day, to each put $0.50 on his favorite number. His number hits and he returns to Harlem with an incendiary revelation. The cast of Jazmyn D Boone, Monique Paige, SJ Hannah, Terrell Wheeler, Dontonio Demarco and Raven Jeannette, uniformly again offer sterling characterizations of their intricate roles.
Director Timothy Johnson is the mastermind behind this stimulating production of such novel material. Mr. Johnson's unison of his vigorous physical staging on the contained three-sided playing area, the majestic performances he has obtained from his cast, Katie Bradley's powerful fight direction, and inventive musical sequences, all make She's Got Harlem on Her Mind, an exhilarating theatrical experience.
The show opens with the cast joyously singing and dancing, each scene is also punctuated by a musical number. The 1920's songs "It Ain't Gonna Rain No Mo'" and "Everybody Loves My Baby," are heard along with a song composed by Johnson, and his original jaunty prelude and entr'acte compositions.
We are placed firmly in a specific time and place throughout the show by the perpetual sight of an arresting vintage cityscape painting of New York City buildings and a hill with trees which cover the stage's back wall. Scenic designer Vincent Gunn's ideal sparse furnishings are wheeled out by or carried by actors for swift transitions. Leslie Gray's lighting design veers from steady to shimmering, with punchy blackouts. Costume designer Jevyn Nelms' splendorous assemblage of period-accurate garments distinctively realizes each character.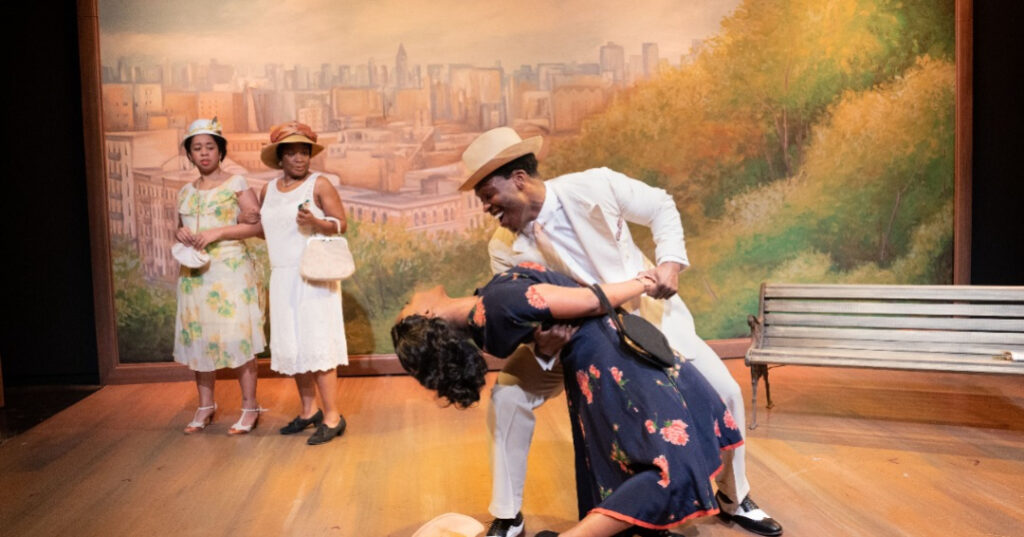 Blending humor with pathos, She's Got Harlem on Her Mind's three plays are a valuable and affirmative document of the past Black experience and a testament to Eulalie Spence's prowess as an unheralded dramatist. These works have been gloriously brought to the stage in this inspired and important production which is presented by the noble New York City-based theater company, the Metropolitan Playhouse.
She's Got Harlem on Her Mind (through March 12, 2023)
Metropolitan Playhouse, 220 East Fourth Street, in Manhattan
For tickets, visit www.metropolitanplayhouse.org
Running time: 80 minutes without an intermission