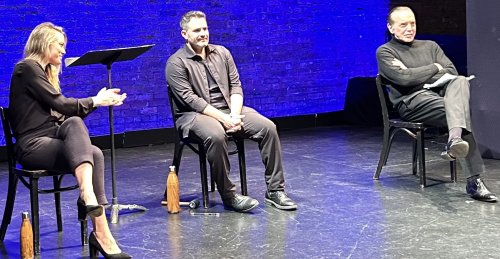 By: Darryl Reilly
"Who gives a fuck about apostrophes!" So, declares Chazz Palminteri in his inimitable manner, as a prominent New York City literary agent in playwright Lyle Kessler's wild comedy, If You Love Me. This play was given a staged reading as part of a year-long program of events at the Actors Studio, commemorating the institution's 75th anniversary.
Ever since the stage and screen versions of Mr. Palminteri's A Bronx Tale, his Oscar-nominated turn in Woody's Allen's Bullets Over Broadway, and his role in The Usual Suspects, he has been among the most galvanizing screen actors. It is a tremendous joy to experience his greatness on the stage. Palminteri's comic timing, dramatic range and charismatic presence, all enrich If You Love Me. His delivery of several reflective and philosophical reveries are priceless. "I make what is abstract, clear…"
"If you love me, you'll kill him…" So, begins Mr. Kessler's wacky film noir-style scenario which has the dimension of Double Indemnity as rendered by John Cassavetes. Kessler's precise dialogue is often very funny, yet thoughtful, his characters are delineated with just enough background information, and his classic plot is devilishly entertaining.
The grandiose Marie connives to have her pussywhipped boyfriend Sid murder the literary agent Paul. Sid shows up at Paul's office with a gun. Paul concocts various enticing offers to Sid to put off being killed, to Marie's frustration. That we first learn of Marie's motivation for wanting Paul dead comes halfway through the play, is a facet of Kessler's clever puzzle box-like construction, where the reliability of each character becomes questionable.
The radiant Kathleen Simmonds is in glorious, hard-boiled femme fatale mode as Marie, barking and cooing with an old-time New York accent. With his from-the-streets everyman persona, Gabe Furman is a commanding delight as the hapless Sid. The youthful Connor Chase Stewart reads the spare stage directions with emphatic unobtrusiveness, in a pleasing deep voice which complements the material.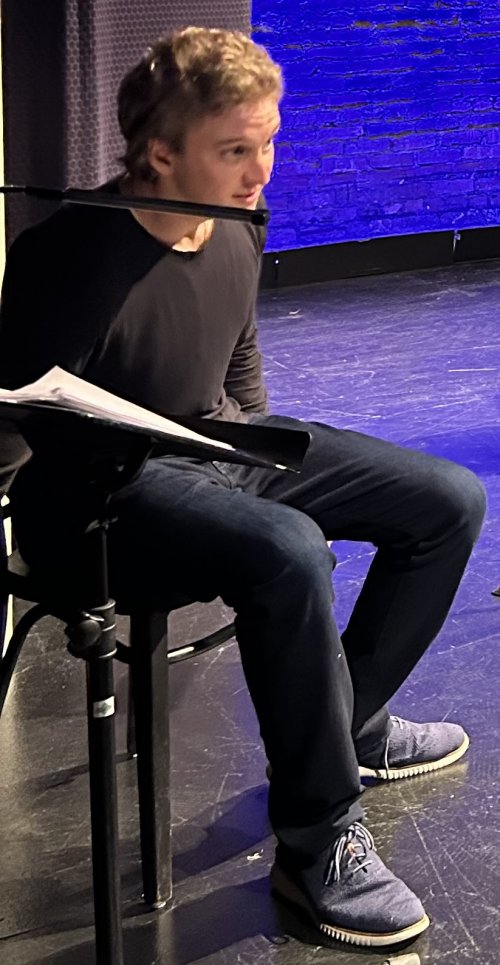 Director Bobby Moresco's artful staging brings theatrical polish and verve to the presentation. The cast are dressed in all-black; the chairs and music stands are strategically arranged. The actors either sit or walk around with purpose, and actions such as a choking sequence are all successfully choreographed. The crisp lighting varies, and jolting blackouts punctuate scenes. Mr. Moresco's contributions fully realize If You Love Me's potential as a full-fledged production.

After the reading, there was a 30-minute talkback moderated by the avuncular Moresco. He stated that the questions and discussion were to focus on the history of the Actors Studio and not on If You Love Me. The crowded audience followed that directive.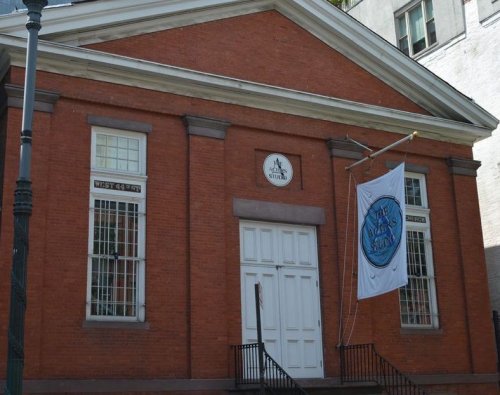 Kessler chronicled his long career at the Actors Studio with warm and tart anecdotes of Lee Strasberg. Ms. Simmonds revealed that she is an Australian former lawyer, who came to New York City six years ago to be an actor. These facts magnified the achievement of her performance as Marie. Mr. Furman extolled the egalitarian sense of the Actors Studio, that fame and connections are secondary to the work that is done on the stage there. Mr. Palminteri tenderly recounted his decades-long association with the Actors Studio, "It's a dream factory…"
If You Love Me (February 17 and 18, 2023)
The Actors Studio, 432 West 44th Street, in Manhattan
For tickets and information, visit www.theactorsstudio.org
Running time: 60 minutes without an intermission