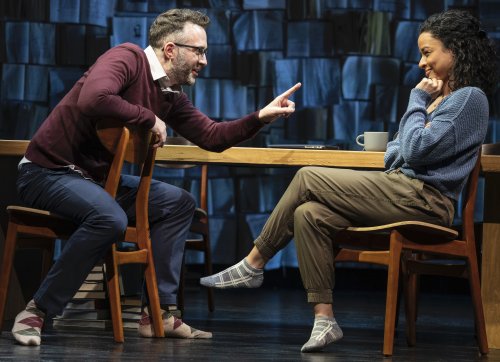 By: Darryl Reilly
Flatly intoning during an introductory monologue, Sarah Cooper gets The Wanderers off to a fittingly dull start. Playwright Anna Ziegler's time-shifting drama is an unsatisfying conjoining of two threads. From 2015 to 2017, we experience the disintegration of a New York Jewish literati couple in their 40's' marriage. They move in the smug terrain of book signings, Rockefeller Foundation events, and where the referenced Philip Roth is a living touchstone. Sabbath's Theater gets a lot of mileage.
Abe we are told, won a Pulitzer Prize for Fiction and two National Book Awards before the age of 30. The biracial Sophie wrote one non-fiction book and has been in a 10-year funk since Michiko Kakutani trashed it in the New York Times. They have two children and tensions abound. These are magnified by Hollywood actress Julia Cheever's (perhaps she is a relative of John Cheever) appearance at an event for Abe's latest book. He is smitten with her and instigates a year and half long email correspondence which amounts to a virtual affair. This turns out to be a lame major plot twist. Oh, Julia is filming an adaptation of Philip Roth's novel, Everyman, and expounds upon the book's profundity.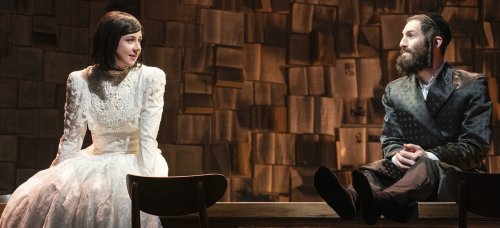 From 1973-1982, we're in Williamsburg, Brooklyn, following a young Hasidic Jewish couple's courtship, marriage and acrimonious disunion. The gentle 23-year-old Schmuli's rabbi father is the strict sect's leader, Schmuli marries the spirited Esther. Trouble brews as Esther begins listening to rock music on the radio, reading secular books and going into Manhattan with her unseen equally feisty single best friend Rivka, to visit art museums. Rivka eventually leaves the sect, marries a Black man and gives birth to Sophie. Schmuli and Esther's marriage breaks up, and she raises their son, Abe. Got it? Oy.
Either of these narratives might have made for viable separate plays; smooshed up it's all a clunky slog. Ms. Ziegler's pop culture-laden dialogue is often efficient, and a few scenes have emotional impact. Altogether though, The Wanderers is a synthetic playwrighting exercise of mild entertainment value. Its title is the title of Sophie's proposed memoir of her, and Abe's lives.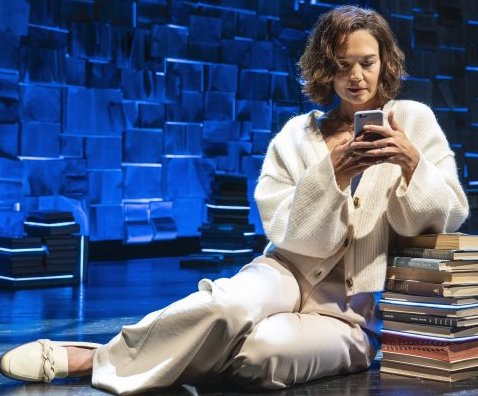 The vivacious Lucy Freyer is outstanding and enchanting as Esther. Dave Klasko's Schmuli is of appealing buoyant boyishness. Ms. Freyer and Mr. Klasko's rapport informs their authentic and moving characterizations. Eddie Kaye Thomas as Abe and Ms. Cooper as Sophie each achieve sufficiency. Katie Holmes is beneficial to the production as Julia. Ms. Holmes' radiance and believability as a famous performer elevates this deficient material.
Director Barry Edelstein's capable staging is undercut by the overblown production design he has chosen. Scenic designer Marion Williams' symbolism runs amok with the stage's walls festooned with a crammed assortment of pages from books. Amidst spare furnishings, the floor is dotted with small piles of books all over it. Kenneth Posner's lighting design emphasizes the piece's temporality with heavy handed scene transitions. Composer Jane Shaw's original music is suitably atmospheric and her intrusive sound design complements all the obviousness on display. David Israel Reynoso's costume design is a superior assortment of 1970's and contemporary garments. Wig and hair designer Tommy Kurzman's creations realistically visualize the Hasidic look of those characters.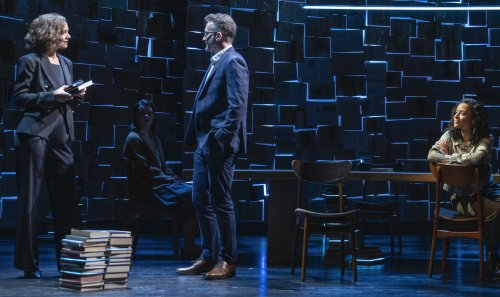 The Wanderers originated at San Diego's Old Globe in 2018, and this New York City premiere is presented by the Roundabout Theatre Company.
The Wanderers (through April 2, 2023)
Roundabout Theatre Company
Laura Pels Theater in the Harold and Miriam Steinberg Center for Theatre, 111 West 46th Street, in Manhattan
For tickets, visit www.roundabouttheatre.org
Running time: One hour and 45 minutes without an intermission