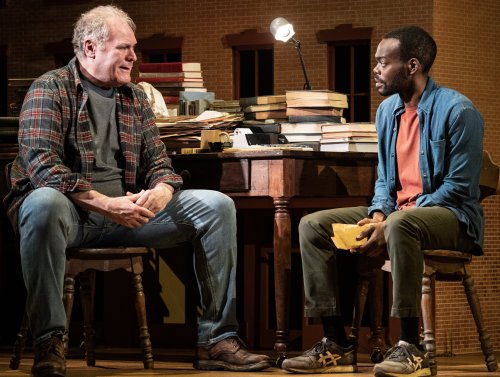 By: Darryl Reilly
This is the story of a friendship. Of how I got a new job. A story of love and balance and time. And the smallest of chances.
My name is Kenneth. I'm thirty-eight years old and I live in Cranberry, New York, a suburb about forty miles east of Rochester. We have our own post office, a church, two banks, and a wine shop just opened across from the train station. Down past Main Street, just along the river's edge, is a supermarket, a bowling alley, and my favorite place on earth—Wally's. Wally's is an old tiki restaurant with carpeting, and there's always a man in a Hawaiian shirt playing the keyboard next to the salad bar. Most nights of the week you can find me at a table sipping on a mai tai. Fifteen years from now, most of that land will be cleared and covered in pavement and new condominiums, but for right now, it feels like some version of home.
So, with the sense of a fable and the manner of Thornton Wilder's Our Town, author Eboni Booth begins her beautiful and theatrical play, Primary Trust. It is a picaresque character study of a traumatized lost soul's redemption; this world premiere production is presented by New York City's Roundabout Theatre Company. The time is, "Before smart phones."
The actors appear amidst scenic designer Marsha Ginsberg's bracing scale model-style exterior recreations of the town's buildings. The personable Luke Wygodny strolls around like a silent musical chorus, playing his pleasing original compositions on guitar and bass. Mr. Wygodny also rings a call bell numerous times to further the narrative.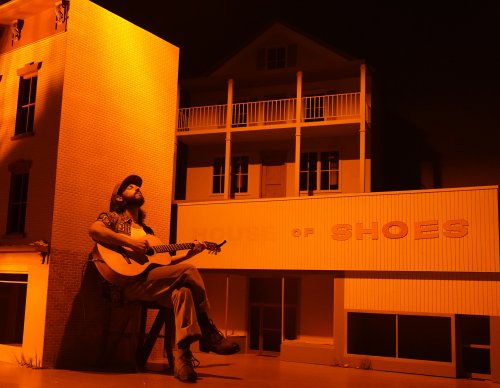 William Jackson Harper delivers a majestic performance as Kenneth, Primary Trust's damaged Black hero. The charming Mr. Harper is plain spoken, yet strategically emotive in creating his indelible characterization; pathos, humor, and humanity, are all wrenching facets of his commanding turn. It is especially refreshing and joyous to experience the work of a great actor on the stage who is unencumbered by a familiar persona; Harper is Kenneth.
Kenneth's bank employee single mother died of cancer in their home when he was 10 years old. He was with her body for several days before authorities intervened. After placement in an orphanage, he was sent to several foster homes; abuse is hinted at. At 18, he was set up with employment in a used bookstore. For the next 20 years, his life revolves around his job, and later happy hour at the bar. There, he converses with, and receives advice from Bert, the social worker who aided him as a child. Kenneth soon tells us that Bert is imaginary, they never had contact again after their initial encounter.
Kenneth's simple existence is upended after the bookstore's magnanimous aged owner sells the shop due to health reasons and retires to Arizona. A friendly waitress at the bar clues in Kenneth that the Primary Trust bank needs tellers. He is hired by the kind manager who takes Kenneth's quirks in stride; he reminds the manager of his brother, who after a head injury in a car crash, "was never the same."
Ms. Booth's sentimental scenario is never cloying, it unfolds with heightened realism. There are good people who do help those in need. Booth's ravishing dialogue is an affective blend of the mundane and the poetic. For 95 minutes, she puts forth a compelling Dickensian life journey.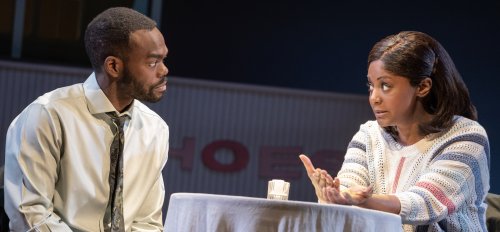 Grandly lighting a restaurant tabletop candle as a colorful French waiter, is but one of stage veteran Jay O. Sanders' numerous vivid flourishes during his multiple roles. The bearish Mr. Sanders with his commanding presence and vocal range, offers memorable and touching portraits of the bookstore owner and the bank manager. Dynamically playing a succession of various gender waitstaff, as well as a cantankerous female bank customer, is the magnetic April Mathis. Through her limber physicality and by minutely altering her expressive voice, the radiant Ms. Mathis offer a delightful cross section of exact types. With his sunny manner, snappy speech pattern and sensitivity, Eric Berryman is enchanting as Bert, the social worker. Mr. Berryman fully realizes the complexities of this idealized figment of Kenneth's imagination.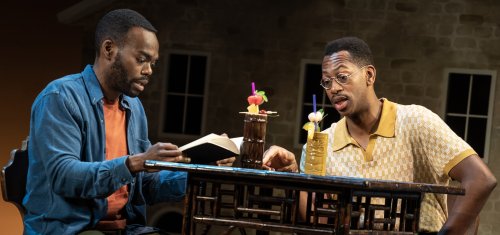 Director Knud Adams supremely orchestrates the brilliant performances with the elements of stagecraft, for an enrapturing presentation. Lighting designer Isabella Byrd's shimmering hues, stark brightness and fluctuating dimness, sharply capture this fantastical piece's shifts of mood. Mikaal Sulaiman's skilled sound design finely balances the music and effects. Qween Jean's authentic costume design is of organic simplicity.
Primary Trust's unabashed poignancy makes it a haunting entertainment.
Primary Trust (through July 2, 2023)
Roundabout Theatre Company
Laura Pels Theater in the Harold and Miriam Steinberg Center for Theatre, 111 West 46th Street in Manhattan
For tickets, visit www.roundabouttheatre.org
Running time: 95 minutes without an intermission