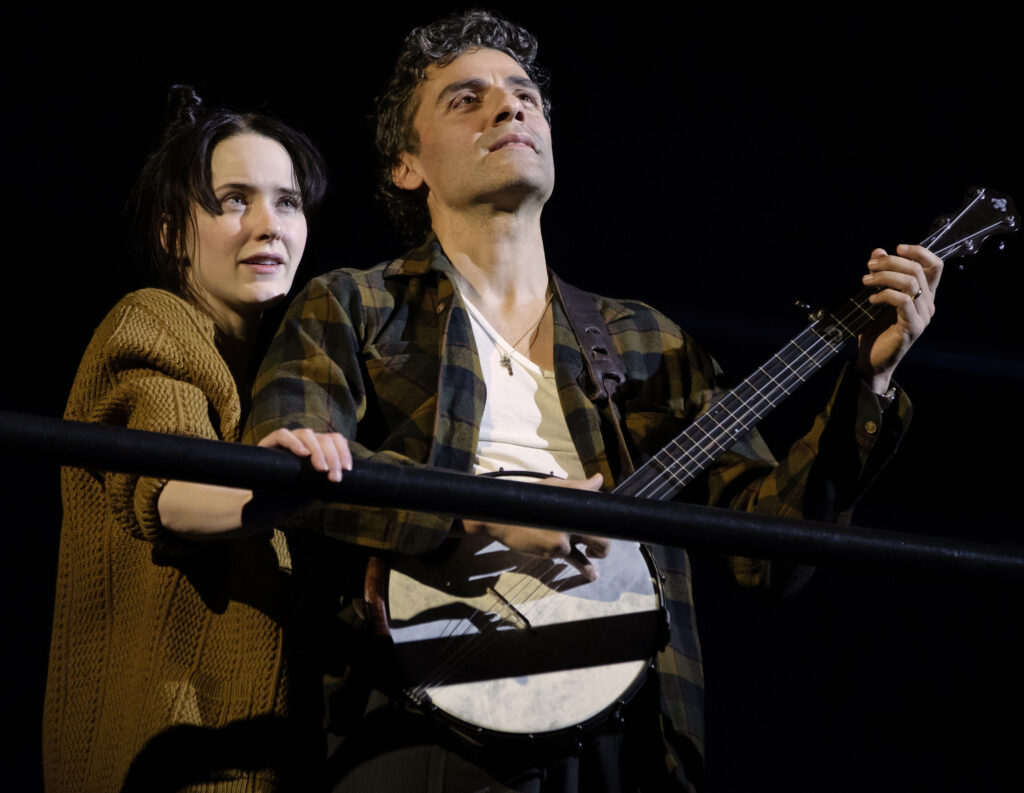 By: Darryl Reilly
Yes, The Sign in Sidney Brustein's Window's nearly three-hour length is excessive, its eight loquacious characters speechify, and this scorching play of ideas has several jagged plot strands. Still, this revival is a stirring theatrical experience; Lorraine Hansberry's majestic vision burrows into one's consciousness. Her flawed dramaturgy is akin to that of Eugene O'Neill's verbose masterpieces; we abide the untidy structure because the content is so moving and it is all ultimately rewarding. Then there are the performances; Oscar Isaac is towering, Rachel Brosnahan is enchanting, and the rest of the cast all offer vividly humane portrayals
The setting is Greenwich Village, New York,–the preferred habitat of many who fancy revolt, or at least detachment from the social order that surrounds us.
So, wrote the groundbreaking Black American playwright Lorraine Hansberry (1930-1965) in her The Sign in Sidney Brustein's Window's stage directions. This follow up to her landmark A Raisin in the Sun premiered in 1964, and takes place in the early 1960's. The Civil Rights Movement, political reform and gay acceptance, are among the matters of the day that are addressed by Ms. Hansberry's affectionately drawn, articulate, sensitive, and mostly passionate counterculture characters. Her swirling scenario is a heartfelt mélange of autobiography, observation, and imagination. The play's eventful two acts take place in a Bleecker Street tenement apartment.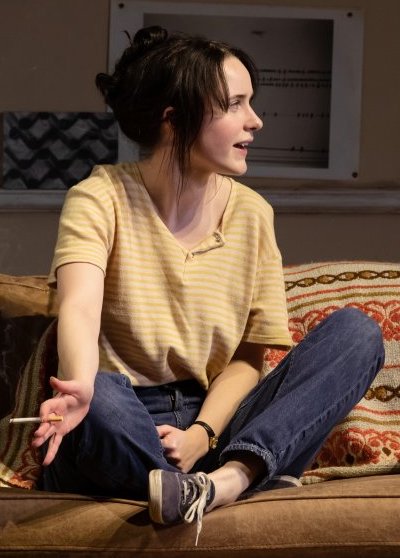 The restless idealistic Jewish New York liberal intellectual Sidney Brustein is in his late 30's. Walden Pond, his recent folk music coffee bar has folded, and his latest ambitious venture is buying a neighborhood newspaper, The Village Crier. He has been married to the 29-year-old Iris for five years. She is of Greek extraction, is an aspiring and frustrated actress who works as a waitress at a pancake house. Their initially mutally fulfilling marriage has become strained due to their diverging world views. Iris is weary of her lack of personal success and is ready to join the rat race, while Sidney still believes in his exalted progressive principles. Friends, neighbors and siblings interact with the couple with dramatic results. The sign in Sidney Brustein's window is an optimistic political call to arms, it is displayed until it's ripped down out of disillusionment.
The charismatic Mr. Isaac conveys Sidney's complex nobility thru his dazzling performance in this substantial role. Physically animated and vocally resonant, Isaac engages our hearts and minds. The radiant Ms. Brosnahan's sunny persona enables her to fully realize Iris' emotional shifts with her ingratiating characterization that is of Ibsenesque proportion.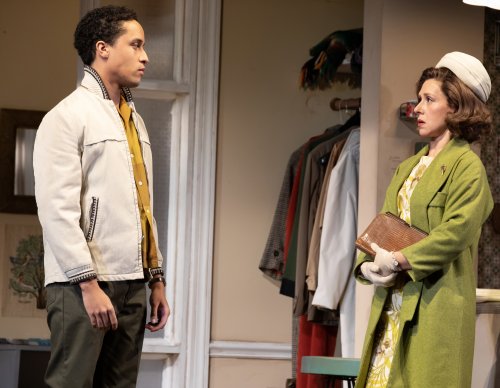 The galvinizing part of Iris' older imperious sister, married to a successful Upper East Side executive who donates to Sidney's newspaper, has a pedigree. It garnered Alice Ghostley a Tony Award, and Frances Sternhagen a Tony Award nomination, each for Best Featured Actress in a Play in the original Broadway production and its 1972 revival, respectively. That category streak continues with Miriam Silverman's deserved same such nod this year. The vivacious Ms. Silverman also played this role in a Chicago production. Silverman is magnetically crafty delivering Hansberry's surprise revelatory aria to societal convention. Silverman matter of factly, with the undertone of cold pragmatism details six years of sexlessness with her unfaithful husband. It is a commanding turn as a commandingly written character.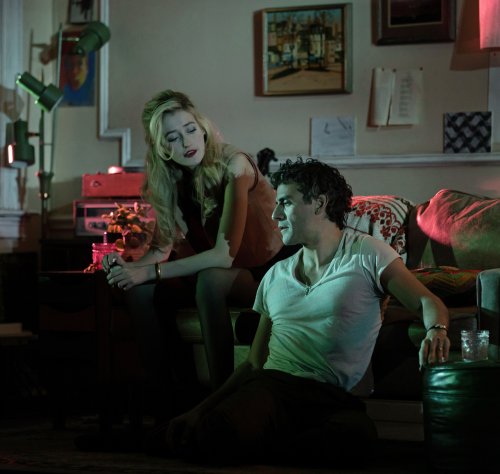 Julian De Niro's a makes a forceful impression as a fiery Black activist who falls in love with Iris' younger prostitute sister. Supremely capturing that character's steeliness masking fragility, is the alluring Gus Birney. Veteran performer Glenn Fitzgerald is sensational delivering a rich portrait of an openly gay avant-garde playwright who miraculously hits it big. Gregarious Andy Grotelueschen chillingly switches gears from amiability to villainy as a white knight local politician who turns out to be part of the machine. The beaming Raphael Nash Thompson is tenderly comic as a befuddled artist who ineptly designs Sidney's newspaper.
Anne Kaufman's remarkable direction proves that this difficult material is stage worthy. Ms. Kaufman calibrates the performances, creates an entrancing visual dimension with her smooth physical staging, and achieves momentum despite the play's talkativeness. The scenic design collective dots have followed Hansberry's detailed stage directions, providing the ideal bohemian dwelling of that era. The living room and kitchen are rendered with wayword charm; they are crammed with numerous books, artworks, choice furniture, and a prominent vintage sound system, on which pivotal record albums are played. Immersive flourishes include the apartment building's visible second level and the side areas, where glimpses of the world outside are occasionally seen.
Both John Torres' lighting design and Bray Poor's sound design boldly and dramatically complement the actions thru crisp and moody hues, and attentive modulation. Costume designer Brenda Abbandandolo's prime garments realize each character with period realism. That quality is enhanced by Leah Loukas' superior hair and wig design.
Hansberry was still revisingThe Sign in Sidney Brustein's Window even after its October 1964, Broadway opening; it ran for 101 performances following mixed reviews and box office struggles. It closed in January 1965, two days before Hansberry's death from cancer at the age of 34. Her ex-husband and literary executer, Robert B. Nemiroff further revised the text in accordance with her written specifications for the unsuccessful 1972 Broadway revival, which ran for five performances.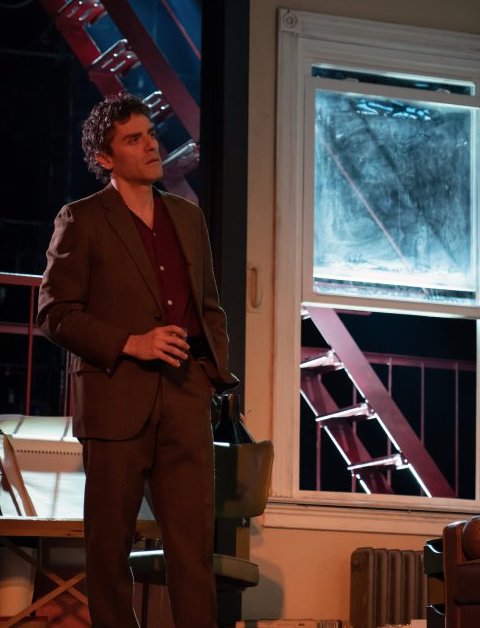 This incarnation played at the Brooklyn Academy of Music's Harvey Theatre and has transferred to Broadway, reportedly with its running time somewhat shortened. It is a welcome opportunity to encounter this major work by this great American playwright.
The Sign in Sidney Brustein's Window (through July 2, 2023)
James Earl Jones Theatre, 138 W. 48th Street, in Manhattan
For tickets, visit www.thesignonbroadway.com
Running time: two hours and 45 minutes including one intermission