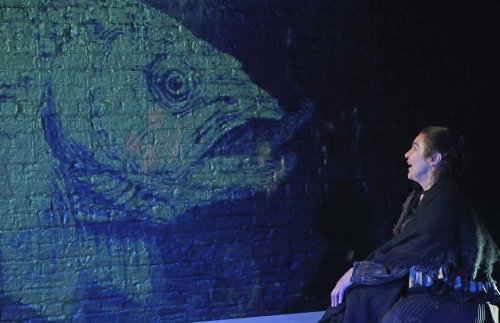 By: Darryl Reilly
As a growling and gurgling large, animated fish is how acting legend George Bartenieff makes a commanding posthumous stage appearance, via recorded voice over. Mr. Bartenieff died in 2022, at the age of 89. His arresting turn is contained in the entrancing performance piece, Troy Too which is dedicated to him. It is conceived by his widow, playwright Karen Malpede. Ms. Malpede's insightful and theatrical treatment is a beguiling mixture of Euripides' The Trojan Women, with her authentic sequences depicting contemporary discord. "Much of the language in Troy Too was found on the street while participating in the Black Lives Matter protests in the summer of 2020, from medical professionals, by compulsive reading, and listening to interviews, and then, reworked from memory," she explains in her program note.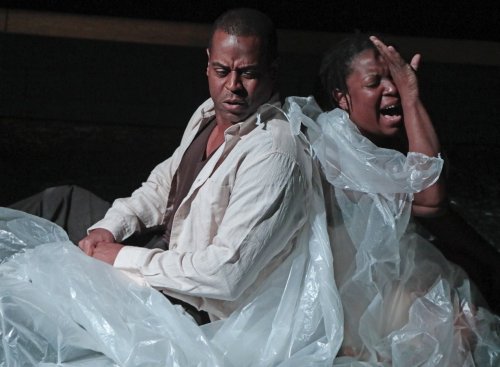 This is my city, my city, which once was great, but my city is no more. Stricken by pestilence and plague, its people cower and shake, they tremble in their beds, afraid to leave their homes. Only those who must survive by doing work others disdain dare go out into the pestilence stricken air there to sicken and die, convulse and choke on their own bile. My city, which was once a light, a beacon, a great gift, has fallen. The wealthy flee; the poor remain.
So, these words reflecting a dark epoch, start off Troy Too, following video designer Michael Demetrius' haunting dreamy preamble consisting of landscapes, cityscapes and sharp bits by actors Illia Pappa and Anthi Savaki. That speech is delivered by the magnificent Greek actor Lydia Koniordou as the soothsayer figure, Hecuba. Clad in a shawl, the august Ms. Koniordou supremely utilizes her melodious expressive voice during her pivotally recurring appearances. She also beautifully sings several times, particularly a sly Country music-style number. Koniordou offers a bewitching performance while connecting the show's segments.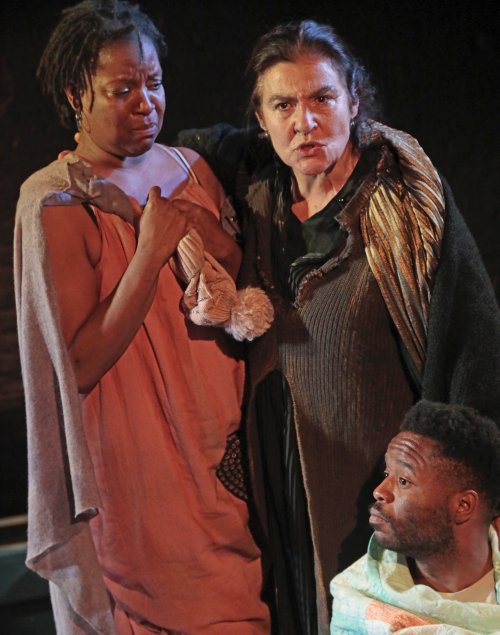 The personable company of Tommie J. Moore, Di Zhu, Abigail Ramsay, Ilker Oztop, David Glover, Ethan Jones, all dynamically portray their humane diverse roles. They uniformly achieve stark realism, while replicating incidents of police brutality, medical despair, fractious masking and vaccine divisions, and the underclass' plight. "I can't breathe" is an aching refrain.
Director Avra Sidiropoulou places and moves the cast onstage with spatial and emotional impact while orchestrating the technical elements for a striking presentation. Tony Giovannetti's simple and strategic scenic design and dim and moody lighting visually realize the piece's intentions. Costume designers Sally Ann Parsons and Carisa Kelly's vintage and present-day garments ideally clothe the actors. Composer Vanias Apergis' original music complement the actions with appropriate tones and wit.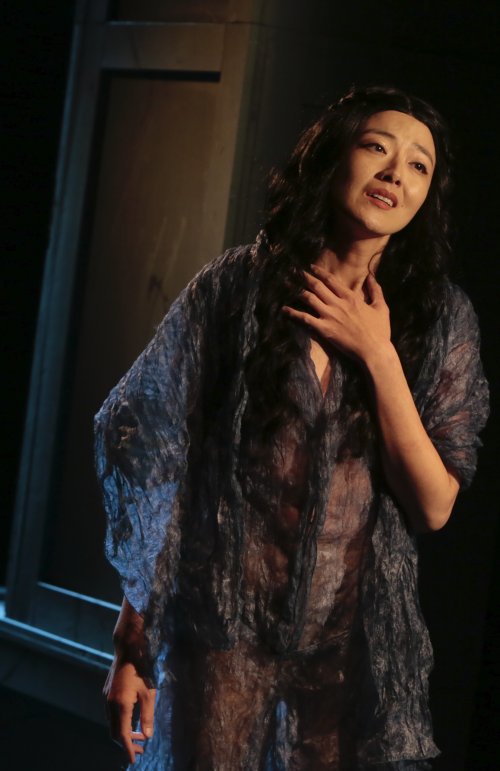 Troy Too is a collaboration between Bartenieff and Malpede's New York-city based, Theater Three Collaborative and the Greek troupe, the Persona Theatre Company. It is a searing and stimulating exploration of significant matters.
Troy Too (through May 21, 2023)
Theater Three Collaborative
HERE Arts Center, 145 Sixth Avenue, in Manhattan
For tickets, visit www.here.org
Running time: 55 minutes with no intermission