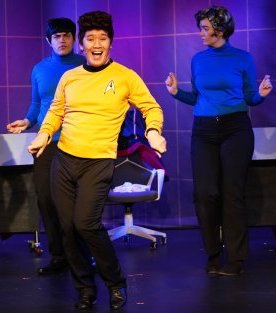 By: Darryl Reilly
"Spock's Brain," "Welcome to Starfleet" and "My Wrath," are among Khan!!! The Musical's clever songs. The show is an affectionate and well executed spoof of the 1982 classic movie, Star Trek II: The Wrath of Khan, with shades of the television series, Star Trek: The Next Generation. A game and lively cast portray the iconic characters.
Co-conceived by Brent Black and Alina Morgan who contributed additional material, Mr. Black's faithful book and zesty score contains wicked homages to Chicago and The Rocky Horror Show. However, instead of presenting a simple, taut and antic distillation of the movie à la Titanique, Black and Ms. Morgan ambitiously attempt a full-length two-act musical with an intermission, lasting two hours and 15 minutes.
The meta framing and recurring device is that Data from Star Trek: The Next Generation has created a musical adaptation of Star Trek II: The Wrath of Khan. So, we get periodic introductory material from Data, alternating with mirthful recreations of scenes from the film, interspersed with voice over bits by Captain Picard (the drolly accurate Martyn Owen). This overextended conceit becomes labored, distracting from the pleasures of the actual movie pastiche. Still, there is much to enjoy.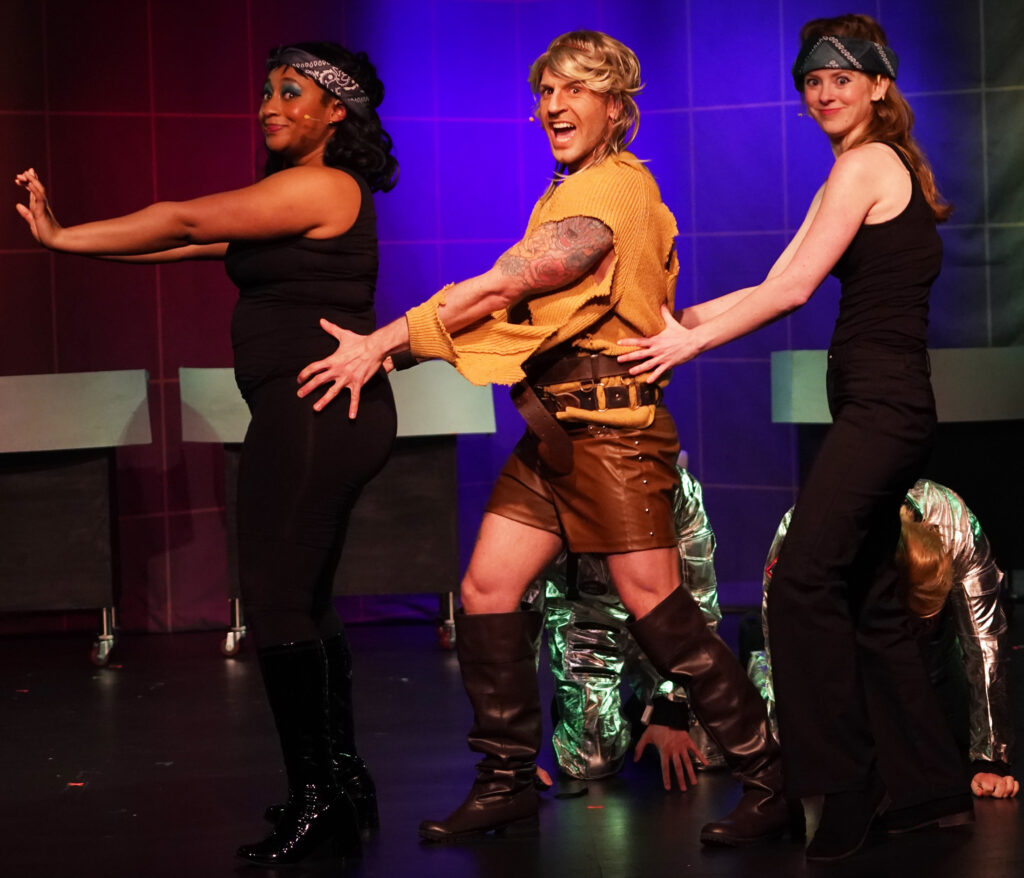 The dynamic Julian Manjerico is totally up to the task of playing the pivotal role of Data, as well as several other flashy figures including Kirk's blond son, often through quick changes. With William Shatner-style hammy grandiosity, Shyaporn Theerakulstit is a commanding Kirk. Channeling more of Tim Curry rather than Ricardo Montalban, Zachary Kropp is a gloriously flamboyant Khan. Maxwell Nusbaum's Spock is of deadpan hilarity.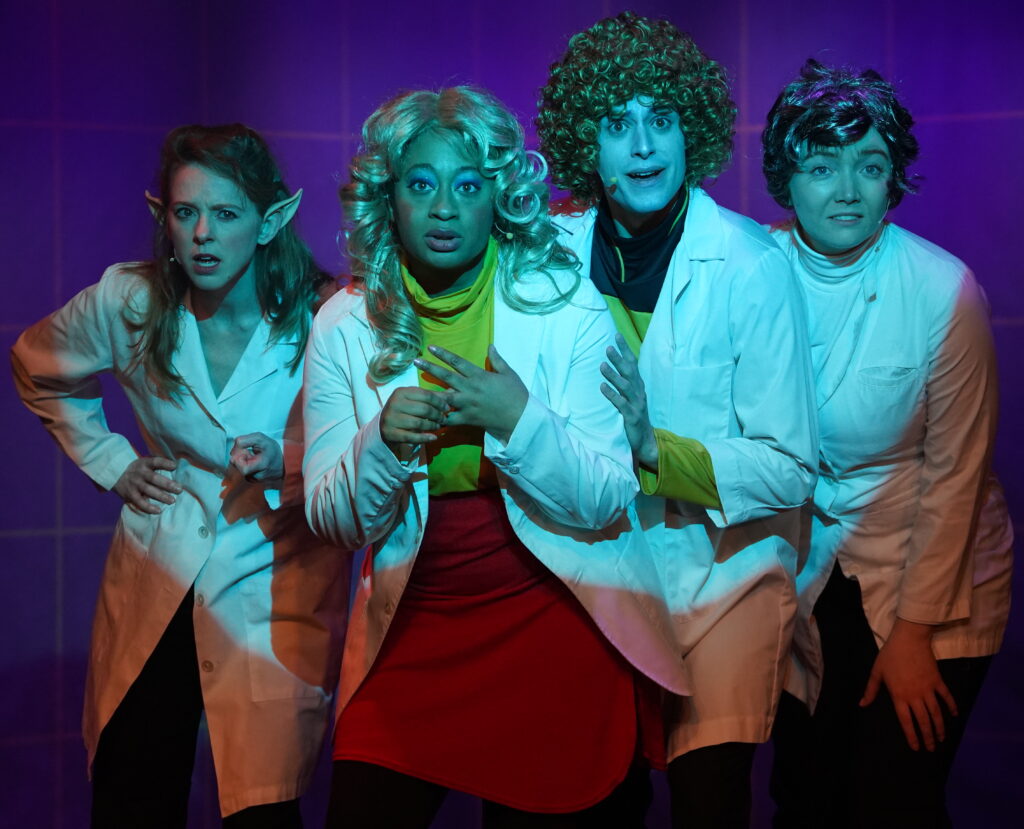 Distinctively offering comically exact portraits in their dual roles, are Clayton Matthews (Sulu/Chekov), Crystal Marie Stewart (Uhura/Carol Marcus) and Lindsey M.E. Newton (Bones/Scotty). Laura Whittenberger is a charmingly stalwart Saavik. Jodi Land and Bonnie Gordon each provide wryly distant computer voices.
Director John Lampe's accomplished physical staging brings momentum, pacing and his cast's infectious camaraderie to the production. Angel Reed's giddy choreography relies on welcome silliness. Musical director and accompanist Nicholas Kaminski adeptly leads the energetic band.Scenic designer Ivey Jenkins-Long's evocative components depict the starship's bridge and the planetary terrain with visual flair. Melissa Shawcross' varied lighting design and sound engineer Michael Nelson achieve desirable interstellar dimensions. Jolene Richardson's witty costume design vividly tweaks those familiar outfits.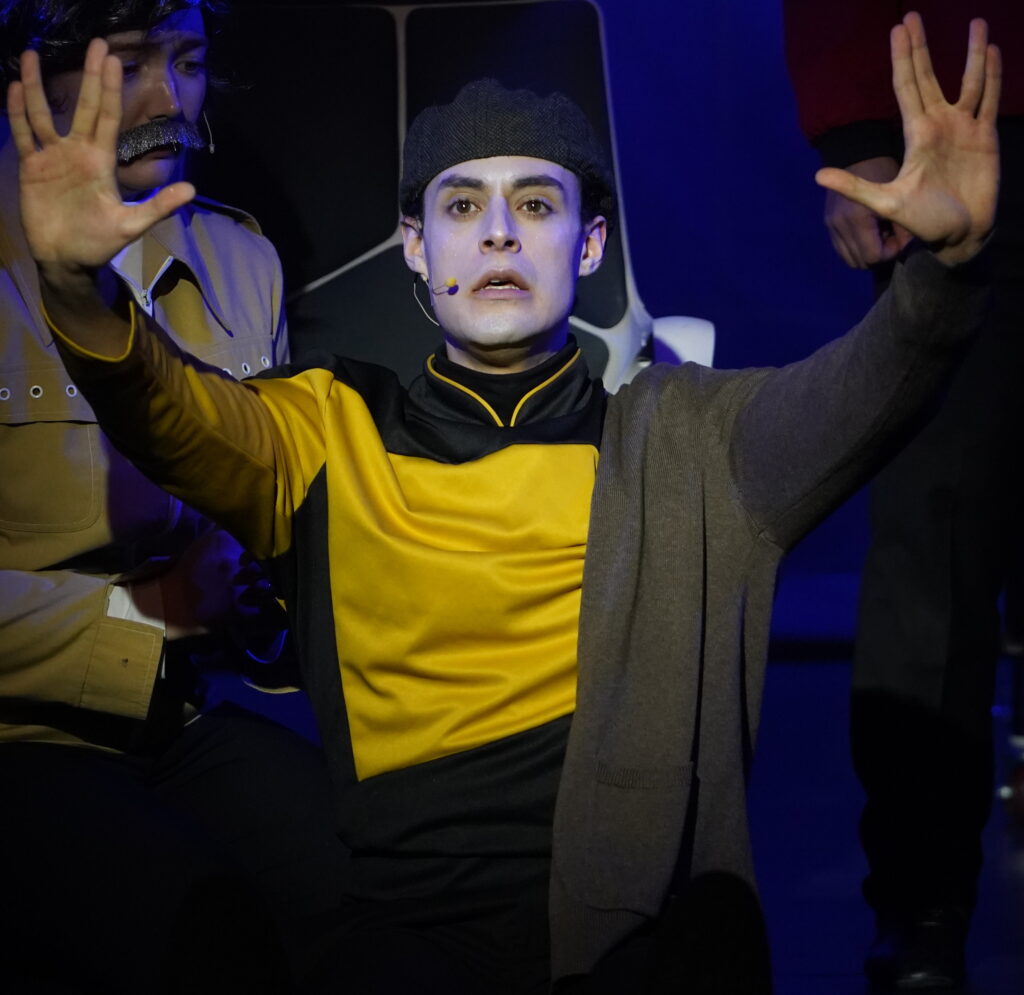 Billed as "A Parody Trek-tacular," Khan!!! The Musical! is a grand entertainment for Trekkies.
Khan!!! The Musical! (through June 4, 2023)
Peekskill Productions
Players Theatre, 115 MacDougal Street, in Manhattan
For tickets, visit www.khaniscoming.com
Running time: two hours and 15 minutes including one intermission