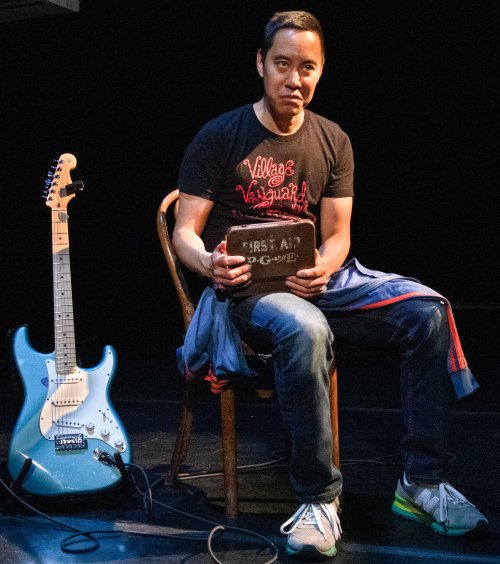 By: Darryl Reilly
"Pinky, this is your woman now. This is your bitch. But you gotta give her a name. Whatchu going to name her? Go on. Take it." So, says an aged Black blues musician to a 13-year-old Chinese American boy whom he has improbably befriended and given an old acoustic guitar. The boy thinks out loud:
A few strings are missing, the neck is all warped, and it's completely out of tune but I don't care.
It feels so good just to hold her.
She's got this body like a ballerina.
Curves in the right place.
A 25-inch waist.
She feels like a woman.
Tastes like a woman.
This exchange is but one of the plentiful affective and poetic passages contained in Chinese American writer-performer Wesley Du's exhilarating and heartbreaking autobiographical solo show, Hong Kong Mississippi. The title is his later-life blues guitarist stage name; the chronicle is bookended by the recitation of a fairy tale about a dragon while he holds a toy dragon. During an enthralling 80 minutes, through polished storytelling and his superior acting of multiple characters, Mr. Du recounts his hardscrabble early existence. He was born in San Francisco's Chinatown, and went from dysfunctional poverty to studying at the Manhattan School of Music. The narrative begins in 1991, and ranges from his ages of 11 to 26.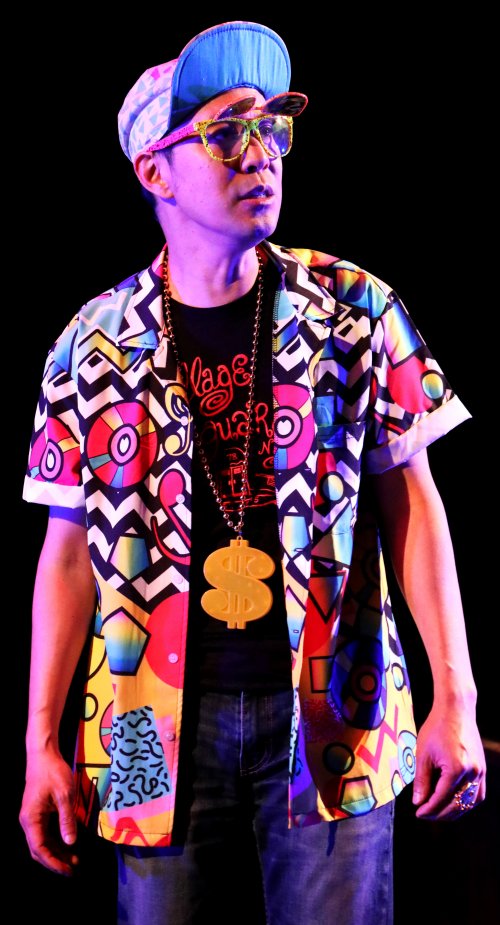 And then she lifts her shirt and shows me her caesarean scar.
You see! You see what your madder have to do to bring you into world? Huh? You madder used to be beautiful. Smooth skin. Flat stomach. I could dance… I could dance better than Ginger Roger. But my body not look like this for you to play stupid guitar.
Thus, snarls Pinky's embittered former ballet dancer single mother. Her son's nickname Pinky reflects that she desired to give birth to a girl. She works in a Chinese restaurant which he visits afterschool. He encounters the musicians who play at a next door blues club, forming life-changing bonds with them.
Hong Kong Mississippi is comprised of Du's finely crafted vignettes which have the quality of a powerful literary memoir; here it is a stage showcase for his tremendous performance skills, including guitar playing. With his beaming stage presence, resonant expressive voice and animated physicality, he demonstrates awesome shapeshifting. Du creates indelible portraits of his younger selves, his fierce mother, and the mature Black musicians. A Russian nun, his lively would-be girlfriend, an envious midget male companion, and an assortment of other figures are also vividly enacted.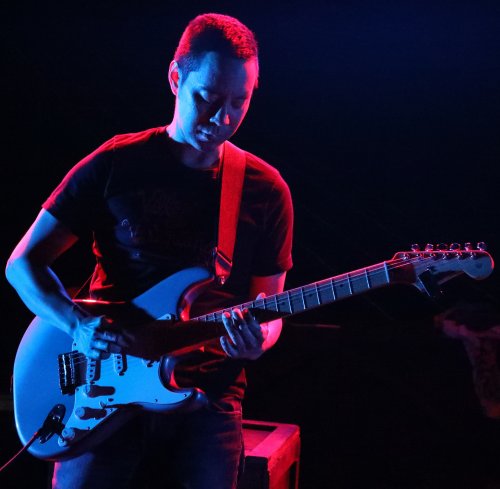 Director Craig Belknap's vigorous and kinetic physical staging has Du all over the space with precision, occasionally jocularly interacting with audience members, while achieving numerous striking stage pictures. Mr. Belknap's command of stagecraft is supreme; he melds the production elements into an entrancing presentation.
Scenic designer Michael C. Smith's weathered wooden blocks and integral props are the ideal visual tools to tell this tale. Eric Norbury's lighting design is a superb variance of hues, blackouts, dimness and brightness, all connoting the actions, emotional tones and the passage of time. Recorded musical snippets, live musical performances and atmospheric ambience are all rendered by Bill Froggatt's dynamic sound design. Costume designer Mimi Maxmen's strategic selection of everyday garments vibrantly aids Du in his transformations, as does a bolt of white fabric which serves as nun's habit and his mother's dress.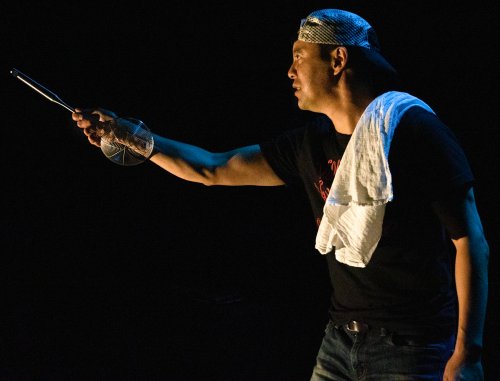 In addition to being a searing personal account, Hong Kong Mississippi also dramatizes the contemporary Chinese American immigrant experience with the anguish of its societal and parental conflicts. It is a brilliant theatrical monodrama.
Hong Kong Mississippi (through May 14, 2023)
La MaMa
The Downstairs Theatre, 66 East 4th Street, in Manhattan
For tickets, visit www.lamama.org
Running time: 80 minutes without an intermission