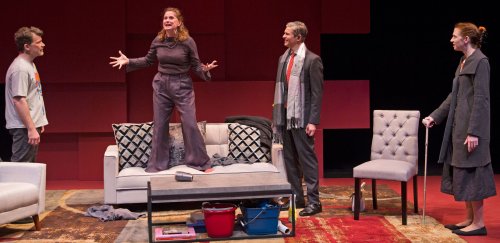 By: Darryl Reilly
The legendary vomiting sequence is hilariously rendered during this uproarious first ever Off-Broadway revival of French playwright Yasmina Reza's acclaimed 2007 award-winning absurdist comedy of manners, God of Carnage. Renowned English playwright Christopher Hampton's shrewd and sharp translation transposes the setting to Cobble Hill, Brooklyn.
An unseen after-school brawl between two 11-year-old boys has left one injured. The play's conceit is of a living room conference among the involved children's straight married parents. In a breakneck 90 minutes, Ms. Reza creates a barbed existential exploration of class, society and dysfunction, memorably culminating in the four adults regressing into childish behavior. As in Art, and Reza's other theatrical masterworks, God of Carnage demonstrates a supreme command of dramatic writing while provocatively entertaining. The dialogue flows with smooth precision as the mundane premise is profoundly fulfilled. During a rant, a character utters a racial and a homophobic slur.
All in their forties. A living room. No realism. Nothing superfluous.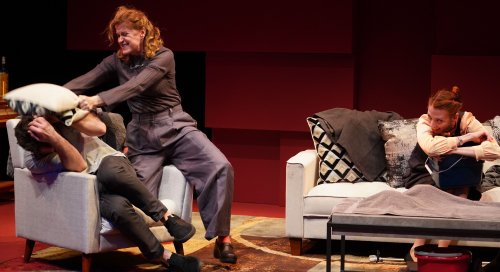 So, states Reza in her opening stage directions which are all impeccably fulfilled by director Nicholas Viselli through his crisp physical staging, superior sight gags and the cast's comic, intense and vivid performances in their choice roles.
With his everyman persona and salt of the earth vocal delivery, Gabe Fazio is wondrous as a small businessman who deals in housewares, "I sell frying pans." Mr. Fazio's recounting of and defending his dumping of the family's noisy pet hamster on the street is priceless. As his imperious writer wife who is publishing a book on Darfur, veteran performer Christiane Noll achieves a full throttle characterization. Ms. Noll's doubletakes, swaggering and iciness are all a joy to experience.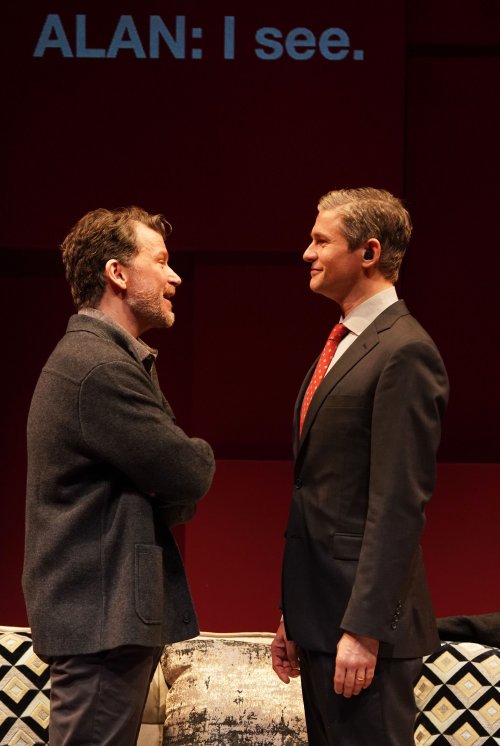 Perpetually and firmly gripping a cell phone, the suited David Burtka offers an antic take on the stereotypical Alpha Male consumed with his high-powered existence, he's flying to The Hague in the morning. Mr. Burtka's portrayal of this lawyer representing a pharmaceutical company with a sketchy drug is mirthfully engaging. Playing his haughty and disaffected wealth manager wife is the lean and animated Carey Cox. Ms. Cox offers a dazzling display of physical comedy as much of the visual humor involves her. This magnetic quartet's rapport is a chief asset to the production's success.
This incarnation of God of Carnage is presented by Theater Breaking Through Barriers (TBTB). The troupe was founded in 1979 and is "the only professional Off-Broadway theater company dedicated to advancing artists and developing audiences of people with disabilities." That mission is evidenced by the show's production concept. There's a five-minute preamble where the cast's recorded descriptions of their characters and appearances is heard. This spoken word portion as well as the play's dialogue is projected onto the stage's back wall, "making every performance fully accessible to all."
Scenic designer Bert Scott provides suitable modern furnishings and most crucially, arresting geometric wall panels for the supertitle captioning and audio description. Samuel J. Biondolillo's projection design is expertly aesthetic, and his lighting design skillfully highlights the comic and dramatic tones with appropriate hues and fluctuations. Sound designer Eric Nightengale artfully blends bleating children, musical bits and effects with optimum results. Costume designer Olivia V. Hern clothes the ensemble with stylish authenticity.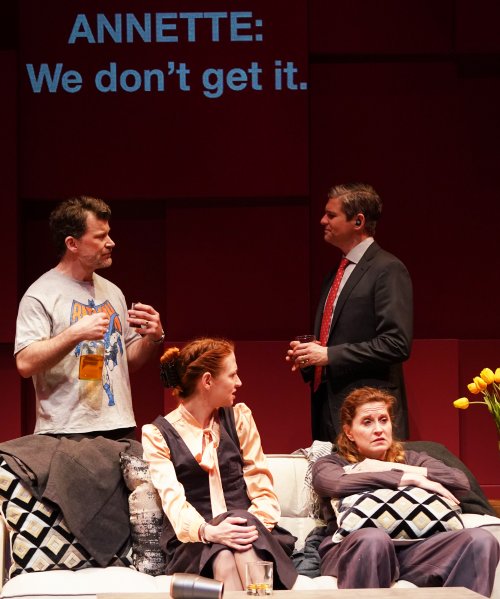 This hugely enjoyable revival affirms God of Carnage's stature as a classic of dramatic literature.
God of Carnage (through May 20, 2023)
Theater Breaking Through Barriers
Theatre Row, 410 W 42nd Street, in Manhattan
For tickets, visit www.tbtb.org
Running time: 90 minutes without an intermission