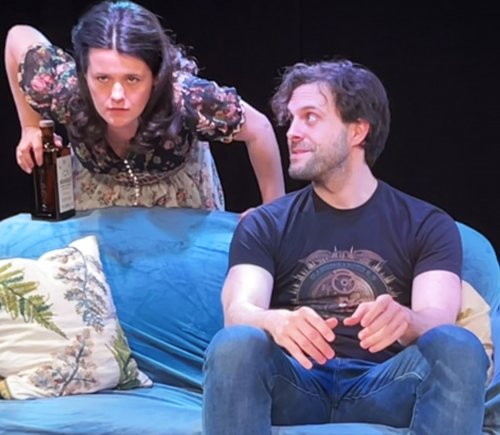 By: Darryl Reilly
I can't even remember the last time I got an
erection. I'm softer than a moderate Democrat down there. Eh, after you've woken up pants-less in a Penn Station
bathroom, nothing shocks you anymore. But confusion I'm still totally capable of. Well, the designation I was given upon birth was Demetrius…Hard to believe, I know. People always tell me I look more like a Pythagoras.
Jokes and one-liners abound in playwright Joe Thristino's smart and affective black comedy, Bringer of Doom. Mr. Thristino's archetypical characters are humanely rendered, and his wild premise is enabled by his scathing Jules Feiffer-style writing and plotting. Bringer of Doom's absurdism detours into existential darkness, making for intriguing entertainment.
Embittered Lotte encounters the drunken, once promising standup comedian Demetrius in a bar and brings him back to her childhood home, an Upper West Side Manhattan apartment. He has been on a downward spiral since his wife was killed by a whale four years earlier. Lotte is in therapy and dissolute due to her imperious affluent widowed mother Esme. She disclosed Lotte's artist romantic partner's infidelities during a public family event, imploding the relationship.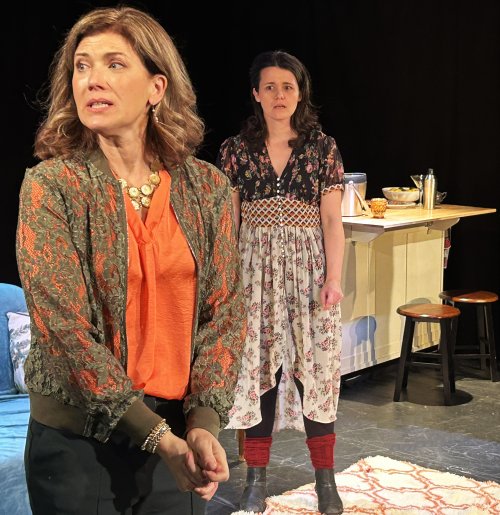 Esme and her paramour, the massage therapist Clancy, are coming over for a visit. Lotte's vengeful scheme is to have Demetrius pose as her new Fluxus artist boyfriend and employ his performing skills to roast the couple. After a cascade of wounding insults, the play veers into ominous and even more diabolical territory as searing family secrets are revealed. Though its finale is somewhat over extended, Bringer of Doom satisfyingly concludes with acerbic romanticism akin to Billy Wilder's The Apartment. A talented quartet portray the characters with distinction and unity.
While fully inhabiting the sullen and deadpan Lotte, Bimini Wright's innate vivacity endows her characterization with richness and texture. Peter Kendall is a delightful comedic whirlwind as the scruffy and loquacious Demetrius, particularly when draped in a red scarf while pretending to be an esoteric artist.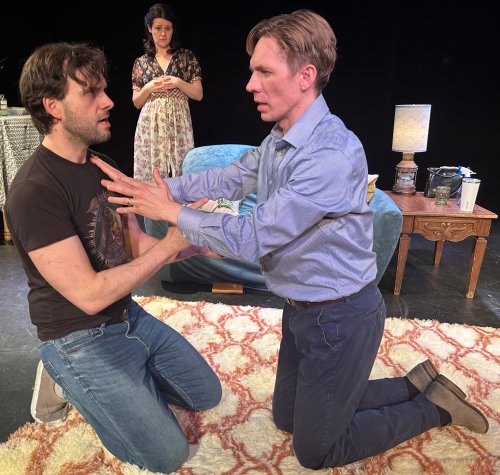 Sleek, regal and vocally domineering, the magnetic Bridget Ann White as Esme majestically emits condescension and superiority while evoking Jessica Walter in this Jessica Walter-type role. Initially lowkey, the wiry and animated Jed Peterson makes a marvelous impact as Clancy, especially when relating his ethereal visions.
Despite being performed on a confined space, director Mark Koenig's exemplary physical staging has the appropriately dressed cast variably positioned with precision and smoothly crossing the stage, achieving picturesqueness. The production's scenic design of basic furnishings ably represent areas of the apartment and Zach Dulny's lighting design is of inspired simplicity.
Though decidedly somber in comparison, Bringer of Doom harkens back to well-made high concept stage comedies of yesteryear such as Cactus Flower, Butterflies Are Free and Forty Carats.
Bringer of Doom (through April 23, 2023)
Skimble Skamble Productions
The Players Theatre, 115 MacDougal Street, in Manhattan
For tickets, visit www.bringerofdoomtheplay.com
Running time: 95 minutes without an intermission