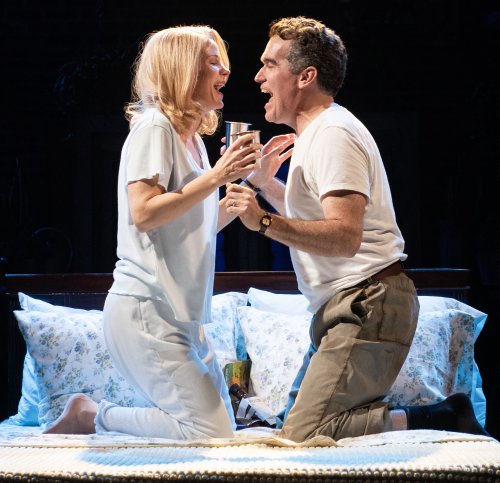 By: Darryl Reilly
Kelli O'Hara and Brian d'Arcy James' star quality and tremendous talents energize the stilted musical, Days of Wine and Roses. It is a stage adaptation of author JP Miller's 1958 Golden Age of live television play, and the Blake Edwards-directed 1962 film version for which Miller wrote the screenplay. A young couple dramatically battle alcoholism.
This production has been a passion project for composer and lyricist, Adam Guettel, as the material mirrors his own struggles with addiction. Alas, Mr. Guettel's music is a clunky mélange of jazz and pop, and his lyrics are stiff; a line about a jeremiad stands out. Craig Lucas' purposeful book is essentially faithful but streamlines the events. There are no Alcoholics Anonymous meetings, and the flashback chronology of the television play has been jettisoned in favor of a linear narrative.
Most conspicuous, the memorable and shattering scene of the drunken protagonist wrecking his father-law's greenhouse in search of a whiskey bottle hidden in a forgotten flowerpot doesn't have the impact of the television play or the film. Nor is there the scene where he sobers up in jail. The plot and characters are essentially the same, but this Days of Wine and Roses is a dull and unsatisfying experience.
Socially imbibing New York City public relations agent Joe Clay meets the initially teetotaling secretary Kirsten Arnesen at an office party; there's romance, marriage and a daughter, as their drinking gets out of control. Along the way, Kirsten burns their apartment and Joe loses his job. He decides to get sober, while she refuses to do so. Miller delineates his characters with psychological depth and his scenario is characterized by authentic social realism.
Cliff Robertson and Jack Lemmon were in their 30's when they played Joe on television and on screen, respectively. Piper Laurie and Lee Remick were in their 20's, when they played Kirsten. This casting had the poignant aspect of a bright, though troubled young couple spiraling downward during the American era of peace and prosperity. Ms. O'Hara and Mr. James are both in their 50's, their magnetic stage presences transcends their chronological ages; they offer galvanizing performances. Whether if two dynamic youthful performers playing the leads could have surmounted this patchy treatment is a tantalizing question.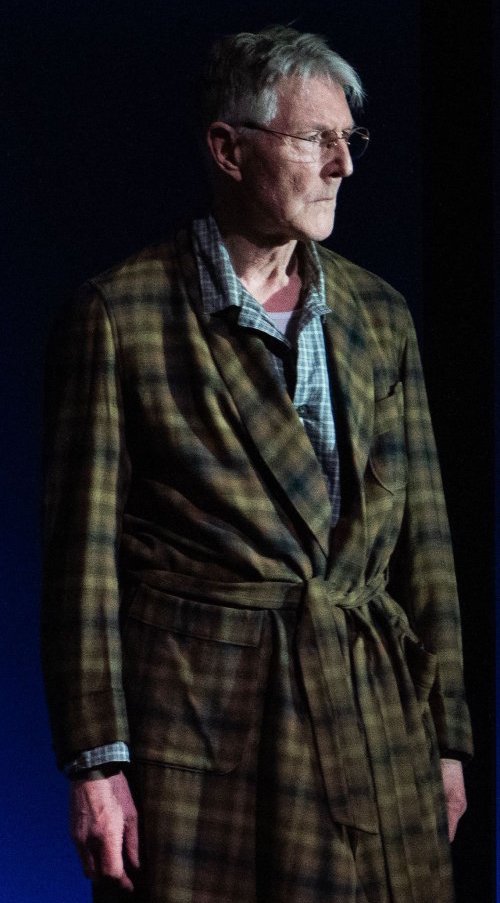 New York stage veteran Byron Jennings is solid as Kirsten's remote father, whereas aged grand movie actor Charles Bickford brought indelible gravitas to the part on television and screen. Combining compassion with sternness, David Jennings is outstanding as Joe's AA sponsor. Ella Dane Morgan is charming as the young daughter. The company of Sharon Catherine Brown, Olivia Hernandez, Ted Koch, and Bill English, all excel in their subsidiary roles, some in multiple ones.
Director Michael Greif injects as much visual polish and momentum as possible with his crafty physical staging, making for an at least watchable, though laggard presentation. Sergio Trujillo and Karla Puno Garcia's lively choreography aids in telling this dark tale. Scenic designer Lizzie Clachan's bare stage is swiftly set with evocative components, enabling the locations to change fluidly. Ben Stanton's lighting design is suitably moody and ominous. Sound designer Kai Harada clearly renders the music and effects. The 1950's is accurately depicted by Dede Ayite's expert costume design.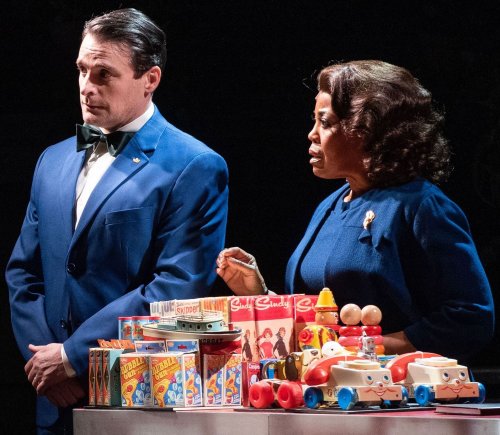 This incarnation of Days of Wine and Roses really only succeeds as a showcase for Kelli O'Hara and Brian d'Arcy James.
Days of Wine and Roses (through July 9, 2023)
Atlantic Theater Company
Linda Gross Theater, 336 West 20th Street, in Manhattan
For tickets, visit www.atlantictheater.org Running time: one hour and 45 minutes without an intermission