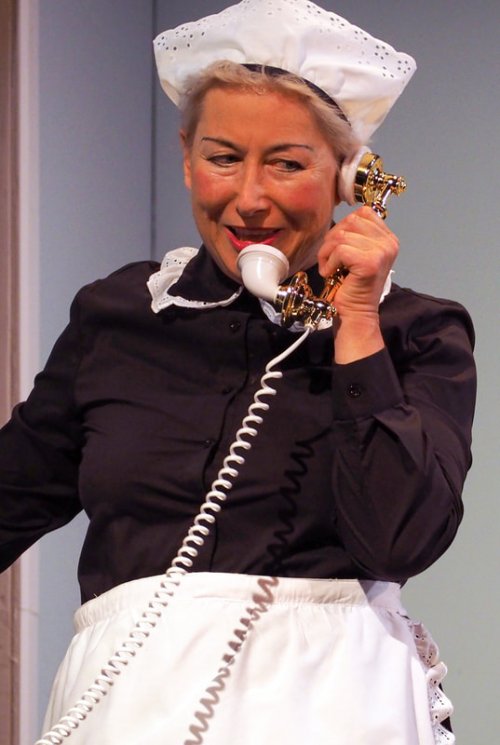 By: Darryl Reilly
Whether hauling out a succession of bunches of potted flowers, meticulously setting or serving at table, and beautifully singing "Yes Sir, That's My Baby," Zoé Badovinac exhibits an understated comedic bravura reminiscent of Katie Johnson's in The Lady Killers. Ms. Badovinac's scene stealing recurring turn as a maid, is a grand highlight of this spirited revival of Noël Coward's 1925 smart dual marital comedy, Fallen Angels. Badovinac's character, Jasmine has been brusquely renamed Saunders by her imperious employer out of simplicity.
This production is presented by the New York City-based Out of the Box Theatre Company, which was founded in 2006; its mission is, "To feature working professionals at their peak and in their prime: seasoned actors, directors and designers primarily past 50 years of age." Badovinac and the rest of this sparkling cast embody that ethos, while faithfully realizing Coward's antic vision.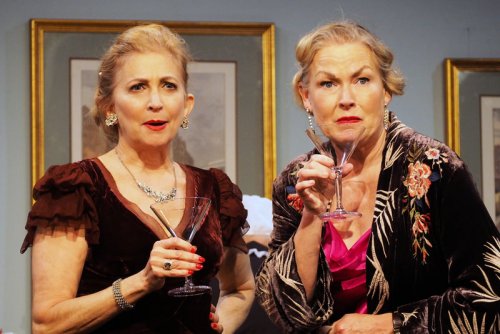 Julia and Jane have been best friends since childhood, and are both in stale marriages. Seven years earlier in Italy, before they met their spouses, they each had separate flings with a charismatic Frenchman. He suddenly reappears in London, stirring the women's pent-up amorous feelings. Coward spins out his characteristically class-conscious scenario through an impeccable structure, solid plotting, and his trademark clipped dialogue, laced with sharp observational one-liners. These are resoundingly delivered by the exquisite company.
With the brio of a seasoned flapper, Elizabeth Hayden is a whirlwind of high comedy haughtiness and palpable pathos as Julia. Magnetic Jenny Tucker's Jane is comparably commanding, as she exhibits superior comic timing and a range of emotion. Together, Ms. Hayden and Ms. Tucker are a colossal team, flawlessly propelling the show. Fight director Halina Malinowski crafts some nifty tussels between the duo.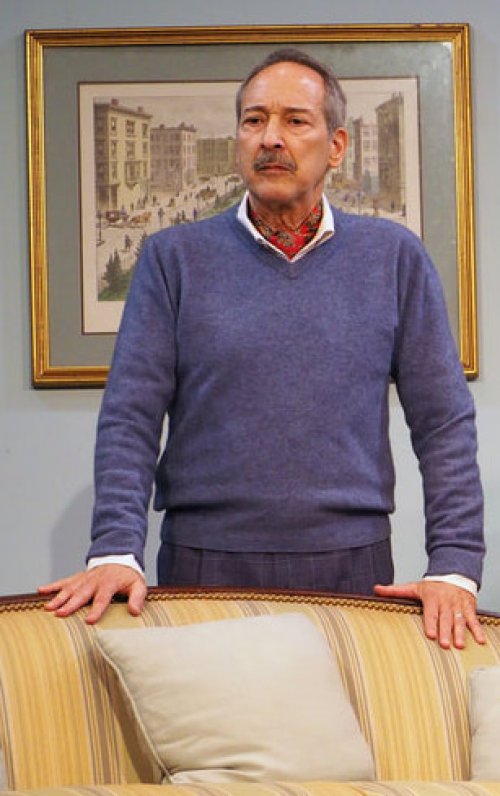 The animated and fidgety Jeffery Passero is gloriously in "Jolly good!" mode as one of the husbands. Channeling Donald Sinden's grandiloquence, Jeffrey Hardy is riotous as the other husband. The beaming and suave Tony Javed makes a mirthful impression as the late arriving Frenchman who justifiably incites the women's passions.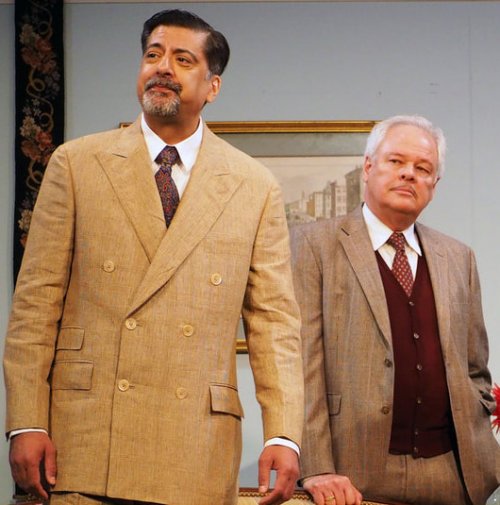 Audience guffaws, chuckles and gales of laughter abound throughout the presentation; these are a testament to David Edwards' remarkable direction. Mr. Edwards' swift pacing, plentitude of effective stage business and conveyance of a sense of reality, all connect for a marvelous Cowardian experience. That is enforced by a recording of Coward singing "I'll See You Again," which is heard during the show several times, as well as his compositions.
A pivotal velvet bell pull which summons the maid and stately lithographs hanging on pale blue walls with white moldings, are the hallmarks of scenic designer Harlan Penn's lovely Art Deco-style apartment living and dining area which is set with illustrative vintage furniture, an antique-type phone and a gramophone. Stephen Cornelius' steady lighting design complements the tones and actions, while his iris-type blackouts neatly punctuate the scenes. Music and effects are rendered by Zachary Dornfeld's deft sound design. The look of Jazz Age London denizens is evoked by costume designer Omar Sama'ey's inspired selection of snazzy and flashy garments.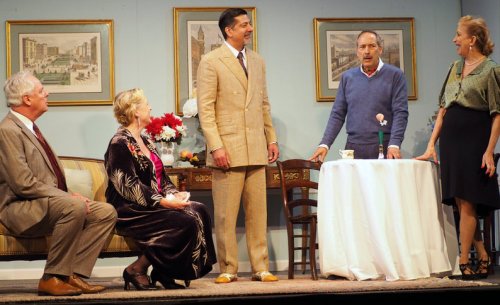 Fallen Angels was trashed by London critics upon its premiere for its supposed decadence, it then faded into obscurity after its four-month run. In 1949, it had a London revival, which established it as a pleasing star vehicle for two actresses. It has had several notable productions since, though not of late in New York. This smashing incarnation remedies that.
Fallen Angels (through June 11, 2023)
Out of the Box Theatre Company
Bernie Wohl Center, 647 Columbus Avenue, in Manhattan
For tickets, visit www.outoftheboxtheatre.com
Running time: two hours including one intermission