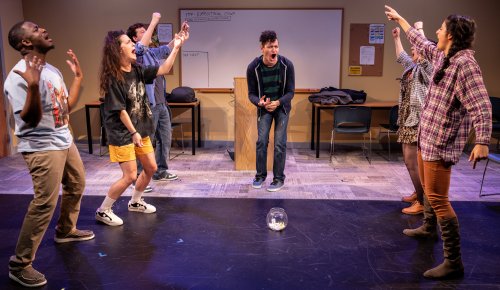 By: Darryl Reilly
A fishbowl stuffed with slips of paper containing topics such as cookies, mimosas and drunk, gets a lot of use in author David Rosenberg's affective, substantive and bittersweet play, What Else Is True? Over the course of numerous brief pointed scenes during two compelling acts, we follow the professional and personal interactions of three male and three female multi-racial New York City college students who are talented improv comedy group members in 2010. There is the suspense of whether a new recruit who has replaced an accomplished former performer will succeed.
Tensions, conflicts and the ramifications of the outside world, are ever present. There is discord over unrequited romantic feelings, resentment of outside projects, differing financial circumstances, and should a coach be brought in to prepare the troupe for The College Improv Tournament in Chicago. What Else Is True? cleverly and effectively alternates between its narrative and amusing actual improv sequences; these are either derived from the fishbowl or from audience suggestions.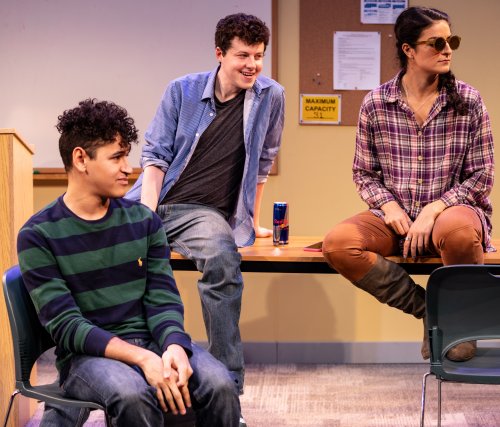 …Can you imagine, when we're all older and like, in our early to mid-30's and we've all got big fancy jobs in comedy or acting or writing or making movies or whatever… And we're all gonna– it's gonna be like this storied thing, where every time we do an interview or a profile or like a late night talk show, people are gonna talk about this legendary college improv team, this supergroup of future icons. And people are gonna be like "I can't believe all that talent just happened to stumble into one room."
Mr. Rosenberg beautifully captures many people's optimistic college experiences with his absorbing slices of young lives scenario; the charming characters have an idealized view of their future, that anything is possible. What Else Is True? impactfully flows due to Rosenberg's supreme command of dramatic writing. The six distinctive main characters are all perfectly delineated by strategically imparted scant biographical data; there are no labored expositional passages.
Through Rosenberg's simple, precise and punchy dialogue, we subtly learn that a domineering member is from a wealthy family, one was a former notable child performer who now must work in a Starbuck's, one's caustic wit masks a painful existence, one is gradually coming to terms with his sexuality, one suffers from low self-esteem, and that one is a headstrong go getter. They've all joined together with the common purpose of performing as a unit. There is a lovely portion where the cast giddily sings and dances to classic tunes including Eurythmics' "Sweet Dreams (Are Made of This)," à la Reality Bites' euphoric rendition of "My Sharona."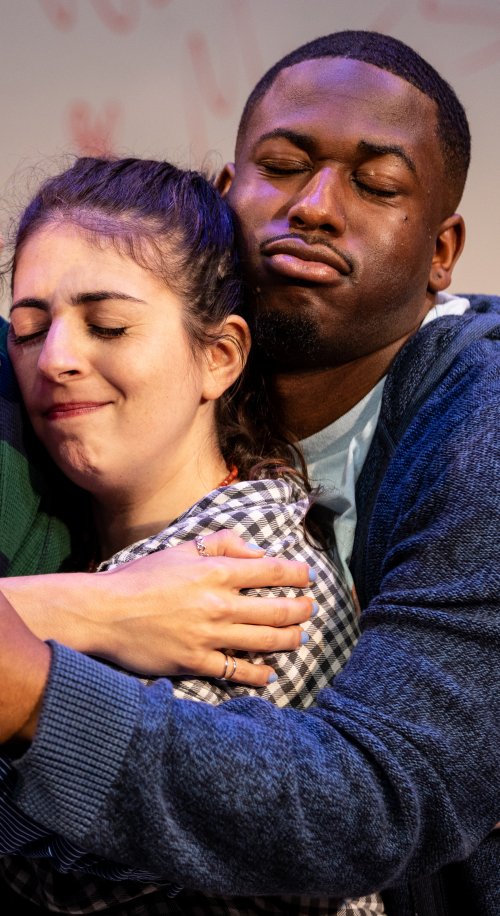 The youthful, animated and entrancing ensemble of Olivia AbiAssi, Serena Berman, Sam Gonzalez, Jawaun Hill, Adam Langdon, and Ema Zivkovic, vividly portray the students. Each of these magnetic performers offer uniformly rich characterizations of these strivers. The quirkily gregarious Dylan Guerra and the marvelously dry Ed Herbstman appear in integral subsidiary roles.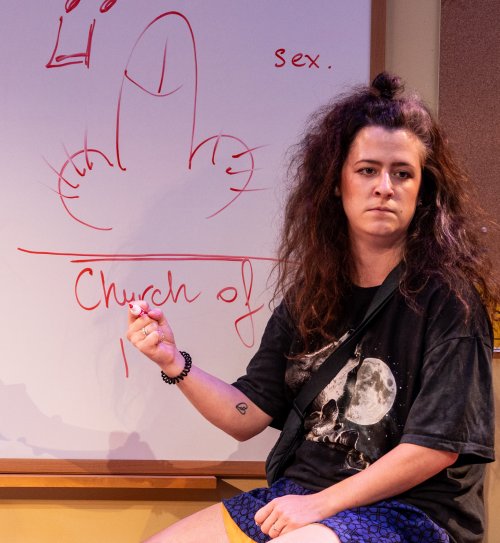 Co-directors Jake Beckhard and Adam Coy's vigorous staging has the cast in perpetual natural motion combined with inspired spatial variance for an energetic presentation. Lindsay Fuori's scenic and prop design includes the main setting of an authentic campus meeting room with overhead florescent lighting. Lighting designer Paige Seber's stark and moody hues convey realism and the passage of time. Art Kopischke's video design has a gorgeous, dreamy nighttime cityscape panorama, and his firm sound design often briskly punctuates the snappy scene transitions with familiar pop songs. Olivia Vaugh Hern's costume design is of appealing contemporary individualization.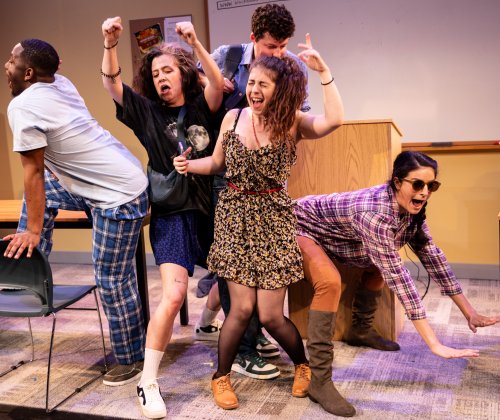 This production is presented by the Egg & Spoon Theatre Collective which was founded in 2017. Its mission is to generate "innovative and theatrical work, which expands the minds, imagination, and sense of citizenship of our artistic community." With What Else Is True?, the Egg & Spoon Theatre Collective offers the premiere of a major new American play.
What Else Is True? (through August 26, 2023)
Egg & Spoon Theatre Collective
A.R.T./New York Theatre's Jeffrey and Paula Gural Theatre,
502 West 53rd St in Manhattan
For tickets, visit www.eggandspoontheatre.org
Running time: two hours and 15 minutes including one intermission