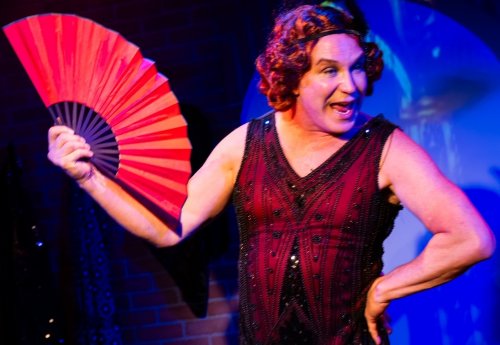 By: Darryl Reilly
Welcome to Berlin…The year is 1933. We are nearing the end of a delicious decade of decadence. As a young lad from London, I once went on holiday to Berlin with my parents. There, my life was forever changed. Berlin was filled with music, art, culture and, oh yes, boys!
So, begins Werner, a gay male cabaret performer in the absorbing solo show, Chanteuse: A Survival Musical. Donning at times a showgirl headdress, a bowler hat, a choice wig, and a variety of often gender-bending period costumes, the dynamic Alan Palmer commands the stage for 70 minutes during this riveting fictional exploration.
With his captivating stage presence and distinctively expressive vocals, the animated Mr. Palmer enthrallingly depicts the life journey of a gay everyman living in the wrong place at the wrong time. Palmer's grand performance supremely combines comedy and pathos, making Chanteuse: A Survival Musical highly fulfilling.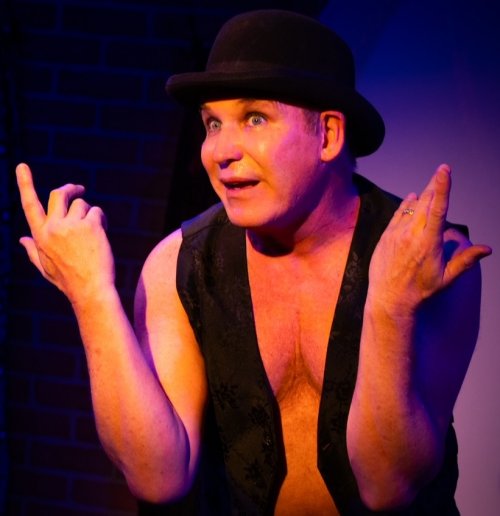 Palmer portrays Werner, a singing artiste who works at Berlin's seedy Silhouette Club, near the famed cosmopolitan Eldorado performance venue. After the Nazis seize power, they enforce their sadistic antisemitic and anti-gay legislation, and the Silhouette is shuttered. Werner is now unemployed, desolate, and anxious as to how he will endure this dark epoch.
Fortuitously, Werner's kindly older landlady suddenly dies. Cognizant of their resemblance, he grabs her passport, takes her money and hits the road. Dressing in drag, he uses her name to reinvent himself as a vaguely well-known chanteuse and performs around Nazi Germany; escaping persecution for being a gay man. Under his new identity, his picaresque adventures include a romance with a gay man which leads to their masquerade cover marriage, and a complex involvement with a Nazi officer. Following several tension-inducing vignettes, Chanteuse: A Survival Musical reaches its surprising and shattering conclusion.
Palmer wrote the show's factually detailed and narratively forceful book which concisely dramatizes this not often chronicled chapter of the Holocaust. Palmer's witty and stinging lyrics combined with composer David Legg's enchanting music yield a pleasing and authentic Weimer-esque score.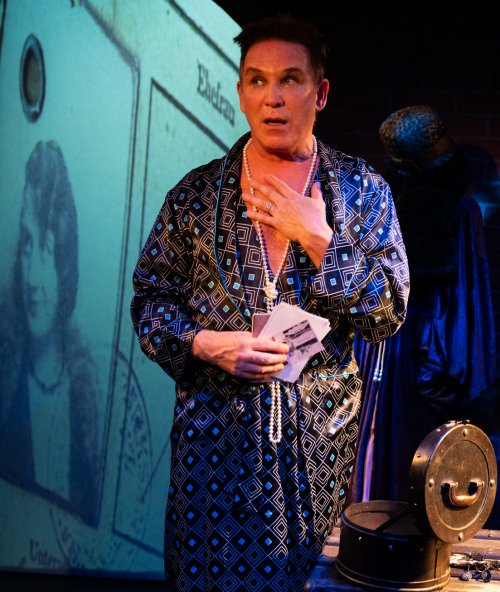 Director Dorothy Danner positions Palmer vigorously all over the contained playing area with precision and visual variance for a theatrical presentation crackling with momentum. There are a few subtle Bob Fosse-style Caberet-type flourishes during the nightclub sequences. Jessa Orr's effective scenic design recognizably and fluidly depict numerous locales; most striking is a stark configuration of wooden slats which chillingly represent a concentration camp. Crisp illustrative projections connote places and impart facts. Joe Doran's red-centric murky lighting design perfectly evoke the ominous optic sense of that time and the era's queasiness. The sound design impeccably renders the music and harsh effects, particularly gunshots and frightening barking concentration camp dogs. Kathy Price's rich costume design contains vintage everyday attire, show business grandeur outfits, and an eerie concentration camp striped uniform.
Chanteuse: A Survival Musical is a suspenseful and powerful entertainment. With authoritarianism on the rise in the United States and throughout the world, its cautionary theme resonates.
Chanteuse: A Survival Musical (through July 30, 2023)
Palmer Productions
HERE Arts Center, 145 6th Avenue, in Manhattan
For tickets, visit www.chanteusemusical.com
Running time: 70 minutes without an intermission