By: Darryl Reilly
"The president is never wrong." Thus, declares the doltish leader of the mythical nation of Erehwon in the smart satirical musical, A Stitch in Time. It is inspired by Hans Christian Andersen's folktale, "The Emperor's New Clothes." Indeed, the show's first act concludes with an under pressure tailor presenting the president with a bare clothes hanger, "It is a suit only smart people can see." From then on, while only wearing boxer shorts the president continues issuing chilling proclamations such as banning public displays of affection and laughing, and lengthening the day to 75 hours. There's intrigue in the presidential residence and discord throughout the land as martial law is declared.
Composer Gary Edwards' marvelously tuneful melodies have sly nods to musical theater classics, and in combination with Claud Solnik's literate witty lyrics yield to a pleasing score. Mr. Solnik's book is a faithful yet inventively absurdist take on Anderson's fable. Allusions to present day authoritarian rulers abound as Solnik's charmingingly cautionary scenario emulates the breezy whimsey of a Danny Kaye movie. A military offical periodically appears holding a vintage book to announce the story's progessing chapters.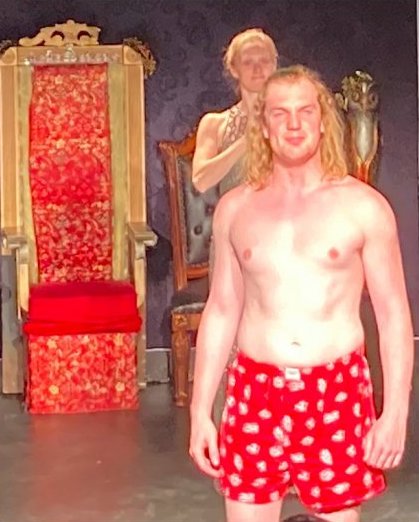 With his mane of flowing blond hair, distinctive facial features and richly expressive voice, Cameron Russell is majestic as the President. For a good deal of the show, Mr. Russell strides around in his underwear embracing the piece's overt wildness and subtextual seriousness. During his commanding performance, Russell achieves lots of laughs while maintaining the character's ominousness.
The lithe, regal and captivating Erin Kennedy's scheming First Lady characterization is a delicious blend of icy hauteur and emotional volatility. Ms. Kennedy's experience as an opera performer is evidenced by her soaring vocals and charismatic stage presence.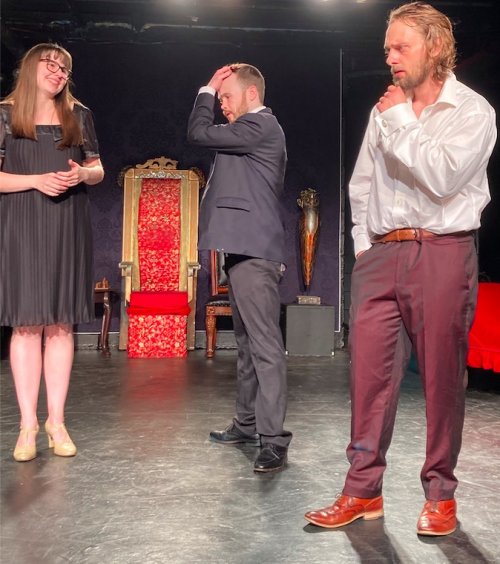 The animated Stefan Karl Schallack is gloriously in overdrive as Taylor, the tailor. Olivia Whicheloe's appealing sunniness is displayed as she plays Taylor's assistant and wife. Mr. Schallack and Ms. Whicheloe's rapport is delightful. The bespectacled Allison Panczyszyn is dryly amusing as a First Lady courtier. Intense Teal French-Levine brings intelligence and verve to the role of the presidential speech writer. The soulful Matt Bader's villainous presidential henchman masterfully evolves into heroism. As the martinet narrator figure and as the cold-blooded military chief, lively Jordan Williams veers from wicked funniness to eerie wickedness. Musical director Stephen Cornine not only superbly plays the piano, but he is also droll throughout the show reacting to the antics with emphatic facial expressions and silent comedic flair.
Director Robert Liebowitz's accomplished physical staging utilizes spatial precision, brisk pacing and picturesqueness in addition to employing hilarious sight gags and creating bracing tableaus. Emily Phelan's jaunty choreography contains striking modern dance flourishes. Costume designer Everett Clark's superior selection of illustrative garments perfectly realizes each character with distinction; the president's grand robe is a standout.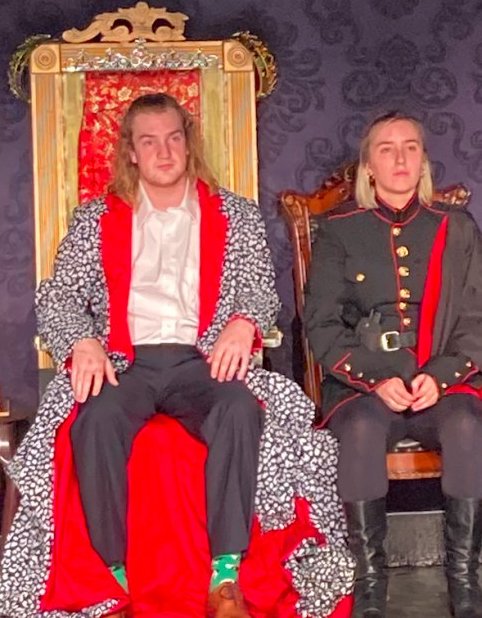 A Stitch in Time is performed in the Theater for the New City's downstairs cabaret theater. Mr. Liebowitz has set the stage with choice furnishings from the company's stored holdings, including an opulent throne for the president. This scenic design is complemented by Scott David Reeves' artful lighting design which punctuates the scene tranistions with neat blackouts.
The lightness conjoined with depth tone of this world premiere production of A Stitch in Time is at odds with its questionably excessive length of two and a half hours including an intermission. The first act's mirthful climax of the presentation of the president's invisible suit comes after over an hour of meandering and repetition. The second act's finale arrives after a few extraneous musical numbers of no great narrative impact. Still, this incarnation of A Stitch in Time is a thoughtful diversion enlivened by its peppy cast.
A Stitch in Time (through July 9, 2023)
Theater for the New City, 155 First Avenue, in Manhattan
For tickets, visit www.theaterforthenewcity.net
Running time: two hours and 30 minutes including one intermission