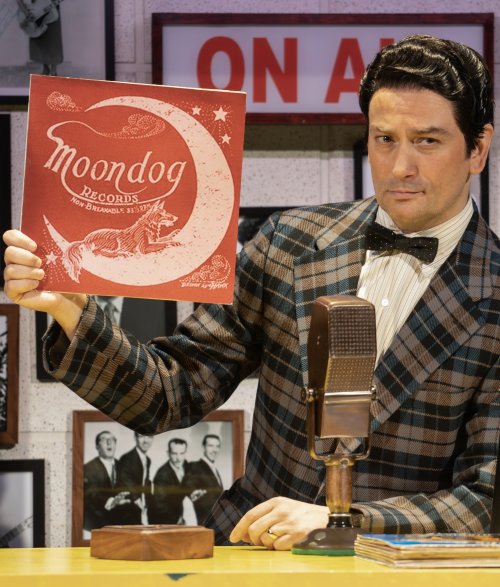 By: Darryl Reilly
Little Richard, Buddy Holly, Pat Boone, Frankie Lymon, Screamin' Jay Hawkins, LaVern Baker, Chuck Berry, Jerry Lee Lewis, Dick Clark, and Bo Diddley, are the pop music icons who appear during an exhilarating production number in the rousing second act of the Off-Broadway musical, Rock & Roll Man. The show is a fantasia depicting the life of legendary DJ Alan Freed. This sequence is a recreation of the all-star live events Freed produced around the United States, some of which were filmed and released in movie theaters.
Rock & Roll Man takes Freed from his 1940's and 1950's heyday when he popularized the term "rock and roll" on AM radio, to his death from alcoholism at the age of 43, in 1965. He was instrumental in combatting segregation on the air, on stage and in the audience. He ran afoul of J. Edgar Hoover and the music industry. Freed spent his final years battling the Internal Revenue Service and court cases where he was charged with "payola," accepting bribes in exchange for playing records on the radio. His story was told before in the fine 1978 film, American Hot Wax.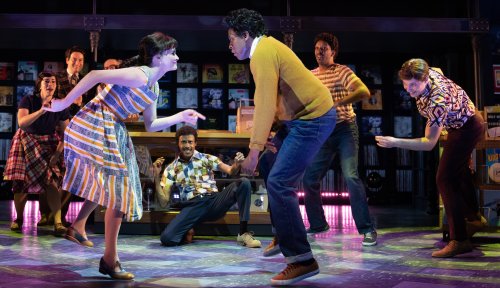 The co-writers of Rock & Roll Man's book, Gary Kupper, Larry Marshak and Rose Caiola have crafted a clunky treatment. There is a jumbled flashback framing device dealing with Freed looking back on his life with fantasy bits of him being tried during an imagined trial. Their dialogue is charmingly corny, and their characters are well-defined; Hoover gets a wicked cross-dressing sight gag. The first act is underwhelming, while the entertaining second act fulfills the material's promise. Mr. Kupper's original music and lyrics yield some decent 1950's rock-style songs that are interspersed with standards. Rock & Roll Man is ultimately a good time due to its nostalgia value, expert presentation, and grand cast.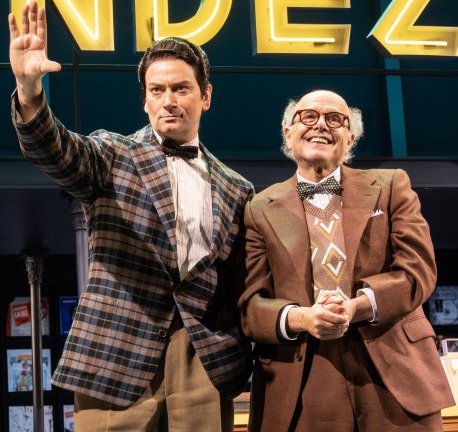 Charismatic Rock of Ages and American Idol star, Constantine Maroulis gives a soulful performance as Freed and is the show's formidable centerpiece. Playing wily Ohio record store owner Leo Mintz in the first act, and then snappy music industry shark Morris Levy in the second act, is the irrepressible Joe Pantoliano. Mr. Pantoliano now joyously brings his magnetism to the New York stage after establishing his dynamic wise guy persona on screen and in television. His Emmy-winning turn on The Sopranos, Risky Business and Memento, are among his notable credits.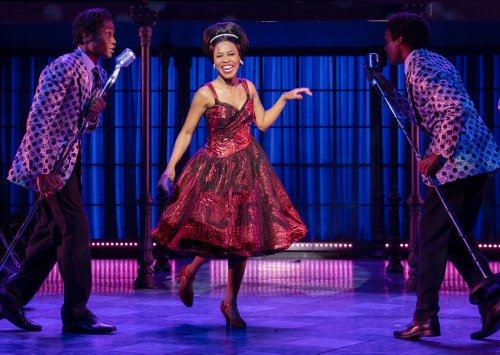 Rodrick Covington's recurring Little Richard is captivating. Valisia Lekae is gutsy, yet poignant as LaVern Baker. With his physical resemblance to and channeling his steely presence, Bob Ari is a dramatic and comedic blast as J. Edgar Hoover. The company of Jamonté, Andy Christopher, Autumn Guzzardi, Anna Hertel, Matthew S. Morgan, Dominique Scott Eric B Turner, Natalie Kaye Clater, Lawrence Dandridge, and AJ Davis, all offer delightfully exact characterizations in their historic and imagined roles.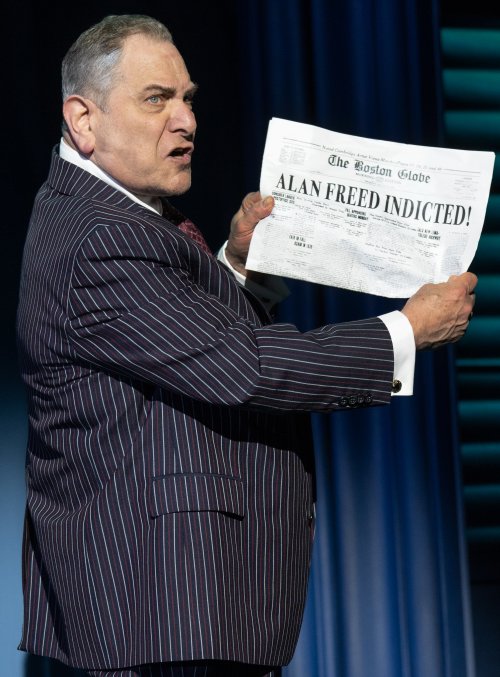 Director Randal Myler and choreographer Stephanie Klemons' forceful contributions bring momentum and visual elan to the production. Tim Mackabee's scenic design and Christopher Ash's projection design, creatively and fluidly render the various locales. These are complemented by lighting designers Matthew Richard and Aja M. Jackson's vigorous work. Ed Chapman's rich sound design totally captures the stirring tones of the beloved songs and the new compositions' effects. Musical director Dave Keyes, music supervisor and music arrangers Gary Kupper and Dave Keyes, and the additional orchestrations and dance arrangements by Kenny Seymour, all in concert with music coordinator John Miller, faithfully render the spirit of classic rock and roll that is fondly showcased in Rock & Roll Man.
Rock & Roll Man (through September 3. 2023)
Caiola Productions
New World Stages, 340 West 50th Street, in Manhattan
For tickets, visit www.rockandrollmanthemusical.com
Running time: two hours including one intermission