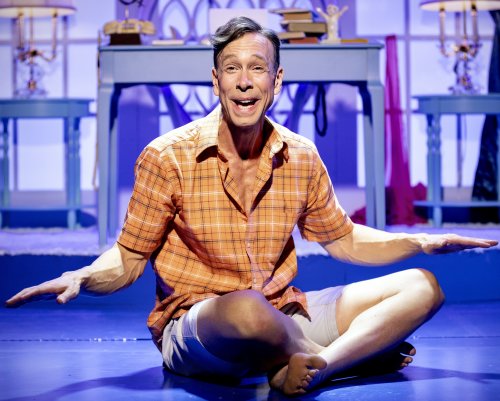 By: Darryl Reilly
Most, if not all of us have done some crazy shit in our lives, right? I have had so many twists and turns – kinks if you will…Tonight, I'm going to share with you some kinks and some stories from the eight books I've written:
Cathouse Mother
The Male Homosexual
Male Oral Love
A Madam's Memories
I am Kenneth Marlowe
The Gay World of Kenneth Marlowe
The Delicate World of Kenneth Marlowe
Around the World with Kenneth Marlowe
So, announces the phenomenal Wade McCollum who portrays American gay fringe figure Kenneth Marlowe (1926-1990) in the exhilarating biographical solo show with music, Make Me Gorgeous! Playwright Donnie's (aka Donald Horn) uproarious treatment is adapted from his book, Mr. Madam: The Life and Times of Kenneth/Kate Marlowe, with additional material by Mr. McCollum. The show dramatizes the eventful life of this merry non-conformist through a breezy episodic structure and witty writing.The United States' underground gay male milieu of the 1940's, 1950's and 1960's, is vividly depicted in all of its outlaw glory. The conceit is that it's 1975, and Marlowe is addressing the audience in his grand San Francisco apartment.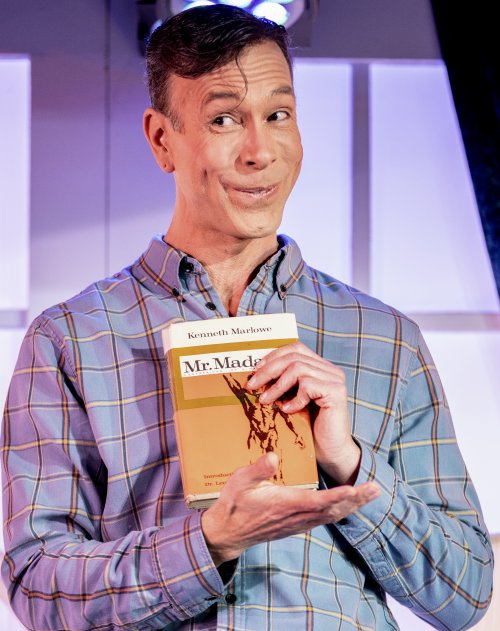 Born to dysfunctional parents in Iowa, Marlowe went from being a Mae West adoring child to crossdressing and to consummating his teenage same sex attraction. Then it was onto having sex with men in restrooms, hustling, becoming a whorehouse hairdresser, a successful nightclub female impersonator, a Korean War U.S. armed forces draftee, an entrepreneurial telephone answering service owner while veering into sexual procurement, and then writing best bestselling books about his life and times. Marlowe transitioned to the female Kate at the age of 50, and died at 63 in 1990. Donnie and McCollum enact this wild counterculture odyssey with historical scope, aching drama and minute detail. It takes us from the heartland to Chicago's underworld, to racy New Orleans and to salvation in California. The Auntie Mame-style free-spiritedness is enforced by a bit where Marlowe struggles to answer a bevy of telephones.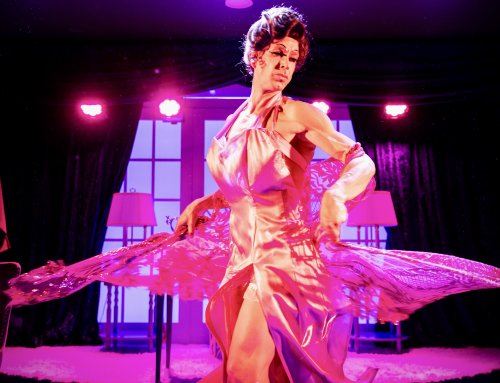 With extensive Broadway, regional and London stage credits, McCollum is a seasoned and polished performer; Make Me Gorgeous! is a glorious showcase for his colossal talents in which he commands the stage for 90 minutes. Possessing a lithe, lean and chiseled physique, being a supreme dancer and an accomplished singer, having an animatedly expressive face, exhibiting superb comic timing and exquisite mimicry, McCollum is like a Golden Age of MGM musicals player come to life, while exhibiting dramatic range. In addition to his charismatic characterization of Marlowe, the astonishing McCollum visually, vocally and humanely assumes the identities of a gallery of those encountered a long the way. These include hardboiled and ditzy prostitutes, a chilling mobster, an elegant madam, and Marlowe's sympathetic mother. Most moving is his tender depiction of "Charlie," a much older unattractive man who becomes the young Kenneth's magnanimous sugar daddy in return for nonsexual companionship; McCollum employs a poignant gruff voice for this haunting portrait. Then there are his hilarious audience interactions while onstage and throughout the theater which has a section set with cabaret-type tables and chairs. With Las Vegas-style gusto McCollum lobs double entendres, lands a plethora of punchlines and gives lap dances. McCollum's performance is among the most spectacular to be experienced currently on the New York stage.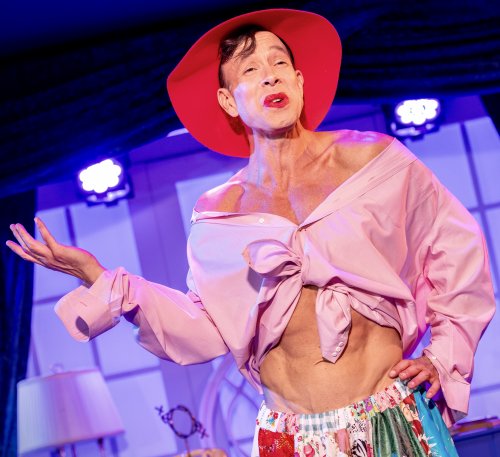 Donnie has also directed Make Me Gorgeous! with theatrical flair, snappy pacing and emotional variance. Most shattering is a traumatic sequence where Marlowe is raped by 14 servicemen on a military base; he is later dishonorably discharged. Donnie's eerie subtle staging, McCollum's awesome recreation while uttering the rapists' crude remarks, and whiz lighting designer Jamie Roderick's jolting crimson hues, make this portion a wrenching standout. Walt Spangler's clever and pleasing grand white-centric two-level scenic design enables the narrative to seamlessly transpire in many locations and eras. Sound designer Ien DeNio luxuriously renders the music and starkly realizes the effects. From a loopy napkin dress, to lavish burlesque-style ensembles and to vintage-type street clothes, Jeffrey Hinshaw's costume design is perfection.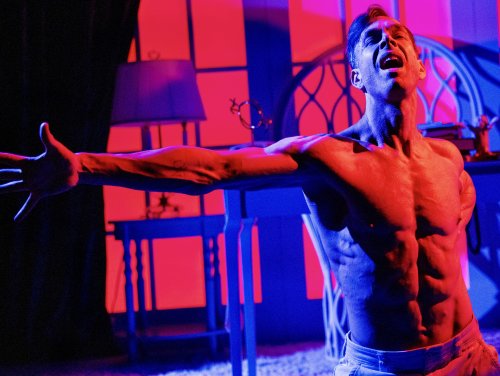 Make Me Gorgeous! is an impeccably researched, conceived and performed character study; Donnie and Wade McCollum have created an affective extravaganza.
Make Me Gorgeous! (through December 31, 2023)
triangle productions!
Playhouse 46 at St. Luke's, 308 West 46th Street, in Manhattan
For tickets, visit www.gorgeousplay.com
Running time: 90 minutes with no intermission