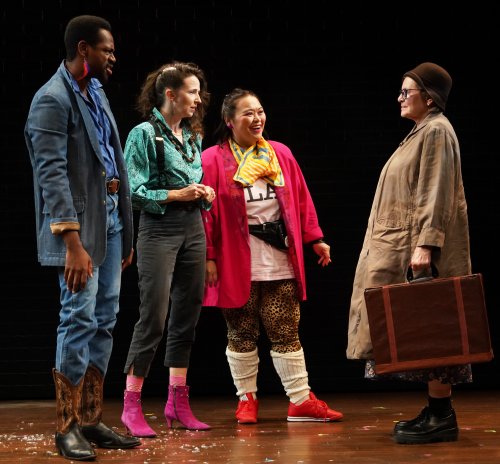 By: Darryl Reilly
Dianne Wiest's magnificence elevates playwright John J. Caswell, Jr.'s specious exercise, Scene Partners. Some may find this whimsical saga of an elderly woman's picaresque odyssey entertaining; others may find its John Guare-style self-conscious zaniness grating. The play is initially structured as mostly jokey vignettes, later bits grow more serious and are infused with gratuitous pathos. Scene Partners has been given an overblown and busy production.
In 1985, we meet Wisconsin resident 75-year-old Meryl Kowalski; yes, Meryl Streep and Tennessee Williams' legendary character are frequently referred to. Meryl's abusive husband of over 50 years has died. She informs her drug addict daughter that she will not be attending the funeral, instead she will be going to Los Angeles to pursue her show business dreams, she also financially cuts off her daughter. Upon arriving in Tinseltown, Meryl accosts a big-time agent, takes acting classes, moves in with her younger half-sister and gets to be in a movie of her life, bringing it all full circle.
Mr. Caswell renders his schematic scenario through hyperbolic surrealism and exaggeration, striving for humorous profundity. Meryl recounts childhood sexual molestation by her stepfather, adding even more contrived complexity. It appears by the end when Meryl gets a vague medical diagnosis that we have been primally witnessing her neuralgically impaired fantastical thoughts, very little we have seen was real. Due to Caswell's synthetic conception and prententious execution, Scene Partners doesn't cohere into a satisfying experience.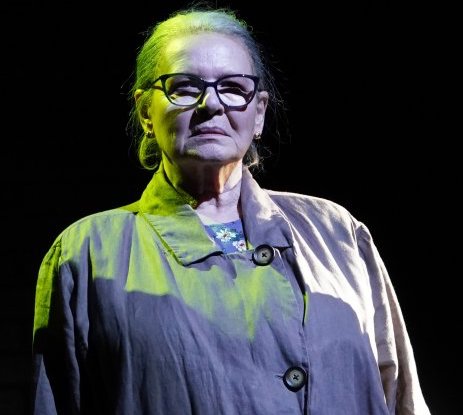 Scene Partners may be negligible, but it is a welcome opportunity to savor the two-time Oscar-winning Ms. Wiest's tremendous talent onstage as Meryl Kowalski. Wiest has been an acclaimed performer for over 40 years and is here colossal. There is her animated face with her expressive eyes, her mesmerizing presence and her incredible voice which trills, whispers and roars. It is a monumental performance effortlessly veering from comedic to dramatic that will enthrall Wiest admirers.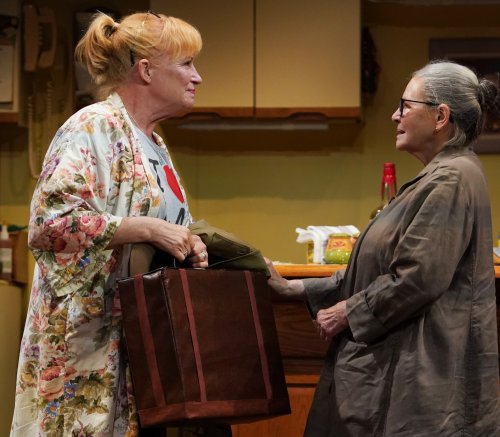 Veteran American stage mainstay Johanna Day is wondrous as Meryl's sympathetic former actress younger sister. The majestic Ms. Day brings her customary range and depth to the role, creating a rich characterization. The distinguished Josh Hamilton mirthfully and heroically succeeds as Meryl's stereotypical agent and as an Australian acting guru. The dynamic Eric Berryman, Kristen Sieh and Carmen M. Herlihy, all vividly portray their multiple cartoon-like subsidiarty characters.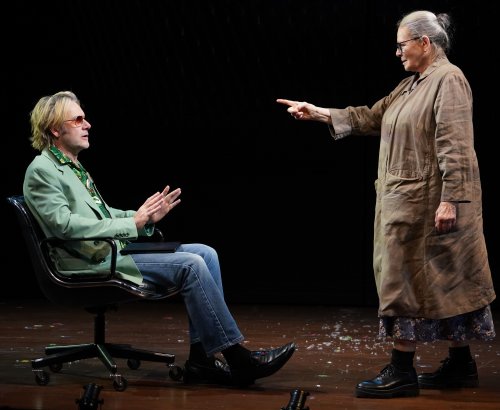 Director Rachel Chavkin directed Hadestown and Natasha, Pierre & The Great Comet of 1812 on Broadway. In Scene Parners, Ms. Chavkin achieves similar spectacle and epic scope for the production through her consummate employment of stage craft. Chavkin faithfully realizes Caswell's vision theatriclly. Scenic designer Riccardo Hernández's panoply of pieces forcefully and fluidly depict the multiple locations. Alan Edwards' compelling lighting design varies hues and levels of brightness and darkness for optimum effect. Sound designer Leah Gelpe skillfully modulates effects and musical interludes which include karaoke performances of Corey Hart's "Never Surrender." David Bengali's accomplished large-scale video and projection design suitably presents the several movie-in-a-play sequences. The prop design by Andrew Diaz is craftily authentic. Brenda Abbandandolo's exemplary 80s-centric costume does include an arresting rustic trench coat Wiest wears throughout, perhaps it symbolizes her Wisconsin roots. The cast's appearance is enhanced by Leah Loukas' splendid hair and wig design.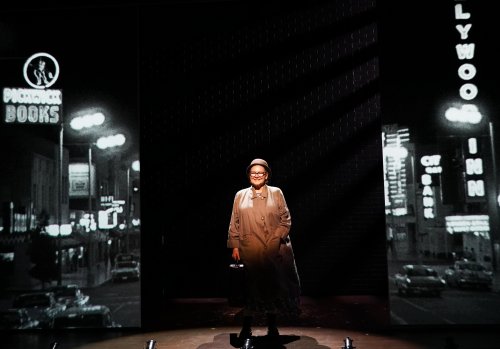 Scene Partners succeeds as a vehicle for Dianne Wiest, its success as a theater piece depends on one's sensibility.
Scene Partners (through December 17, 2023)
Vineyard Theatre, 108 East 15th Street, In Manhattan
For tickets, visit www.vineyardtheatre.org
Running time: one hour and 45 minutes with no intermission