By: Darryl Reilly
Masturbating over his mistress's grave is merrily indicated by the fearless John Turturro in this euphoric stage adaptation of Philip Roth's acclaimed 1995 novel about Jews, sex and death, Sabbath's Theater. Mr. Turturro and writer Ariel Levy faithfully theatricalize Roth's own favorite work of his by using only his words in their smart condensation which is simply structured as key scenes connected by narration; the book's unabashed smuttiness is joyously preserved. The show opens with a noisy fornicating couple's erotic sounds and ribald conversation behind a hanging white sheet, there are whimsical animated projections of ejaculations, a young woman's panties are stolen, and the 66-year-old Turturro briefly appears nude. Sabbath's Theater is a glorious experience for Philip Roth devotees, admirers of great acting and enlightened theatergoers.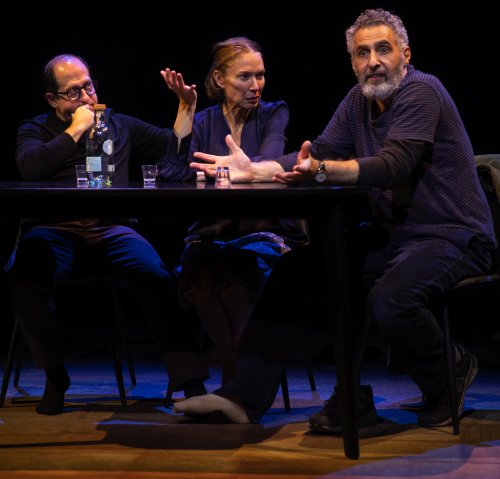 In 1994, we meet the disheveled Jewish New Jersey native Mickey Sabbath. He is a licentious 64-year-old once prominent puppeteer and former avant-garde theater director whose heart was long ago broken by a failed romance with an actress and his career was stunted by having capriciously refused the ascendant Jim Henson's offer to play Big Bird in Sesame Street. Sabbath ended up in a chilly long-time child-less marriage and teaching theater arts at a New England college. A campus sex scandal with a female student and his wife ending their relationship have upended his existence, leaving him impoverished. Holding a classic Greek diner cardboard coffee cup he begs for money at the Astor Place subway station. Roth's picaresque and ruminative grand character study of someone on an impulsive life-long downward spiral is informed by Sabbath and his working-class parents' trauma over the death of his older U.S. service member brother who was shot down during W.W. II.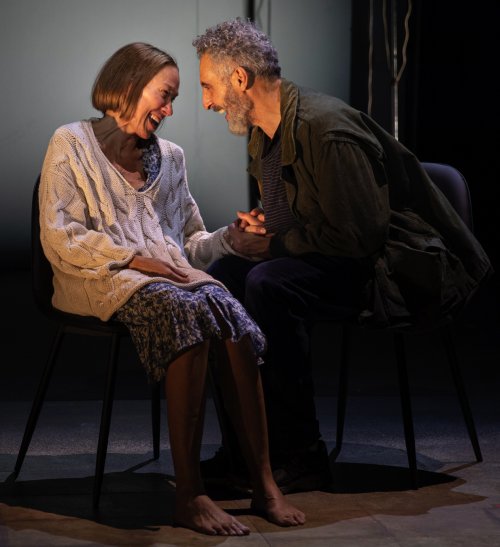 With a flowing salt and pepper beard, his trademark hair, piercing eyes, distinctive soaring voice and animated physicality, Turturro vividly embodies Mickey Sabbath, visually, vocally and psychologically. It is an electrifying performance combining comedy and tragedy. His priceless jokey Rothian riff on Lorena Bobbitt is quintessential Turturro. Playing Drenka, Sabbath's fiery Croatian middle-aged married hotel owner paramour is the formidable Elizabeth Marvel. Ms. Marvel marvelously embraces this earthy and wily temptress with her accurate accent and luminous presence. "My American boyfriend" is how she lustily refers to Sabbath in her sexy Eastern European cadence. Marvel is also delightfully wry as a pragmatic cemetery employee offering Sabbath two plot options in the vicinity of his parents, sharp as a married dentist Sabbath ineptly tries to seduce, and haunting as the ghost of Sabbath's critical mother. Supreme character actor Jason Kravits is in that celebrated show business category of "I know that guy!" Here, he is at his everyman best as a sympathetic friend from Sabbath's past who shelters him in his Central Park West apartment with disastrous results. Most affective is Mr. Kravits' touching portrayal of a 100-year-old relative of Sabbath's who doesn't remember him and who has outlived virtually everyone in his life, he frets that it's time for him to make his dinner.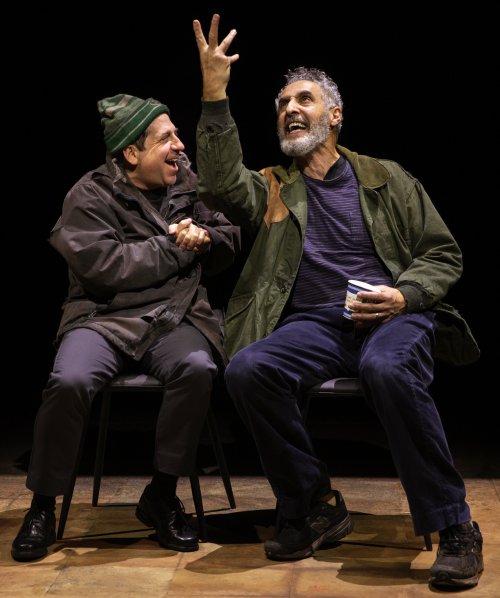 Through her vigorous physical staging and creative employment of stagecraft, director Jo Bonney achieves measured pacing, presentational depth and mounting momentum. Kelly Devine's choreography contains striking numbers which visualize the piece's sensuous tone. Scenic designer Arnulfo Maldonado's black-accented playing area remains bare when not set with a three-step block staircase and strategic minimal furnishings, allowing scenes to smoothly flow. Lighting designer Jeff Croiter creates a netherworld dimension through smoky dimness and swirling darkness. The varying locations are noted by Alex Basco Koch's stylized projection design which include an eerie Empire State Building. Big Band classics and effects are bracingly realized by sound designer Mikaal Sulaiman. Erik Sanko's cheeky shadow puppet design imagery often hilariously complements the piece's prevalent humor. Mr. Maldonado's costume design has an ideal dusty ensemble for Sabbath, a lavish American flag belonging to his deceased brother to drape the nude Sabbath in, and suitable everyday clothes for the multiple characters. These authentic looks are enhanced by J. Jared Janas' artful wig and makeup design.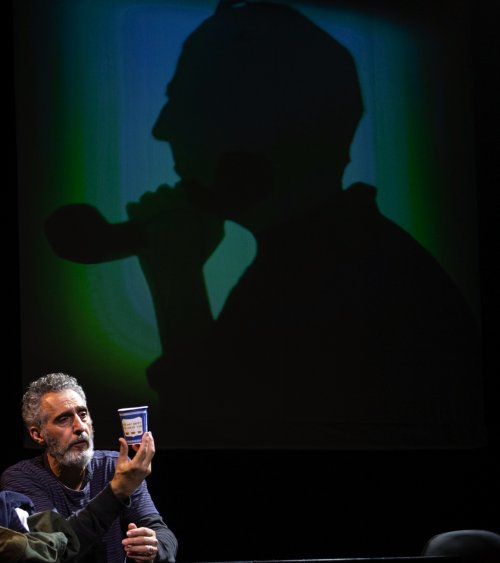 With this roaring incarnation of Sabbath's Theater, Philip Roth's earthy, comic and profound sensibility has been forcefully brought to the stage.
Sabbath's Theater (through December 17, 2023)
The New Group
The Pershing Square Signature Center, The Romulus Linney Courtyard Theatre, 480 West 42nd Street, in Manhattan
For tickets, visit www.thenewgroup.org
Running time: one hour and 40 minutes with no intermission