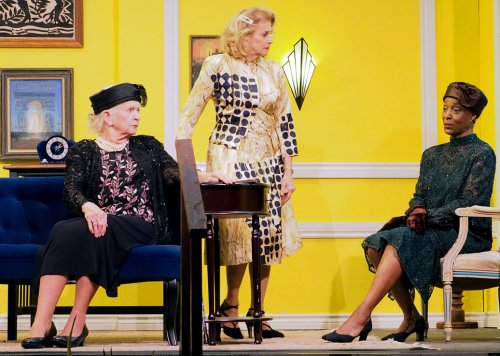 By: Darryl Reilly
"Don't speak to me about decency, decency went out with Queen Victoria!" So, quips a knowing matron in this this fizzy revival of W. Somerset Maugham's scintillating 1926 social comedy, The Constant Wife. It is a pleasure to experience Maugham's supreme command of dramatic writing during his classic well-made three act play set in a drawing room. The minutely delineated characters converse in witty propulsive dialogue, exposition is deftly imparted, the plot precisely unfolds, and the denouement concludes with a crisp curtain line.
The 20-year childless marriage of a doctor and his stalwart wife is upended by the husband of his mistress publicly exposing their affair. The wife craftily explains away the pivotal evidence of her husband's cigarette case found under his mistress' pillow as her possession to the satisfaction of the cuckolded husband. Previously, we've learned everyone in the couple's orbit knew about the affair as did the wife. It's all about keeping up appearances. The unabashedly privileged wife is now jolted by the existential truth of her stale marriage and accepts a friend's job offer as an interior decorator, takes up with an old flame and moves on with her now enlightened life. Maugham offers a jaunty comedy of manners exquisitely combined with his forward sensibility which pragmatically depicts cultural issues such as feminism, the class system, infidelity, and the war between the sexes, that are all explored with entertaining depth.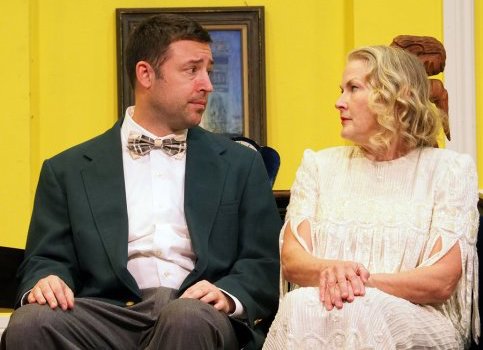 The effervescent Jenny Tucker offers a glorious characterization of Constance, the title character. With her fine comic timing and captivating presence, the sunny Ms. Tucker effortlessly veers from the humorous to the serious while effectively delivering Maugham's feminist talking points. With Ethel Barrymore-style grandeur, the beaming Darrie Lawrence is uproarious as Constance's wise mother, nearly stealing every scene with her grand manner and rich vocal delivery of numerous zingers. The animated Gloria Sauvé is delightfully antic as Constance's friend and later harried employer. Boyish and emphatic Nick Denning winningly conveys palpable sincerity as Constance's would be romantic admirer who is still trying to win her after 20 years. Elizabeth Hayden is marvelously wry as Constance's younger sister. Grant Machan wonderfully blusters as Constance's unfaithful doctor husband and deliciously spouts hypocrisy. The alluring Vanessa Shaw is charmingly feisty as the doctor's mistress. The wickedly forceful Roumel Reaux's confronting deceived husband is hilariously out of the Commedia dell'arte as he furiously waves around the incriminating cigarette case. Not only does the charismatic Cary Gant mine every laugh out of his appearances as the butler, he also superbly plays the piano as music director during the show's beginning, act transitions and finale. "Makin' Whoopee!," "Heebee Jeebies" and "After You've Gone," are among the vintage numbers Mr. Gant rousingly sings.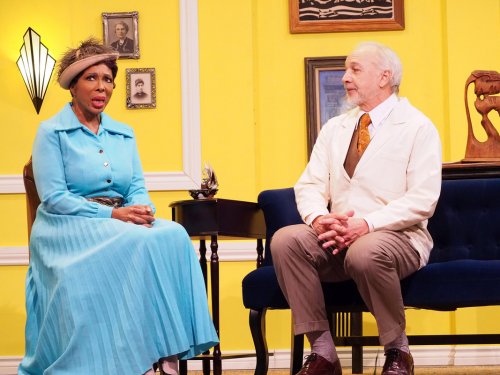 Director Jeffery V. Thompson consummate physical staging contains clever entrances and exits onstage and in the auditorium, spatially precise placement of the cast with terrific stage pictures and zesty screwball comedy-type pacing. Scenic designer Harlan D. Penn's lovely, yellow-walled drawing room also has neat Art Deco flourishes. Stephen Cornelius' subtle lighting design artfully employs levels of brightness and fades into darkness to complement the actions and tones. The Roaring 20's come alive through Katherine Roberson's fabulous black, white, sliver and gold-centric costume design; fur, feathers and geometric patterns are ever present in these eye-catching creations.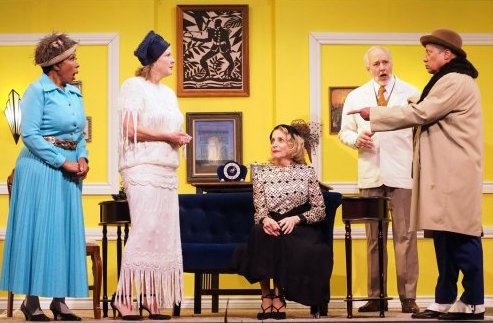 This incarnation of The Constant Wife is presented by the Out of the Box Theatre Company, whose main mission is to provide opportunities for theater artists primally over the age of 50. Maugham's text, time period and plot have been faithfully preserved in this adaptation which changes the location from London to New York City's Park Avenue. It is an enchanting production on every level.
The Constant Wife (through November 5, 2023)
Out of the Box Theatre Company
Bernie Wohl Center, 647 Columbus Avenue, in Manhattan
For tickets, visit www.outoftheboxtheatre.com
Running time: two hours and 30 minutes including one intermission