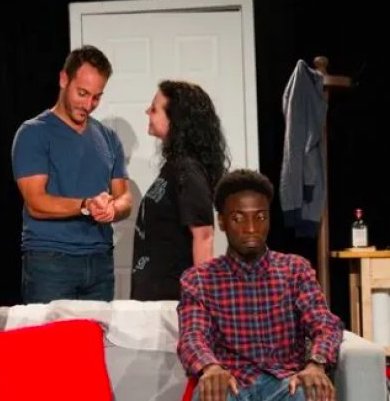 By: Darryl Reilly
Maybe in France it's considered rude to ask for Advil. We're strangers in a strange land.
Ostensibly a routine marital examination, a palpable sense of doom pervades throughout this searing revival of award-winning playwright Amy Herzog's 2011 unsettling Off-Broadway drama, Belleville . Things are off from the start as a young couple arrive home and unexpectedly find each other there. Ms. Herzog's masterful dialogue imparts exposition so that we rapidly learn pertinent background information, delineating each character with full-fledged precision. Herzog's mundane scenario evolves into the suspenseful psychological realms of Alfred Hitchcock, Roman Polanski and Stanley Kubrick, reaching a shattering crescendo. This analysis isn't a spoiler as we grasp right away that there's something dark going on beneath the surface of the common relationship conflicts. It's dramatic writing at its finest.
In the recent past we're in a Paris apartment. New Jersey native and 28-year-old former actress and yoga teacher Abby arrives as her class was cancelled due to no attendees. Her 28-year-old husband Zack has the afternoon off and is in the bedroom masturbating to internet pornography, believing he has the place to himself. He is a doctor working at an institute dealing with children who have AIDS. The couple met in college and have been married for five years. The often abrasive Abby is on anti-depressants having been traumatized by the death of her mother five years earlier, presumably from cancer. They've recently relocated to the Parisian neighborhood of Belleville to rejuvenate their lives.
Making pivotal appearances is their jovial 25-year-old Senegalese-French landlord Alioune who smokes marijuana with Zack and Alioune's stern 25-year-old wife Amina. Over the course of six contained scenes lasting 90 minutes there are wild revelations.
Bringing an appealing laidback everyman quality to the role of Zack is the bearded and soulful Jordan Sobel. Mr. Sobel's soothing voice, low-key sensuality and quiet charisma informs his engaging characterization.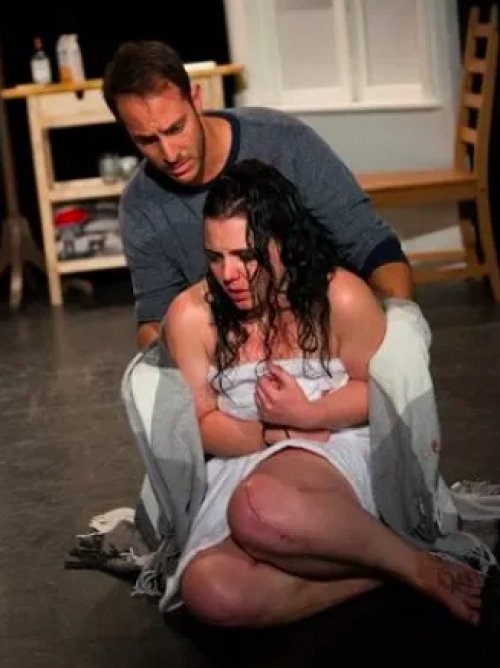 With her flowing dark hair, throaty vocal delivery and quirky presence, Jess Rawls is entrancing as the morose Abby. Ms. Rawls effortlessly conveys the character's dysfunctional traits to great effect.
Bordering on scene stealing is the wide-eyed and magnetic Jason Aubin as Alioune. Mr. Aubin's tender performance is a fabulous display of comedic and dramatic depth. The alluring Kira Player's forcefulness enriches her turn as Amina.
The small studio theater space where the show is performed with its basic living room scenic design informs director Cameron Clarke's resourceful and bold staging. Working in such a confined environment with the actors in close proximity to each other, Mr. Clarke emphasizes the piece's claustrophobic, paranoid and menacing tones with vividness. Unseen ominous events taking place in the offstage bedroom and bathroom incite terror. An open window with shutters becomes a focus of dread, with the outside world represented by eerie red light and sounds of sirens. With the cast's explosive performances and a command of the visual, Clarke realizes the play's uneasy power.
Alan Waters' atmospheric sound and moody lighting design are exceptional achievements. Intimacy director Brooke M. Haney and fight Dispatch Combat Collective's bracing efforts endow the production with physical scope.
Belleville is presented by the emerging Company of Fools theater company. "We do not limit ourselves to "tried and true" or safe productions, and we know above all else that our desire to push past the fear of failure can lead to unheard of success." That belief is majestically fulfilled here.
Belleville (through September 15th, 2019)
Company of Fools
Theatre 54 at Shetler Studios, 244 W 54th Street, in Manhattan
For tickets, visit http://www.companyoffoolstheatre.com
Running time: 90 minutes without an intermission