On Thursday afternoon March 12, 2020, Broadway theaters shut down due to COVID-19.  I soon began receiving cancellation emails from shows I was scheduled to review over the ensuing weeks as a critic for TheaterScene.net. The Flea Theater's publicist however, reconfirmed that playwright Taylor Mac's The Fre's evening performance was still on, and that it would continue to run. Later, there was this pre-show communication:
The Flea would like to encourage critics to evaluate this production
outside of the current Covid-19 crisis. Your words go beyond this
particular moment and actually impact the entire life of the play. So
we encourage you to write about the production on its own terms, so
that it may be seen as such after we've emerged from this crisis.
There was collective excitement in the Flea's lobby from the audience of about 40, a few of whom were wearing face masks, as we were about to witness a show actually happening that night. I started writing when I got home and finished my quizzical review Friday morning. Later in the day, the publicist declared that that evening's performance would be the last until April 2, and to please embargo reviews until after then. It  never reopened, and my review was not published until now.
The Fre
Madcap dystopia, scatological humor and gender concerns are all in Taylor Mac's latest work, taking place in a mud pit with the audience joining in.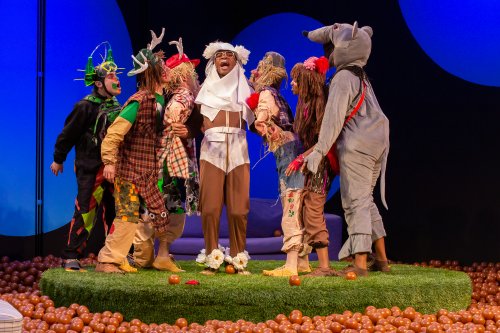 It is what it is, best describes MacArthur Fellow and Pulitzer Prize-finalist playwright Taylor Mac's latest theatrical offering, The Fre. With its grand Shakespearean-style dialogue, allusions to red and blue states, and post-Apocalyptic milieu, it is dystopian frivolity crossed with Mac's characteristic gender preoccupations and scatological humor. Lacking the semblance of a plot until the final portion, it manages to sustain its 75 minutes chiefly due to the superior stagecraft on display. It is engaging, though whether it's nonsensical or profound depends on one's sensibility.
The main mud in the play is not actual mud but brown pit-balls (the kind of balls you'd find at a Chuck e' Cheese that kids jump around in). Actors and audience should be able to fall into it face first and not hurt themselves.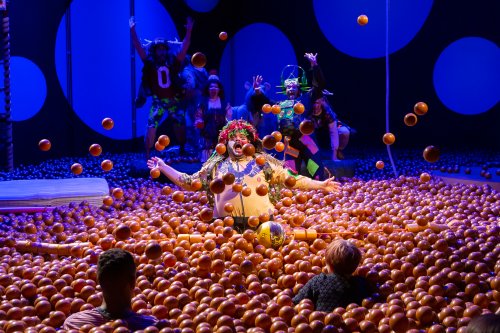 So, describes Mac in the stage directions of the production's dominant feature. The theater's playing area is filled with a huge amount of those brown plastic balls vividly  simulating a mud pit, strewn with scenic designer Jian Jung's atmospheric old bed, circular lawn platform, platforms and other striking elements. The audience can either submerge themselves there and be part of the show, or observe from conventional benches in the L-shaped seating area.
The youthful ensemble are members of The Flea Theater's resident company, The Bats. They are, Ryan Chittaphong, Lambert Tamin, Joseph Dalfonso, Alex J. Moreno, Drita Kabashi, Yvonne Jessica Pruitt, Geogia Kate Cohen, Sarah Alice Shull, Nate DeCook, Cesar Munoz, Jon Edward Cook, Adam Coy, Ure Egbuho, Joan Marie Brody, Matthew Macca and Marcus Jones. While wearing costume designer Machine Dazzle's fantastical Mad Max-style outfits, this exuberant cast all deliver appropriately broad performances.
At the start in the lobby, a rat-costumed player is designated as representing the playwright. Then it's to the theater for antics in the mud pit where audience members sometimes participate in the actions. It's a pseudo-epic involving song contests, a Hero on a quest and odysseys to bridges, that's all open to interpretation.
Director Niegel Smith's vigorous staging and Sarah East Johnson's energetic choreography both enliven the presentation. Lighting designer Xavier Pierce achieves a suitably muted dimension. Composer Matt Ray's jolting original score and effects are well rendered by his sound design. A celestial toilet shown during an analysis of sewage is a highlight of Adam J. Thompson's excellent projection design.
With The Fre, Taylor Mac continues on an iconclastic visionary path.
The Fre (through April 12, 2020)
The Sam at the Flea Theater, 20 Thomas Street, in Manhattan
Running time: 90 minutes without an intermission
The night before, as a Drama Desk member, I saw Girl From The North Country. It was uninvolving synthetic hoariness taking place at a Duluth boarding house in 1934. The Depression-era stock characters and cliched situations were accompanied to well-performed Bob Dylan songs for little effect. There were many empty seats at the Belasco Theater and jokey unease amongst attendees.
On Monday March 9,  I publicly reviewed my last show so far. It shall remain memorable to me for that defining fact,  its stimulating qualities and that despite merriment, there was anxiety in the air. I was also reluctantly pressed into joining one of the multiple audience participation segments. My lumbering stiffness and slow reactions were comically utilized for a mirror exercise movement bit involving the performer and another audience member.
The Artist Will Be With You in a Moment
Acclaimed performance artist Joel Jeske's uproarious, clever and thoughtful show relies on his dazzling clowning and plentiful audience participation.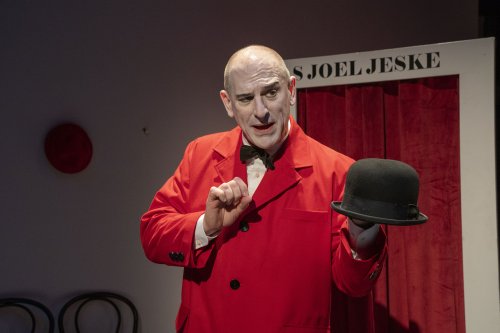 As an artist, I must confess, I wasn't the first choice for myself. For Joel Jeske. The producers actually had an audition to find someone to portray me. I was invited to audition, twice, and after a grueling series of callbacks and "look-sees", I didn't get it…
So, wryly reflects the acclaimed and commanding performance artist Joel Jeske during his uproarious, clever and thoughtful self-created and self-written show, The Artist Will Be With You in a Moment. Relying on his dazzling clowning, his winning presence and plentiful audience participation, it's 70 delightful, breezy and theatrical minutes offering a humorous respite from a troubled world.
I've been fascinated by Rene Magritte…He was a good painter, but not a great one. He would have found my outfit a bit bright. It was not how he
painted but what he painted. And it wasn't a question of what he painted insomuch as what he did with the image he chose to use.
Resplendent in costume designer Oana Botez's blazing red tailcoat, red trousers, white shirt, black bowtie and black bowler hat, Mr. Jeske visually embodies surrealism. With his eerily-made up Stan Laurel-type facial features and his smooth engaging dry vocal delivery recalling that of Steve Martin and Kevin Kline, Jeske is a magnetic performer. Adeptly playing the tuba and ukulele, precisely tossing off puns, non-sequiturs and one-liners, engaging in slapstick and enacting choreographer Danny Gardener's cool dance moves, Jeske is sensational. A grand highlight is his loony offbeat impersonation of a major American literary figure, involving spectacular pratfalls.
"One Hundred Dented Cans Hastily Hot Glued Together, 2001, Tin, hot glue, $1500." "Four Things That Have Hit Me in the Head, 2003-2016, Wood, brick, rubber, polyester, coconut, $5500." "Here Is Where I Fell On My Ass: March 5, 2020, 2020, Vinyl, $1500."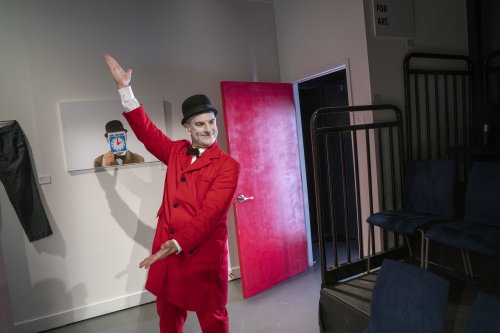 These, are a few of the titles of objects on display such as tin cans, a pair of pants and a red chair. They're hanging on the theater's gleaming white walls, simulating an art gallery and wittily sending up the pompousness of the art world. The audience gets 15 minutes to take in the exhibition while Jeske impassively sits high atop a white cube. Then the show begins, consisting of a multitude of vignettes described by projected black and white supertitles including "Would someone let him in?" Shyness melts away as numerous audience members from all over the L-shaped playing area are playfully coerced into participating in a drawing contest, musical chairs, an elaborate slow walking mirror exercise, as well as other gags. The beaming and quietly jovial Mariko Iwasa deftly assists in the merriment as Deck Management. Ms. Iwasa often handles and distributes Rebecca K. David's perfect props selections. "They still make whoopie cushions?" is one's likely thought during one bit.
Director Mark Lonergan's zippy staging fuses all of the elements together into a resounding event. Maruti Evans' ingenious scenic design is matched by his crystalline and ever present varied lighting design. Jacqueline Reed's video programming enhances the production with its entrancing imagery. Familiar classical melodies give way to composer Peter Bufano's frisky additonal music.
With its eloquent nods to conceptual art, good-natured comedic tone and superior performance, The Artist Will Be With You in a Moment is an intelligent entertainment.
Would anyone be interested in going out with a divorced, balding gay man
roughly…50?…Is there anyone interested in going out after the show? I can be ready really quick. Doesn't take long for me to clean up and change.
The Artist Will Be With You in a Moment (through March 29, 2020)
Parallel Exit
Jeffrey and Paula Gural Theatre at the A.R.T./New York Theatres, 502 West 53rd Street, in Manhattan
Running time: 70 minutes without an intermission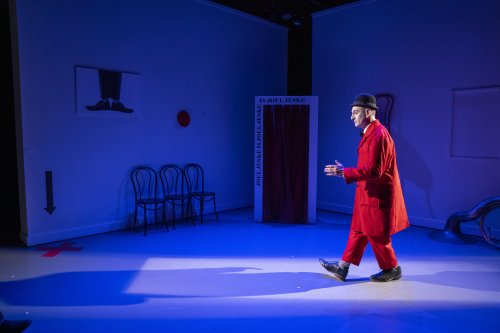 In hindsight, lock down procedures should have been implemented sooner. Whenever stage performances do start up again in New York City, the environment will be decidedly different than it was before the pandemic. In the meantime, nothing to be done…