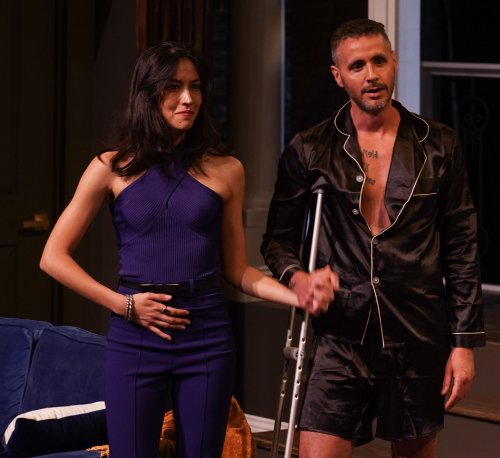 By: Darryl Reilly
Mendacity, that iconic crutch and lots of alcohol are all in this highly satisfying first-ever Off-Broadway revival of Tennessee Williams' 1955 Pulitzer-Prize winning classic Southern family drama, Cat on a Hot Tin Roof. Director Joe Rosario's sharp staging brings freshness to this production thru a striking anachronistic contemporary presentation, wonderful stage pictures and the galvanizing performances of the large cast he has assembled.
Taking a shower is how we first encounter the salt and pepper crew-cutted, tatted and chiseled, Matt de Rogatis's Brick. This sensual evocation of mature boyishness is complemented by Mr. de Rogatis's expressive tenor voice and sensitive mien. de Rogatis totally embodies that disillusioned alcoholic anti-hero who hobbles around on a crutch while here wearing short pajamas. He veers from taciturn melancholy to explosive eloquence with command.
The alluring sleek Sonoya Mizuno employs a strong Southern accent as Brick's opportunistic wife Maggie, the cat on a hot in roof. After soldiering on during the expositional difficult 50-minute first act, Ms. Mizuno sparkles and bewitches throughout. "We occupy the same cage," Mizuno powerfully declares of Maggie and Brick's childless and sexless fraught coexistence.
With the swagger of a hard-bitten Sam Peckinpah-type rogue, the cigar-chomping, bantam-sized, long white-haired and bearded The Young and the Restless star, Christian Jules Le Blanc dazzles with his unique characterization of the crude Big Daddy. Slim, blonde and animated Broadway fixture Alison Fraser delightfully revels in Big Mama's pathos and humor.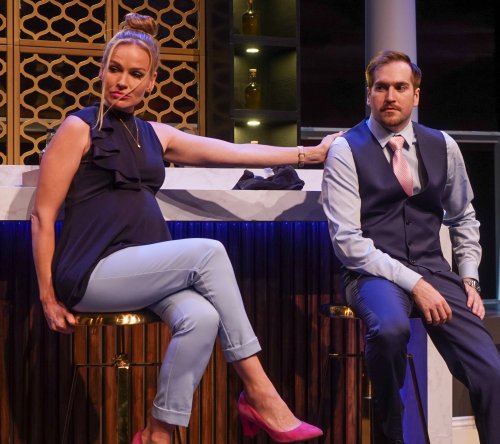 Skulking around most of the time with weasely flair, the charmingly wound up Spencer Scott comes into his own during the third act with his forceful tirades, as Gooper, Brick's older unliked officious lawyer brother. Like a preening Real Housewife, the vivacious Tiffan Borelli is impactful as Gooper's grasping and fertile wife, Mae, known as "Sister Woman."
Folksy Milton Elliott is dryly comic during his appearances as an unctuous strait-laced reverend. Jim Kempner's engaging off-beat presence enriches his turn as a doctor bearing bad news. As "The No Neck Monsters," Gooper and Mae's bratty children, Carly Gold and Alexandra Rose are hilarious.
White columns, choice modern furnishings, picture windows with views of a cloudy sky and a promenade are features of Matt Imhoff's gorgeous scenic design representing Brick's bedroom. Lighting designer Steve Wolf employs a strategic palette of rich hues which correspond to the actions and tones. Fireworks, rain and moody incidental music are well rendered by sound designer Ben Levine. Xandra Smith's fashion forward costume design visualizes the characters with oomph.
Tennessee Williams was renowned for his catchy titles, memorable characters, and grand dialogue, combining poetry and earthiness. He was less accomplished as a dramatist, often tinkering with his plays long after their initial incarnations. Elia Kazan directed several original Williams productions including Cat on a Hot Tin Roof, and suggested he make structural alterations to it. Williams also overhauled the play again for a 1974 revival; it remains a flawed masterpiece. The actress playing Maggie must carry the clunky first act with long descriptive speeches while Brick tersely responds. The second act showcases Big Daddy and the third, ties up the conflicts. It all long-windedly coheres; Mr. Rosario and the cast surmount the dramaturgical deficiencies with achievement.
Mississippi plantation owner and wheeler dealer, the self-made Big Daddy Pollitt is celebrating his 65th birthday while in precarious health at his lavish compound. In attendance at this family gathering are his loyal wife, his two sons, their wives and his five grandchildren from his elder son. His favorite, younger son Brick, is a former college football star and now a television sports broadcaster. He has sunk into a depressive fog fueled by heavy drinking following the traumatic death of his long-time best friend, Skipper, and broke his ankle the previous night while drunkenly doing hurdles. His college sweetheart wife, the born on the wrong side of the tracks Maggie, bears the brunt of his disaffection. Williams is in his element with ruminations on death, homoerotic reveries and viscerally depicting the battle of the sexes.
This visually updated Cat on a Hot Tin Roof is faithful to Tennessee Williams' vision while also being a novel entertainment.
Cat on a Hot Tin Roof (through August 14, 2022)
Ruth Stage
Theater at St. Clements, 423 West 46th Street, in Manhattan
For tickets, call 800-447-7400 or visit www.ruthstage.org
Running time: two hours and 50 minutes including one intermission and a pause.