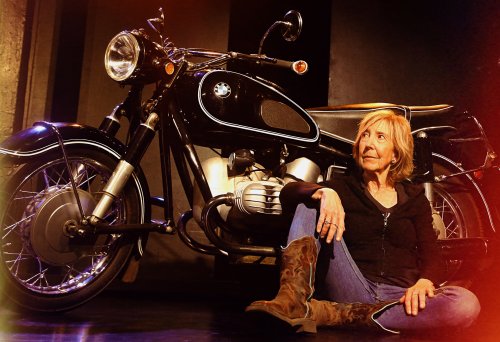 By: Darryl Reilly
That IS A GUITAR! THAT IS AN ELECTRIC GUITAR!…
THAT'S like JIMMY FUCKING HENDRIX!!!!…! And
THAT… is MUSIC! …CRAZY… LOUD… WELCOME TO THE 60'S!
Life is LOUD… Life is GOOD… Life is OURS…
This is a representative portion from Daytime Emmy Award-winner performer Lin Shaye's nostalgic self-written autobiographical solo play, Tripping on Life. Ms. Shaye is a prolific screen actress whose first credit is 1975's Hester Street as "Whore." A Nightmare on Elm Street, Critters, Dumb and Dumber and Kingpin, are also on her lengthy filmography. Shaye possesses a soothing melodious voice and a wryly rich stage persona reminiscent of Elaine May. In Tripping on Life, the sleek and personable Shaye recounts for over an hour, heartfelt indelible events from her life mostly taking place in dreamy and druggy California. These incidents are from 1968, when she married musician Marshall Rubinoff, and in 1966, when she met Mr. Rubinoff as a theater student at the University of Michigan where they performed in Bye Bye Birdie.
Without one word, I just jumped on the back of his bike, …which magically…. started up with no problem at all… and off we went: my arms around his waist, our long hair flying, no helmets, no gear, just whooping in the wind, like we had known each other forever… and EVER,
….with NO idea where we were going.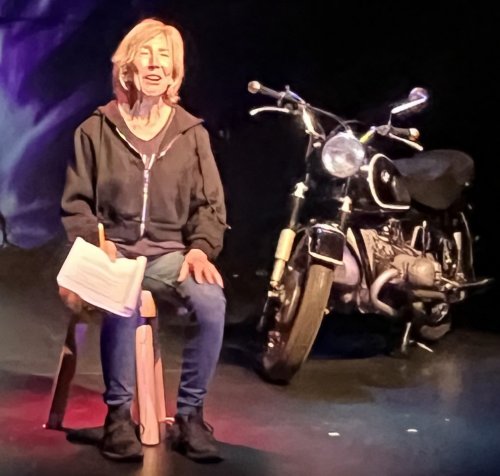 The show's conceit is established in its opening sequence. Shaye is seen sitting at a table writing down her recollections on a sheaf of papers. She holds this manuscript throughout the presentation and chronically refers to it; Tripping on Life is a staged reading. Shaye's literary writing is intercut with presentational directions as in a screenplay. It is an assemblage of honed kaleidoscopic details which are colored by sunnily youthful wonderment, eloquent anguish and distant perspective. Shaye evokes these tones during her appealing performance where she sometimes enacts other characters such as a colorful police officer. Tripping on Life is a decidedly idiosyncratic theater piece that has been given theatrical polish.
Director Robert Galinsky variably positions Shaye achieving visual variety, emphasis and momentum on the stage which is bare except for a table, chairs and a pivotal motorcycle. Co-lighting and visual designers Joshua White and Marian Saunders provide atmospheric and dramatic hues, sharp blackouts, and appropriately psychedelic projections which all perfectly complement Shaye's reminiscences. Lee Landey's roaring sound design realizes original rock melodies that are periodically played and motorcycle rumbles.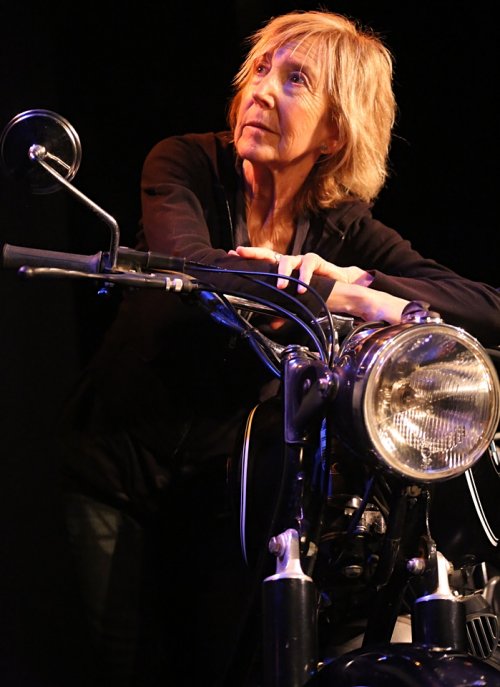 Tripping on Life succeeds as a wistful theatrical memoir through its born to be wild theme.
Tripping On Life (through October 8, 2023)
Theatre Row, 410 West 42nd Street, in Manhattan
For tickets, visit www.trippingonlifetheplay.com
Running time: 70 minutes without an intermission